Just talk talk talk talk and talk as much as you want
this CC is for those who talk non stop

RULES
*Follow all the I-F rules in this CC too sorry no compulsions on that.
*Don't bring your hatred towards any actor overhere we are here just to have some light talk.
*And no use of bad words in this CC sorry its not allowed in here.

Make your stay here pleasant by following these rules.
And there are no specification on the people who can join it.Anybody can come here and talk.
This CC is invite only so to get an entry in here you need to be a member of this CC
Sorry this CC is full right now, can't accomodate more people

We are Very besharam something to show our besharamness
Now Stalkers Stop Stalking us i know its tempting but stop stalking ok if u stalk don't go talking about us.I feel so Famous now Anyways Stalker we know ur here so just STOP!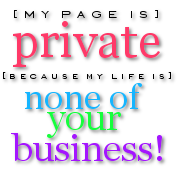 So Stop Stalking now and if u won't here is something im a person who makes everybody confused
and im proud of it so if u read anything u'll get confused cuz guess what i make my friends confused 2


Edited by -tehreem- - 30 November 2011 at 6:11am