Television
1.
Maharaj 1999

2. Kya Hadsa Kya Haqeqat( 2002) -- Raj Karmarkar

Raj Karmarkar a con man character , in the inaugral series of Kya Hadsa kya haqeqaat
3. Kahiin To Hoga (sept 8 2003-15may 2005)--Sujal Garewal

Sujal Garewal the character which made Rajeev a household name
... Sujal a character of an intense passionate lover
4
Time Bomb (june 20 2005)---RAW Officer Varun Awasthi
Varun of Time Bomb - A RAW officer- fighting against the wrongs of the world.


5. Sun Leyna -- Sharim

Another love story
'Sun Leyna'
a short Pakistani drama produced by Humaun Sayeed in which Rajeev was seen in yet different fun loving full life character as
Sharim Aziz.
6.CID (nov 2005) --ACP Prithviraj

A cameo role just for 5 episodes
...to investigate the popular crime thiller series CID
7. Deal Ya No Deal-season 3 [April 2006 to June 2006]---Anchor

Adaptation of International unique reality show hosted by Rajeev was about intelligent choices of selecting from suitcases
where the right choice made the winner a 'crorepati'
8.
Left Right Left (July 10 2006- August 20 2007) -- Capt Rajveer Singh Shekhawat
Capt Rajveer an army officer to safeguard the nuclear triggers at KMA but also proved to be the mentor , guide & inspiration to the 6 cadets

9. Sach ka Saamna Season 1 (July 15 2009- 18 Sept 2009)-- Anchor


Adaptation of successful US show Moment of truth where the contestants on Hot Seat are asked 21 questions & have to speak only the truth
...in order to win the prize money
10.
Sach Ka Samna Season 2 (Yet to be on air)---Anchor


Sach Ka Samna season 2 back with same host
Filmography


1. Aamir June 6 2008-- Dr. Aamir Ali

Dr. Aamir Ali a neurourgeon returned from london... his family has been kidnapped by a
radical
mafia
group, who want him to carry out a bombing in the city. The kidnappers try to gain Aamir's sympathy by showing him the "plight" of some Muslims in modern India, but Aamir resists saying that such an attack is un-Islamic and will only make things worse for the community.


2. Peter Gaya Kaam Se(Stalled) -- Peter

Peter, a football crazy motorcycle taxi rider, decides to turn his back on Goa and quits his job - until his sleazy loan shark boss Bosco persuades him to do one last job. It's the job that will change his life forever.
3
. Shaitaan-- June 10 2011-- Cop Tavde

'Shaitan' is the story is about Amy ' Amrita Mathur. She is a 17 year old and has all the teenage angst and rebel attitude that go with that age. Amy makes some new friends in Bombay- the ultra rich KC and gang. One night of living on the edge ends up with them brushing against the law. A cop blackmails them to cover up the case. In order to pay up Amy stages her own kidnap with help from KC and gang. A simple plan which goes completely haywire forms the rest of the story. Intertwined with this we have a story of a cop ' Arvind Mathur ; who is put on the case to track Amy and the others. The cop is forced to deal with a personal crisis while he is on the case. How he manages to resolve it and simultaneously crack the case carries the story forward.
This sounds just like a rehashed version of Anurag's controversial thriller, Paanch. Old wine in a new bottle? There's also an unofficial trailer of 'Shaitan' doing the rounds on the internet.
Directed by Bijoy Nambiar, 'Shaitan' stars Arshad Warsi, Kalki Koechlin, Jackie Shroff, Shiv Pandit, Rajeev Khandelwal, Simran Sawhney, Shelly Skandrani and Rajat Barmecha.
4.
Soundtrack-- August 12 2011-- DJ
Co Stars- Mrinalini Sharma, Soha Ali Khan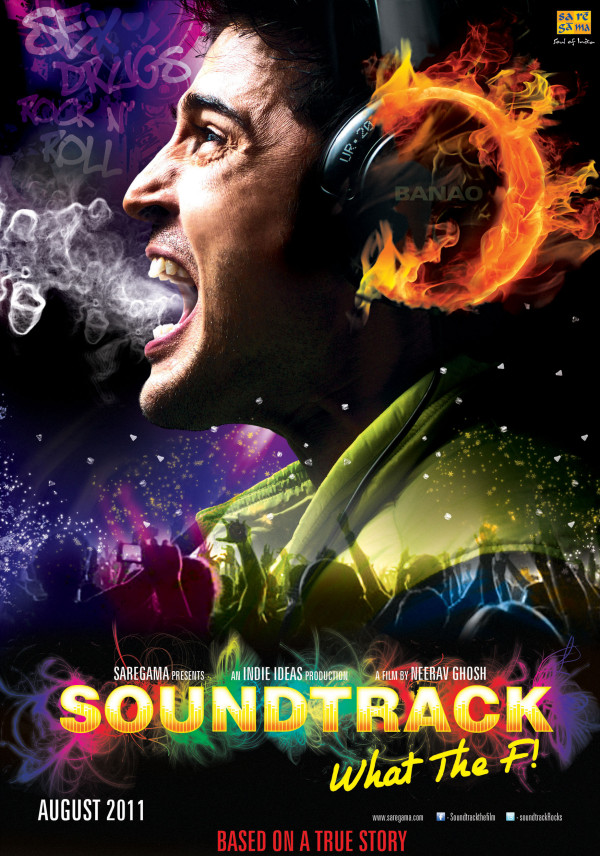 Rajeev Khandelwal, a 26 years old from small town in India comes to Maximum City Mumbai carrying just three things- a guitar, a pair of head phones and a dream.
With the help of his late father's friend, played by Yatin Karekar he lands a job at "Tango Charlie"- the city's most rocking night club. Mohan Kapoor, the owner of the club promises and makes him the most indispensable DJ in town based on his prodigious talent. Saturday nights now have a whole new meaning. His world is now one big drink all you can, party all you can to the hardest, with the hottest girl at the nightclub- Mrinalini Sharma. He is living his dream- a flashy lifestyle, a bunch of friends as close as family, and the coolest DJ in town. It is really his life, his friends ' HIS MIX.
Rajeev is, however made for bigger stuff-he isn't going to settle for being only a DJ. His dream is to be a composer for main stream Indian movies. Celebrated film maker Anurag Kashyap gives him the break to compose music in his forthcoming film and Rajeev gives it his best.
But life has other cards to hand him, and it does deal him an unplayable hand. Tinnitus coupled with an over exposure to loud noise takes away - his hearing. With him going deaf, his dreams are shattered- and he ends up going into a very dark and lonely place.
In this depressed state and battling internal demons he meets his anti thesis Soha Ali Khan, a beautiful free spirited, bohemian, speech therapist for whom life is treasure, and every minute is worth living to the fullest.
Rajeev and Soha come together with just one common thread- both of them can't hear a thing.
Soha coaches Rajeev to get started with his communication and helps him pick the pieces in his life. The fact that he can't hear music still cuts into his soul. In his new found love for life, Rajeev chances upon a kathak performance, which makes him, feel the vibrations of music. His body slowly but surely starts begins to do what no other musician can do. Rajeev now begins to feel the music but still can't hear. It sets off a whole chain reaction to his life, and now, he feels music everywhere.
Will Rajeev, now get his chance to get people to hear what he has for them, and compose his masterpiece?
Soundtrack is based on a true story.
5. Main Joker (Completed)-- 2011


Co starring Prachi Desai
Story Abt Father & Son
6. Will U Marry Me (Completed)

The film centres around three friends who love their bachelorhood so much that they place a bet among themselves that whoever decides to marry first will lose a huge amount in shares that were contributed by all three. All is well until one decides to take the plunge and make a commitment.
7. Raakh (Under Production)

Co starring Raima Sen


8. Fever
Endorsements

1. Glibleys


2.. Nescafe
3. Prateek Wisteria


4. Brand Ambassdor Of Sweet Dreams


Edited by -purnima- - 16 May 2011 at 6:41am