CID cast takes time out in Mussoorie
Advocates better facilities for cops
Ajay Ramola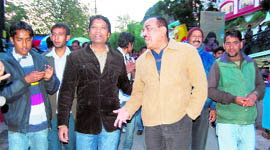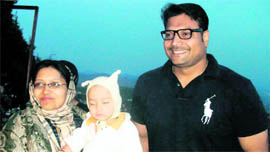 The star cast of popular TV serial "CID" in Mussoorie on Sunday.
Mussoorie, April 11
The star cast of the popular TV serial "CID", including Shivaji Satam (ACP Pradyumun) and Dyanand Shetty, were in Mussoorie on a one-day visit to the town yesterday. Enchanted by the beauty of the hill station, they said it was the most beautiful place they had ever visited. The TV actors said they had been invited by the Police Department to an award-distribution ceremony to be held in Dehradun.
Speaking about the serial, Satam said it was one of the longest serials running on television and the reason for that was the honesty with which its crew had been working.
Everyone in the crew is proud of being involved with "CID" and that is evident from the quality of its episodes. He also said the serial did not glorify crime, but laid emphasis on the investigation and solving various criminal cases.
Satam said though there was a lot of corruption in the police force, honest people were also there and it was evident during the Mumbai attack where police personnel saved people by risking their own lives. He opined that police personnel in the country were underpaid keeping in view the amount of work they did in a day. It was time now to introduce police reforms and raise their salaries if we wanted an effective policing in the country, he added.
He also said the police personnel should be provided with better housing facilities and tools for investigation. Instead of indulging in corrupt practices, politicians should strengthen the police force so that criminals did not gt away scot-free, he added.
Another actor Dayanand Shetty (Daya) said the police force had good and bad people like in other departments and generalising that the police was incompetent was not good. He also reteirated the fact that the government should do something to improve the condition of the force so that they could do investigations effectively.
Daya said he was working in a programme called "Gutur Gu" for television and had no intention to try his luck in the tinsel town as yet. He said he was extremely happy working in "CID" at the moment.
The "CID" serial is about a team of detectives belonging to the Crime Investigation Department in Mumbai. It is regarded as the longest-running TV serial in India.