<3Siddhant and Shilpa - SidShi - DEFINING FRIENDSHIP<3

The two characters showed what true friendship really meant when people who you trust on the most turn on you and cheat you. And that is when friendship stands tall. And your true friends come to your aide. They are by your side giving you strength. And such were both Sid and Shilpa - ANGELS and PURE Souls as their fans look at them.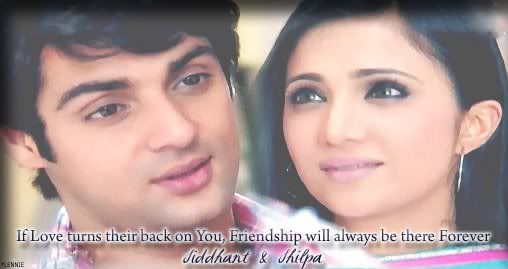 <3Karan Wahi and Shilpa Anand - ShiRan<3
Well, well.!! This would definitely burn those who once wanted ShiRan as couples to irk some others but turns out THAT, YES!!!! There ARE fans who do love them as a couple too and think they would look good together. ;)
And why not. Both are very good looking ;)
So, as the fans love them together, they also do hope that maybe they'll see them someday together in a new show! :D
Page Design and Write-up: x.Anku.x || Idea of CC: Angelic_Swancy || Sig Credit To All The Respective Sigmakers.