PRECAP:
everyone is at nikki's house and are shocked at what Riddhima has picked for them......
RIDDHIMA: so whose first.......
NAINA: main main....
*naina already curled her hair and did a half up half down updo*
*naina comes wearing the outfit*
MUSKAAN: kya dress hai yaar,itna simple phir bhi.....itna sexy.....
NAINA: thanx ridzi......
MUSKAAN: aa mein theri makeup karti hoon.
*everyone gets ready in a similar fashion and are looking fabulous*
NIKKI: yeh hum hospital jaa rahe hai naa....thoda jyaada nahin hua.....
RIDDHIMA: nahin yaar, pura hospital jaanta hai kyun ...to phir no fear.....
*they are all in NIKKI's car by 9.45 and go to Sanjeevani*
*meanwhile in Sanjeevani*
*all the guys are nervous and all of them dressed to impress*
DRESSES GUYS:
ARMAAN: red button down shirt with a black shirt on top AND jeans
ATUL: Black t shirt and cream colour cargo pants
RAHUL: plumish red t shirt with a white jacket and black jeans
YUVI: grey dress shirt with black blazer and dark blue jeans
ABHI: deep plum shirt with black vest and black pants
*all the guys wore colours that matched the girls...(unknowingly)*
*preeti enters......all the guys mouths drop*
PREETI"S DRESS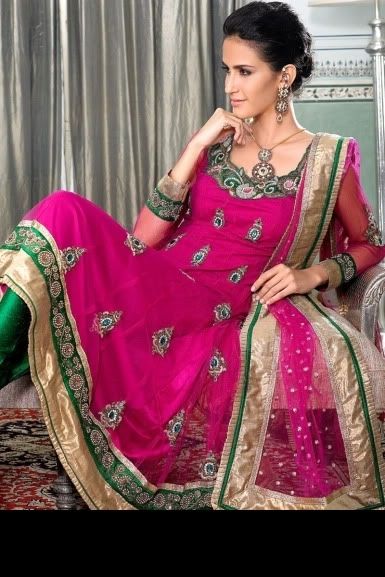 *guys are speechless*
*nikki see this without the guys noticing*
NIKKI: abey yaar, humne itne takleef li aur un ladko ko dekho.......
MUSKAAN: rahul to aisa dekh raha hai ki...zindagi mein kabhi ladki ko nahin dekha.......
ANJALI: chodo guys...come on hum bhi kuch kam nahi dikhre.......
RIDDHIMA: is ko thoda bhi dressing sense nahin hain......
NAINA: lagta hai ki apni shaadi ke liye aayi hai....hospital nahin.....
*girls are jealous as they spent soo much time and the guys are drooling at preeti*
MUSKAAN: waise hum yaha kyun baat kar rahe hai......andar chalte hain aur tab pata chalega ki kaun zyada aacha lag raha hai....woh ya hum......
*girls go in*
*the guys faces of the guys that were already dropped...dropped even more......the girls got the true meaning of SIMPLE YET STYLISH/SEXY*
NIKKI"S dress
HAIR: loose braid to the side....with a few curls on her face......
MAKEUP: neutal tones with a nice pink blush to match the dress.....
JEWELLERY: as in pic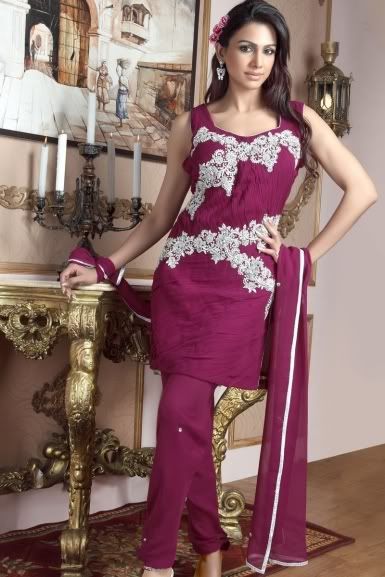 NAINA'S DRESS
HAIR: wavy...with a half up half down hairstyle with her fringe at the front..
MAKEUP: neutral shades with dark smokey eyes to match the dress
JEWELLERY:as in pic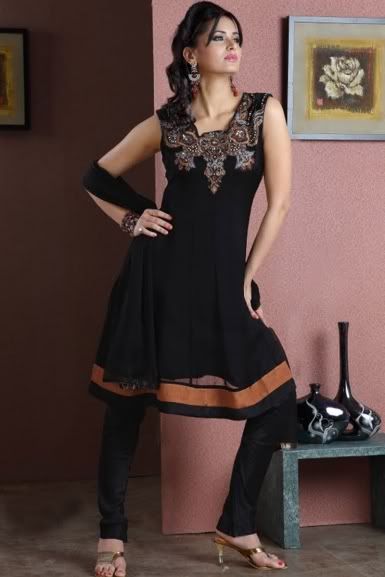 ANJALI DRESS:
HAIR: curly and left out
MAKEUP: in nice shades of brown
JEWELLERY: as in pic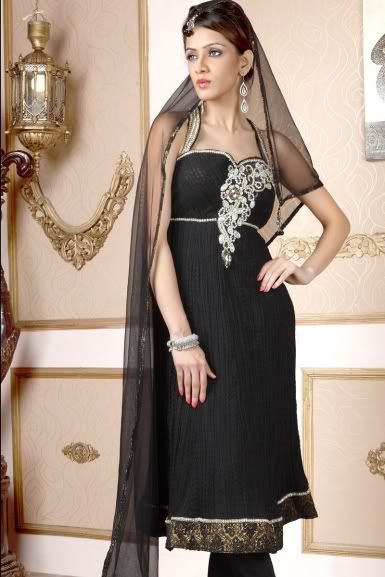 RIDDHIMA's DRESS
HAIR: curly and in a side ponytail
MAKEUP: neutral tones with a slightly dark maroon lipstick
JEWELLERY: as in pic
MUSKAAN DRESS:
HAIR: straightened and put up with a jewelled clip
MAKEUP: neutral makeup with light plum eyeshadow
JEWELLERY: as in pic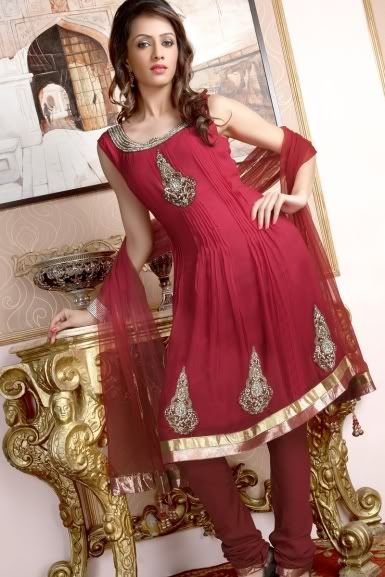 *everyone was working until their shift finished*
*the group was on the terrace*
*preeti had to go cause she had some work to do*
*so it was just the 10 of them*
ATUL: chalo guys, kuch karte hain
ANJALI: tumhe kya karna hai ATUL
ATUL: kuch bhi yaar,for fun.
ARMAAN: ahem... haan guys atul sahi keh raha hai.....kyun naa hum kuch khelte hain......
NAINA: haan haan......antakshari.....
EVERYONE: okay......
MUSKAAN: start kaun kar raha hai......
ATUL: hum karenge......
*guys glare at Atul*
ATUL: matlab tum log shuru karo....
ABHI:iski koi zaroorat nahin hain...hum shuru kareenge......
ARMAAN& YUVI: *whisper to each other and start*
thuje dekha to yeh jaana sanam
pyaar hota hai deewna sanam
ab yaha se kaha jaaye hum
teri bahon mein mar jaye hum
RIDDHIMA and NAINA: mere kwabon we jo aaye
aake mujhe ched jaaya
usse to kaho kabhi saamne to aaye
ATUL and RAHUL: yeeh dosti.....
hum nahi choodenge......
choodenge dum magar...
tera saath naa choodenge
*atul continues* yeh doosti
ANJALI and MUSKAAN: *in a guy voice*
tera mujhse...he pehle kanata koi
yuhi nahi dil robaata koi
jaane tu..ya jaane naa.....maane tu...ya...maane na
ABHI and YUVI: nahin saamne
yeh alag baat hai x2
mere paas hai tu x2
mere saat hai...
NIKKI and NAINA: hai hai re hai ye ladka
hai hai re hai
karta nadaniyaan kyon puch to hai
kabhi ye humse ladta hai, kabhi jagadta hai
koi paas iske na jaana
yeh ladka hai deewaana hai dewaana
RAHUL: kya yaar yeh to equal hai.....koi gaane ke liye struggle bhi nahin kar raha.....
MUSKAAN: teek hai hum spin the bottle khelte hai....
NAINA: aur bottle ka capside jiske side face hoga woh puri team dusri team ko kuch karne ko kahegi
ABHI: haan,aur woh task hum bohot difficult banaenge......agar doosri team nahin kar payi to jisne poocha unko ek point....
ARMAAN: alrite best of five....whoever gets five points wins.......
*naina's phone*
NAINA: hello....DR Keerti......oh REALLY......thatz GREAT......but shopping for clothes.....oh yes....ok...i will tell them......bye
EVERYONE: kya hua?
NAINA: accha....kal Dr Keerti ki anniversay hai naa......isliye voh dono ek bada party de rahe hai....kyun ki inke shaadi mein to zyaada log nahin te naa....isliye.....aur hume kal shaam ko unke ghar jaana hai.....aur sunday off hai tho will be fine.......
MUSKAAN: aur hum party keliye kapde....kal shopping chale...
NIKKI; to phir tum log aaj raat ko mere ghar mein rukh jao.....
ALL THE GIRLS: okay!!!!!

ARMAAN: so girl group....aapke very very life threatening discussion ho gayi to game shuru kare......
****so how did u like it........
SONGS IN ORDER>>>>
Thuje dekha: DDLJ
Mere kwabon mein: DDLJ
Yeh dosti: SHOLAY
Jaane tu ya jaane na: UNKNOWN
Nahin saamne: TAAL
ladka hai deewaana: KUCH KUCH HOTA HAI
MORE PICS COIMING UP>>>>
pls Comment