Famous TV, stage actor Mastana passes away
Mastana has died in Victoria Hospital, Bahawalpur after a long suffering with Hepatitis C. One of the senior most theatre actors in Pakistan Murtaza Hassan, famous with his showbiz name as Mastana, was admitted to Victoria Hospital in Bahawalpur for three weeks ago. According to latest news; Mastana lost his war against killing disease today morning in the hospital. His only son is studying in first year of his college. His brother Javed Akhtar told media that his funeral prayer (Namaz-e-Janazah) will be offered today in the evening after Maghrib Prayer at graveyard of Noor Shah Bukhari, Bahawalpur. Mastana started his career in 1973. He performed in more than 2,000 television and stage dramas. Mastana who had been in the industry for 35 year made people laugh by his performance had now left them in grief. Mastana was widely regarded as the king of stage and theatre acting and his legacy will carry on for years.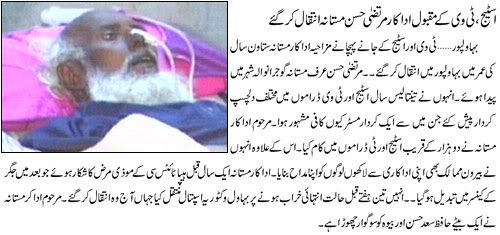 "INNA LILLAHE WA INNA ILAHAY RAAJEOON"