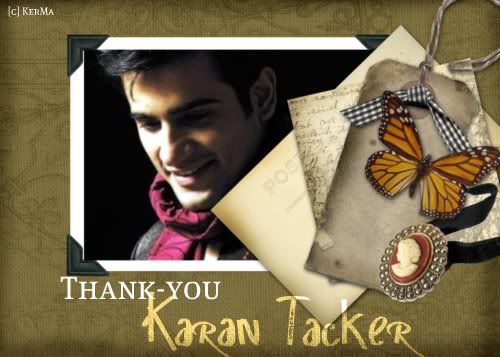 Happy Anniversary Karan Tacker.. We all owe you big time..
You came as a cool dude to many girls and you still rock as the coolest dude in Town!
We all love you for your killer looks!
Not only that we love you the most for coming to Odhani, accepting it as your lead project and working with Yashashree and thus making us your fans!
We love you Karan for your excellent voice modulation out of which we find the HUSKY voice the most Romantic and Die for Moment!
The way you say Aaaayyeee Hayyyeee is totally a Haaayyyyeeeee moment for all of us!
Karan you've won millions of heart by now and we wish you get every success in life along with the Success of Rang Badalti Odhani..
We thank-you from the bottom of our hearts for the outstanding performances given by you, and for your superb acting skills..
We love you for what you are!
You are the one who brings in life to the character of Shantanu Khandelwal.. We are proud of you having to play this role and entertain us everyday..
We all bow down to you for your hardwork and all the efforts to make this show a Success and us fans very happy! Happy Anniversary once again from all ur die-hard fans!


Wishes From Members:


Nattie:
OMG!!
I Cant Believe I Have Loved You For A Year Now!!
Eeeeekkkksss!! OMG!!
Happppiiieee Annniversaryyyy KT!!
Love You For Your Outstanding Performances Everyday!! And The Killer Looks Everyday Too!! You Kill Me Everyday But You Have The Power To Wake Me Up Next Day To Come And Watch You Again And Then Die!
See The Height Of Craziness!!
But Its All Because Of Youuuuu!! KT You Are The Best Actor And The Most Handsome And *Ahem Ahem* Looking Guy Ever!
Love You For Staying with Odhani So That We Can Watch You Everyday And Drool Over you Everyday!! You've Surely Made A Place In Everyone's Heart Here!! We All Love You, But I Love You The Most!
Honestly I doo!!
I Wish You Every Success And Wish RBO Completes Another Year With ShaNak/YashaRan!
Keep Rocking And Enjoy The Day To The Utmost!
Once Again, Happpieeee Annniversaryyyyyy KT!! Love You Loads!! <3


Adeela:
Hi karan.........
first of all congratulation for completing 1 year of RBO ,,I wish RBO run for 10 years more...and i am hugeeeeeeee fan of yours....you are a extremely talented and fantabulous actor...the way u are portroying the character of shan is superrrrb..... hattss off for your hardwork...we love shan.. shanak chemistry is out of this world....and we love shanak rocking chemistry.....shanak are just made for each other...karan u are one of the finest actor in industry...and u are sooooo cute...i wish u get a lotttttttttt of success in ur life...and ur every desire come true...i wish u always keep smiling ..and lead a happily life........just keep up the hard work and thanks a lottttttt for entertaining us....
LOVE .
ADEELA


Vatsalya:
For KT/YM
Take a bow you guys, seriously for all the hardwork and efforts you guys have put in...It all shows and we all simply love you both for it. The most amazing couple on television, with your superb chemistry and incredible acting, you make Shanak so much real!
You have never failed to surprise us with the personal touches and improvisations that adds up so much to a single scene.
For a pair that sets the screen on fire with just an eyelock, even this seems less
Thank you for making Shanak such an adorable couple and "sexy"
I personally believe Shanak complete a full circle only when Yasharan joins them....
Love you guys loads,
with heartiest congratulations,
Vatsalya


Shalini:
Hmmmm... The name itself makes me drooool .... Karan Tacker & Shantanu Khandelwal !!!!
What an experience this has been to like , love , drool over the hottest guy in Indian Television ....
Shantanu Khandelwal is NOTHING without Karan Tacker ....We love the flawed and spoilt Shantanu ... The Burthal as Khanak says !!! Nobody would have even come close to the justice you have done to this character !!!!!
The Looks , the Husky Voice , the Physique , Immensely Brilliant Expressions and Acting ... You are a complete package Karan ....
God Bless you ..... Keep up the great work .... We loveeee you Loads !!!!!!!
Congratulations & Thank You for giving life to the character Shantanu Khandelwal !!!!


Gayatri


Thank you Karan for making Shantanu such an endearing character! He is a livewire, and makes me smile everytime he comes on screen at 10 p.m. Will always be grateful to you for that happiness you give. Wish you the very best with RBO and in all that you do in the future!
P,.S- Please do convey my congrats and wishes to your (onscreen) family- Sunil, Madhvi, Khushboo, Akshay, Dharam ba, and Harilali, and Dadi also... love them too:)


Bona


Hey Karan....U have brought shaan too life... lovable, burthal, caring and a highly romantic lover... has made me love shaan's character alot... Ofcourse the chemistry btwn u and yashu..... ShaNak is truly cause of u guys... and there isn't a single day when I can't stop gushing abt u guys... thaank you for coming alive on my screens everynight. Proud to be ur fan


Deepali


Congratulation Karan for the One Year MIleStone Rbo Journey
Thanks to You for Make it as A wonderful and Amazing Show

The pillars of RBO.....Shantanu and Khanak Khandelwal
The chamestry of shaan and khanak of each other are amazing and great and they looked made for each other
is this one-year milestone knocks at our doorstep, would like to take this opputunity to express our love, respect, and gratitude to all the actors who have portrayed the afore-mentioned characters to near-perfection......for which they have us IF-Odhanians booked for life!

The Era of Golden RBO was golden for a reason.....to be able to etch the characters of Shaan so beautifully that they will remain indelibly imprinted in our hearts forever.....so much so that the name Shaan will always remind us of a certain "Mr Mahapurush"

A round of applause well-deserved To you for Your awesome and Wonder acting Looking every scene as realistic and amazing !!
RBO, for me has been an exhilarating experience, the obvious downs not withstanding! It has changed my entire TV-viewing experience......from a nearly non existent TV life


Take a Bow to you !!!!!!!



Rooj


Karan, Karan, Karan...Hmmmm I feel like giving you the wishes the same way as you are but then you would probably laugh with this wish only so why even bother trying to impress you with my silly wishing ways
. Anyways I'll just praise Shaan and that in itself will be a praise for you!
Ok I was kidding, don't look at this msg weirdly! (I see a smile here, hansa toh phasa
What? it's your line that you used in an interview once...lol).
Anyways Congratulations for completing a year!
Thank you so much for the character of Shaan and more over, thank you for being you! I have immensely enjoyed every minute of your interviews, be it written or be it with Yashu or by yourself. The character we see on the show but it's you that we want to see and the interviews are the best way for us fans to connect to you and that is exactly why I love your interviews, especially with Yashu.
I love your and Yashu's pairing. The chemistry is visible on-screen and off-screen and more over the comfort level that you both share is amazing and to-die for. I think you guys are the best Jodi at the moment. Keep it like that, keep giving us some amazing Shanak moments because we really enjoy it and we watch it only for you guys, at least I know I do!
I wish you the best of best for the years to come! May we get more of RBO in the years to come! You and Yashu has been too kind to us and I hope we can return the favor as well!
Congratulations!
PS: OK i am not always this serious but this time I had to be pata nahi what you will think I am then, some crazy fan from USA of you and Yashu who will say that you look like a demi-God in anything you do, be it acting or just plain bare-chest (might I add Hotness galore
plz don't blush!
)


Beeni

Okay i've said this a million times already but i am seriously officially a big fan of your expressions! You make your acting seem so real it's amazing! You are a VERY gifted actor and i know you will do wonders in your career, be it Television, Bollywood or who knows even Hollywood! Thank you Karan for protraying the character of Shaan SO beautifully! You made Shaan seem like a character we could all relate to, with him making so many mistakes, then apologizing then making the same mistakes again! The face you gave to the character was so REAL and no one but you could have done that! We all fell in love with Shaan because of you!
May you get all the best in life Karan and may you continue to entertain us for many many many more years to come! I want my grand children to see you act as well though who knows they'll probably be seeing you in a Hollywood flick, touchwood! Acting is your thing Karan and thank you for doing us all a favour and realizing it lol
Love, Beeni



Ranjini

Thank you for making Shaan so real. You are a very good actor, keep up the good work.


Shriyaa

awesome actor., with great physique and capable of performing all sort of scenes with naturality and ease
with Yashashri as khanak he creates a magic on screen and teya re one of the cutest and best onscreen pairs ever on televison
love his sense of humour off screen
specail thanks to yash patnaikji., swapnaji., all other directors cameraman ., music director ., and everyone associated with RBO for thorughly entertaining us
best wishes for future
thank u all god bless u all


Vaish

Congratulations! You are the best!


Aysha


First of all congratulations on completing a year of Rang Badalti Odhani! I'm sure the experience has been just as exhilarating for the both of you as it has for us. Thank you for your amazing portrayal of Shaan and Khanak. You are both extremely talented actors, who I feel have a long and successful career ahead of you. The list is endless as to why I love Shanak's jodi, but I will mention a few of them here. When watching your scenes together, it's hard to believe that you're watching a fictional couple because you bring so much life to your characters that we as an audience feel we are actually watching a real couple! This is no small feat, and plays tribute to your great acting skills and
awesome
chemistry! Seriously, nobody could have played Shaan and Khanak like you two do.
I also love how despite your growing fame, both of you are down-to-earth and grounded people, who still realise the value of family, friends, culture and faith. Yashashri, you constantly stay in touch with fans through Facebook which is rare to see in celebrities these days. Both of you are so committed to your work that you even shoot when unwell! All these things only increase our love for the both of you! I'll finish off by saying that I hope this drama reaches even bigger heights of success, so that we are able to enjoy RBO and the Shanak magic for many years to come!


Hina


Karan Tacker, hazaaron dilo ki dhadkan! Thank you for giving us Shantanu Khandelwal, a character which will never be forgotten! The way you have portrayed your character is just commendable. In each and every episode you haven't failed to surprise us with your amazing acting skills. Your chemistry with Yashashri is one of the greatest I have ever seen and together you make the scenes more enjoyable to watch. Congratulations on completing a wondeful year of Rang Badalti Odhani!


Manita
Dear Karan,
It has been a beautiful year spent with RBO and we appreciate you
for making it fun filled, interesting and exciting by your association with it !!
You truly are a gifted actor and your acting is your major strength.
Good looks, style, attitude and voice adds up to it to make a perfect combination.
May God Bless you to reach the zenith of success in whatever you do !!
Manita



Shilpa


Well, congrats for completing 1 year of RBO, and being d man behind the success of RBO
Thanks a lot for giving us this character ' Shan, U have lived, breathed n given a soul to this character . Without you, Shan would have been a mere fictional character. At times, I felt sad for Shan, sometimes laughed at his antics, sometimes got pissed off for his irresponsible behavior, but never has been a time wen I stopped loving this character. Believe me this is not only because of d character, but because of the man behind Shantanu Khandelwal, and that you, Karan Tacker. I may sound flattering you, but believe me, never in my life, I have ever been infatuated with any tv actor, as in ur case. I don believe in crushes and infatuations, but ur charm, ur persona, ur breathtaking looks, make me go crazy over you
Whenever u come on screen, daily at 10 pm, my mind says to watch Shan , but my heart says to just drool and gaze over d handsome hunk, Karan Tacker. U have managed to get all d praiseful adjectives under ur kitty. U have made Shan look cute when he is is being naughty or burthal. U have made Shan look hot when he is angry or sad. U have made Shan look sexy when he romances khanak.
And when mentioning khanak, can I forget Shan and Khanak's Jodi..our lovable Shanak. Ur chemistry with Yashashri has what made this term Shanak a well deserving place in our hearts. I have never seen such a realistic and natural chemistry even with real life couples. Seeing both of u daily at 10 pm, makes me feel as if I am poking into someone's married life, their daily life
I m not just a fan of urs On screen, but also Offscreen. What I love and appreciate d most in u is d fact that u are always honest, genuine and speak from ur heart. Be it ur solo interviews or ur interviews with Yashashri, u were always honest and never seem to be faking or showing attitude. I never fail to enjoy ur offscreen chemistry with Yashashri, as evident from d video interviews or d articles. If u don mind can I say something.. u r an actor and u know very well how much fans love their fav jodis, even wish to c them become real and not just remain a fictional characters, even u must have been experienced with ur previous show ..and dude, I am no exception..even I will be honest enough to say I always wish my fav Jodi Shanak to become real. But, don wry, I know it may or may not be true'but there is one thing which can never be untrue and that is ur chemistry with Yashashri
Wish u loads and loads of success in life and wish u achieve all u deserve in life


Smitha
Congrats on successfully completing one year of RBO!You are one of the best actors on TV right now and you deserve this and much more.Thank you for portraying Shantanu Khandelwal so realistically!Good luck!


Dyo

Karan Tacker aka KT for the uninitiated!
The very fact that an actor is being addressed by a nick-name speaks volumes of the kind of the impact that the young man has had!
KT.....the man who breathes Shantanu Khandelwal!
Shaan is undoubtedly a beautifully scripted character......the 'human' attributes of Shaan's personality are what make him so special.....but if it has been immortalized in our hearts forever, can cross my heart as I say this......it is entirely due to KT!! The biggest proof of that.....even when Shaan let KT down, KT resurrected Shaan!!
Take a bow, young man!!
KT's assets as an actor

1. Dashing looks, charming personality, glorious smile.....which he uses to great effect from serene to flirtatious!
2. A superb understanding of his craft.
Almost always brings something extra to the table.....something entirely his own.......as though he has 'internalised' the moment!! In simple words, KT improvises brilliantly.....
3. Blessed with a deep baritone and does complete justice to it through his excellent voice modulation!
A huge asset for an actor, which probably enables him to take a scene a notch higher.....
4. Uses his eyes as his arsenal......from romance to intense, his eyes do the 'talking'!!
KT's scope for improvement areas

1. KT, just like any other young actor has his role models.....who probably influence him on a subconcious level....

I, for one had major issues with the SRK influence which used to be on display earlier!
But, the same is near negligible now.
Likewise, the Salman Khan impersonation also seems to come to the fore, especially during some comedy scenes.
KT, you are an absolute Original!!
You dont need any external influences whatsoever...... keep working at it,young man....its already begun to pay rich dividends!
2. Could broaden his horizons.....case in point.....explore facets in Shantanu Khandelwal hitherto unknown, thereby adding yet another dimension to his craft!

My Top 3 KT Scenes

1. The 'delirium' scene when Khanak leaves for Dhulwadi, and Shaan just cannot seem to distinguish fact from fiction! A very tough scene......scintillating stuff on display there by KT!!
2. The pool-side confrontation scene between Shaan and Khanak, over Sunny! The intense yet vulnerable Shaan, with a Yes and a No for an answer when Khanak wants to know if Shaan still trusts her.......brilliant!!
3. The post-proposal debacle confrontation scene.....the portrayal of the angry, intense, and betrayed Shaan, all in the same breath.....beautifully understated......announced his arrival as an 'actor'!!


Priya


Karan Tacker...where were you all these years..What a brilliant find to portray Shantanu...i feel nobody could have done justice to the role of Shaan except you...Good looks and versatile like nobody else !!!You will proceed from being Shaan to somebody else later.. But Karan Tacker will remain in my heart as Shantanu Khandelwal forever and ever !!! Congratulations for the journey so far and best of wishes for the one ahead !!!


priz_da

From caring for unknown village girl to hating the wife and then exploring friendship & love.. u rocked when u had smallest of the scope! Only you could have played it so convincingly!


Roshni

congratulations for completing one year of RBO..... I wish you all the success in your life..... I will love you forever......





Edited by WooHooHaha21 - 05 April 2011 at 7:28am