Priyanka Bassi popularly known as Naina of a youth oriented Army based show Left Right Left belongs to Delhi and she is has a great fan base. This is just her craze which gives a tough competition to young and fresh new faces of T.V. still now a days . She was not on screen for almost more than two year but simply did not last her craze in her fans. Examples are here
India forum celebrity..................more than 1050 fans she has now.

http://www.india-forums.com/celebrity/497/priyanka-bassi/

Priyanka BassiBiography
She is the fresh face to feature on India's second English language soap to go on air on Zee Caf.Beginning her career with 'Left Right Left', Priyanka 'Naina' Bassi has proved herself as an ...
Rank
Current: 121
Last Week: 83
Peak: 57 (01 February 2011)
Link of her profile on face book which has more than 1950 friends and fans of her.
http://www.facebook.com/profile.php?id=100001322273084#!/profile.php?id=100000101740052
Is it easy to have such a huge Fan Base in only three shows and a reality show?
It didn't matter for her that she was absent for a long time. On T.V. not any actress dares to take such a long break knowing very well that people can easily forget her. Her first show "Bombay Talkings" made her famous when she was in early age. It was an English soap which used to come on Zee Caf, as all of us know that there is the biggest fan base of Hindi TV shows but in that croud someone has made her identity and proved that yeah she has lot possibilities in her. She was simple yet she has those charming and killer looks which can increase the heart beat of any boy.
If someone has watched her in "Left Right Left" he/ she would know that who is Naina Singh Ahluwalia and how was she. She was a strong minded, determined girl who can do anything to prove her brother's innocence. Her brother Captain Naveen Singh Ahluwalia a great patriot was killed like a traitor having a false story of being a traitor Naina knew very well that his brother can't be a traitor and she proved that finally with help of Naveen's best friend and her mentor Capatin Rajveer Singh Shekhawat. The only person from whom she could never hide the true Naina. Only he knows how is real Naina and she looks super hot in red. She has wore two times red in the show and both the times she was with her mentor and her life Captain Rajveer Singh Shekhawat. She is the magician who can create magic with Captain Shekhawat and still a lot of fictions are written over their unsaid love. They have spark and chemistry and a special magic in their on screen chemistry.
Priyanka Bassi's next step after two long years of wait of her fans. You know guys how much patience we have, we waited for so long and god looked at our patience and one night he showed a dream to Priyanka "Priyanka vapas chali jaao un logon ki zindagi me jo tum ko itna chahte hain" really when after such a long time we heard the news that she is coming back we were more than happy. We don't know when god listened our prayers and now again she is back on TV showing her gorgeous smile always.
She was stylish and gorgeous there but things didn't work properly and now she is not in the show. Quitting the show was her sensible decision and when she quit that, it was for best. She was good with all as is in her previous shows. One important thing I would like to mention here is we never saw her in typical Indian drama shows, she was always different, ethnic and spontaneous.
Her fans were disappointed too when she saw her in role of Samira of "Rang Badalti Odhani" which was not the most powerful role of the show. After doing a show like LRL how can we compromise but no it was just a step to get some limelight again so that she can get a perfect role for her which suits her persona.
And here she is...............back on fire
Now our lovely and gorgeous Diva has find a perfect role for her in a new show "Super Cop Surya" telecasted from 4th April at 9:00 p.m. to 10 p.m. on Sony TV.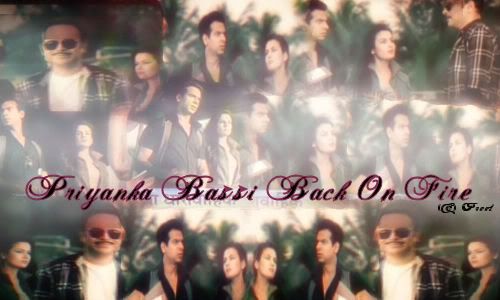 What we guys need more, wish her luck for her success in this role and to the show too as they involved all the known faces of industry.
( Thanks Preet for siggies and mahak (vertika) for write up
)
So guys don't forget to watch " Surya The Super Cop" from 4th July 9:00 p.m. to 10:00 p.m. Monday to Thursday on Sony Television .


Edited by desaiprachi07 - 05 April 2011 at 1:05am