Rani Mukerji's success fundas
Mumbai: Actress Rani Mukerji is on a high, thanks to the success of her last release, No One Killed Jessica. She was also seen on television where she was judging a dance reality show and the actor doesn't rule out taking on a bigger TV assignment soon.
"I am open to TV offers now but it has to suit my like and dislikes. I have only gone for assignments that I felt were suitable for me in films too. And yes, I think I am looking forward to some more action on TV soon," she says.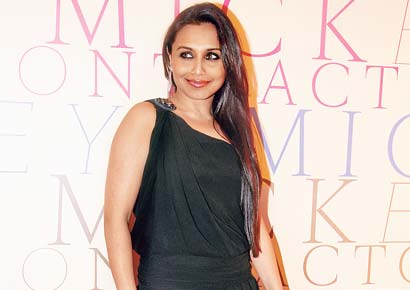 Mukerji admits that TV as a medium has come as a fresh career option for film actors and she too is open to the medium. "I have very fond memories from the reality show that I judged. It was a great experience for me. I think that these days TV offers plenty of scope and, more importantly, it satisfies ones creative urges too," she says.
Though there are adulations pouring in, Mukerji says that she has learnt to take everything with a pinch of salt. She adds that she gives her 100% to every role of hers, but at the same time rues that an actor's efforts get noticed only when the film clicks at the box office.
"I had put in the same effort in all my other films. But they got noticed duringNOKJ because it was a success. Trust me — I worked equally hard for a Dil Bole Hadippa too," she says.
Mukerji admits that it is difficult for an actor to guess the audience reaction at the box office. "You can never gauge what is going to click and what is not. Everybody makes a film aiming to hit the marquee at the box office. Dil Bole... and Thoda Pyar Thoda Magic were also superbly made. But yes...NOKJ will stay in everybody's minds more because the audience liked it. But as an artist, every film for me is the same and it has the same amount of emotions attached to it," she concludes.


Edited by Salmanayesha - 28 March 2011 at 12:02am