Has there ever been something you've made, and then regretted creating it?? Somehow like you wanted to create a Chitti or Terminator and ended up making a plain old Frankenstein?
Well you need not worry about what to do with poor Frankie anymore.
If you've ever written something, made a siggie or a VM and somehow never had the courage to display it to the world, you might just as well as send it to usCrazy Creatives.Coz it's time for the
India Forums presents
Starring the stars of the bygone era
*Spring Cleaning Contest*
Yep, as you all know it's springtime, and it's time to sweep the attic of your brains
and remove all the old stuff. Along the way, you'll get to relive some fond memories, and of course, you might just get a cool prize.
Now here comes the question: What do you have to do?
For the writers: You have to send all your stories, FF's, one shots, poems, whatever can be written
dated 1st February and before to
CrazyCreative
with subject 'Spring Cleaning : Stories'
If you're a siggie maker or Video maker: You have to send all your siggies and VM's dated 1st February and before to
CrazyCreative
with subject 'Spring Cleaning: Siggies' or 'Spring Cleaning: VM's'
The deadline??(Mummy
)21st March, 2o11(Though the world's not ending in 2012
)
(Hey you just have to give your old stuff, not make new ones
But we understand it will take time to dig out the treasure...
)
Rules
1)The stuff should be safe for kids.
2)
You must send only
your original
work and no one else's...the neighbour might not mind if you cleaned their attic, but you can't sell the stuff.
3)You can send only one entry
4)The stories, VM's, siggies must be dated
1st February
and before. We wouldn't mind if you wrote something specially for us
but the prize is for the oldies only.(Yeh aaj kal ka generation bhi na
)
5) Also, it can be on any subject ...we don't mind whether you do it fiction or non fiction, on one TV show or another..it should just entertain us.
If you want to encourage your friends to participate in this contest please do. Better late than never...we are always on the hunt for new talent.
Signing off,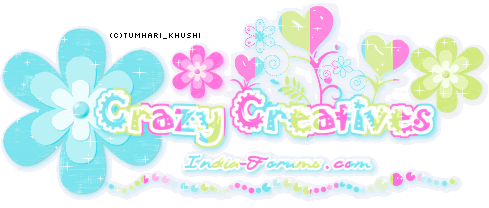 Edited by IndigoBlues - 16 March 2011 at 10:19pm