Originally posted by pr1ncess12
i dont really know u much but i wish u a very happy birthday !!
Happily Ever After
On your birthday, special one,
I wish that all your dreams come true.
May your day be filled with joy,
Wonderful gifts and goodies, too.
On your day I wish for you
Favorite people to embrace,
Loving smiles and caring looks
That earthly gifts cannot replace.

I wish you fine and simple pleasures.
I wish you many years of laughter.
I wish you all of life's best treasures.
I wish you happily ever after!
Happy Birthday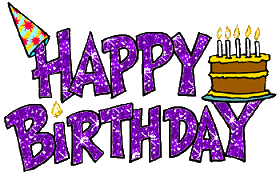 happy birthday frm halimah (pr1ncess12) xxxxxx
aawwwwwwwwwwwwwwww thank u :P btw m sara...
ansd yeah sanya ans saika is mah closest friends and sweet sis...so they might have told u to wish for me how sweet na heheh thanks again...