14/3/2011 - MondayPrevious Episode
http://www.india-forums.com/forum_posts.asp?TID=1634784
Daksh and Naina continue their talk, and agree to be friends and part company.
In Sanket's room, he is on his laptop, working out his finances.and Rohini is in her world, cheerful and happy at her own achievements. Sanket lets a bombshell on her, and tells her that they spent the previous evening half their salary combined. She is cool. She goes to the cupboard, and brings out the joint account cheque book, and tells her husband to follow her.
They find their mother, and Rohini with her sweet smile asks if their father is around. She wants to help the mother, but she says she can manage without her help. She then, asks the mother to sign on the cheque of the joint account, and she takes the book and gives it to her husband, and he is very angry.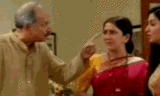 He snubs both his son and his wife, and rattles them. Sanket has no voice, but his wife back answers, and her father in law too does not keep quiet. There is an argument, and the mother interjects and asks him to be calm. He can not, and asks his son, if he gets suffocated in the house. What was the need for him to lie, when his father did not ever stop him from doing what pleased him. The behavior of the two the previous evening disowning their own parents, was beyond his comprehension. He does not sign the cheque as he says there is not much money in the account. Rohini lets out her sarcastic barbs. Says it is their hard earned money, and her father spends it on relatives, meaning Akriti and her hospital bills.
Rohini complains to her husband, that in her house, her mother never ever questioned her, and she could do what she wanted, but here, the attitude is different. It looks she came from a dysfunctional family, where the parents might also have been going in the opposite directions, doing what they pleased, and no wonder they brought up, or the child grew on her own, to be what Rohini is today. With her sweet talk, she must have swept the mild mannered Sanket, and bound him hand and foot for he rest of his life.
On the way out, Rohini tells Sanket, to go ahead alone to his office, and that she will go to her boss and give him his file and leave to the office from there.
Naina comes in and the father tells Daksh that his secretary has come. Naina gleefully, touches the feet of both the parents, and the mother offers her sweet as a parting offering, and the father tells her to give it also to Daksh. Both leave for the office.
In Daksh's office, the girls are talking about their boss. After a little while, Daksh enters, and all of them wish him. Immediately following him comes Naina, and she with her winsome smile, greets the girls, who are a little taken aback. They say something about an appointment, but Daksh tells them she will be replacing his secretary.
Naina introduces herself to the girls, and they tell her their names, and then they tell her table is in boss's room. Daksh calls her into his room.
At the Sharmas, the lady of the house welcomes Rohini, and tells her that her husband will join them soon. She calls her husband by name, "Mukesh" and he comes and asks how come Rohini has come there. She tells him that she has brought his file. As they talk, they decide to change a photo on the wall and Rohini offers to help, with her jeelebi smile. The photo is of their college days with their professor, none other than Rohini's father in law. Mukesh and Mrs. Sharma speak highly about their college days and tell them they studied together under the same professor, who used to invite them to his place often.
The photos are changed, but Rohini does not look at the photos as she is a snob. Just them she gets a phone from the office, and hands over the file, and hurries away, without having a look at the photograph, which her boss and his wife so lovingly put on the wall. Later the husband tells his wife, that he wants to visit the professor, and the wife tells him that she will get his address, and they could go in the evening to visit them.
In the evening, Mr. and Mrs. Sharma are at Patwardan house, and are chatting. Mr. Patwardan tells them that their children will be coming home shortly. At the doorway, we are shown Sanket and Rohini entering, and a face of Rohini, as if a tsunami has hit her !
Next Episode
http://www.india-forums.com/forum_posts.asp?TID=1637590


Edited by walquest2000 - 15 March 2011 at 4:58pm