Hi Everyone....
MahaPurush of the week
Keeping to the RBO flavour
------


So this week on the hot seat is a lovely Master, always looking for the betterment of RBO forum'She uses her belan to demand for forum rating on Chaska Meter and fan pages'She is the mother of this forum, as I like to call her'..Even Veenator is scared of her Belan'her name immediately reminds you of a month, beginning of summer, just like her'Some call her Mata-ji while other by her name'she is too cute for her own self, I wonder what is her age'she is a Shanak gusher but secretly she has an agenda like mine'I call her Maystero coz she is the RBO leading conductor in the most important task'She is that neutral side that likes to make peace'she is the most innocent of all'Let's Rate her to the Hot Seat'she isssssssssssssssssssss
-May-
Congratulations May..
Stop commanding for rates .. come to the hot topic..
the hot seat.. and get ready to get grilled.
(pisssstt..beware of that girl Rooj...
oh yea that's me!)
Please feel free to use the siggy below to flaunt your special status for the week.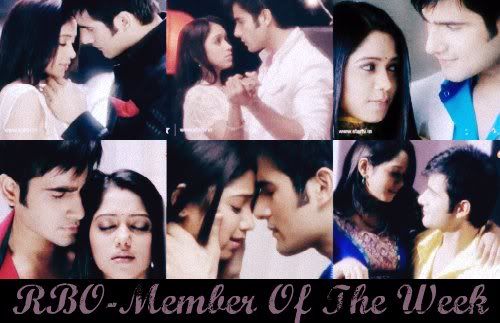 Time to grill everyone..
make it a fun week for May (Maystero) lets grill her and get some info out of her.... May (Maystero) get ready.. One..two.. here it comes....
Name:
IF name:
Age:
IF age:
Hometown (Current and where are you from):
How did I get started with India Forums:
Why am I hooked to RBO(Yasharan and Shanak)...:
Why do I like Shanak and Yasharan:
My hobbies and a little about me:
What I like best @ IF:
What I would like to see more @IF:
What do I dream about when I sleep:
Favorite Food(other than Indian)
Favorite Color:
Favorite Movie (choose one):
One random fact about me:
---
Now it is your turn to grill bake and fry her..
----
Credits:
All glitter courtesy of Tumhari_Khushi and Zwani.com
Smitha for the RBO MOTW siggie..
Thanks girls.


Edited by rooj-i - 10 March 2011 at 9:12am