Meet the Sita of New Ramayan
D
ebina Bonnerjee
came to Mumbai, the city of showbiz dreams, from Kolkata to pursue a career in the movies.
The 24-year-old Kathak dancer ended up doing regional films in Tamil, Telugu and Kannada industries. Debina then moved to television, and presently plays Sita in NDTV Imagine's New Ramayan. She tells Rajul Hegde what it feels to play Sita.
How did you get into this industry?
I came to Mumbai from Kolkata three years ago to make a career. I had given my portfolio to a co-ordinator and one day, a South Indian director met me and asked me to give an audition. I did, and was selected. He sent me the contract papers within 15 days. That's how I got into films.
Earlier, I had no idea about South Indian films. Now I have acted with the top Tamil, Telugu and Kannada stars. I have also done a 3D Tamil television serial called Mayavi, which was dubbed in Telugu and Malayam.

Did you always want to be become an actor?
When Sushmita Sen won Miss Universe beauty pageant in 1994, I was fascinated. I wanted to be like her but was too young to express myself.
When I told my parents, they were very supportive and helped me take part in a beauty contest in Kolkata. I slowly started getting offers for films and television shows. I was still in school, so I only did Bengali telefilms and ads. After graduation, I came to Mumbai. Without my knowledge, my father had enrolled me in Bhavan's College for a diploma course in public relations. I graduated and started concentrating on films.
How did you become Sita in Ramayan?
I auditioned for a television show but, after that, I didn't want to do it. After some time, I auditioned for a mythological show for Sagar productions but I didn't know it was for Ramayan. I was selected and realised, during the mock rehearsals, that I was playing Sita. Mythological shows are much better than the saas bahu soaps.

What kind of homework did you do to portray Sita?
I have read the Ramayan in school. I didn't have to do any preparation. I watched some episodes of the older version of Ramayanon Doordarshan Network. I didn't watch too much of that because I didn't want to copy Deepika (who played Sita). I wanted to be original. I am playing Sita in my own way.
How was your first day of the shoot?
I was really nervous on the first day. I had to say just one line with a puja ka thali and pray, and it went well.
How do you mange with the heavy costumes and jewellery?
I am very fond of jewellery and love to dress-up. Even when I was not supposed to show my face -- when my head was covered with a gunghat -- I would tie my hair and try to look good.
In the present track, Sita has been abducted. Whenever I have to do flashback scenes -- when I'm shown in my royal get-up -- I get excited to wear those clothes and jewellery.

You are not from a Hindi speaking state. How did you manage with the language and diction?
We have been watching and listening to Hindi on television and films from childhood. So I didn't have any problem with my Hindi diction. When I first came to Mumbai, I also took Urdu classes.
How different is the New Ramayan from the old one?
The older version of Ramayan was a weekly show and it was not possible to show details. The New Ramayan is a daily show where they are trying to show details.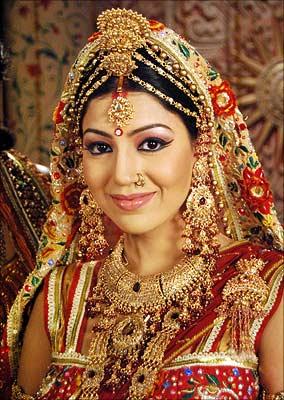 Ekta Kapoor's Mahabharat will be aired from July. Will that be a threat to Ramayan?
We have been the leaders. Everyone was sceptical whether the audience will accept the New Ramayanor not. I think we have created an audience with our hard work and have broken that barrier. We are happy with the kind of response we are getting. According to the survey, 50 percent of the younger generation, who have not seen the old Ramayan, are getting to know about Ramayan through our show.
Before taking up the role, did you fear for being typecast in a mythological characters?
When I portray Sita, I get into the skin of the character. I give my 100 percent. I cannot cheat my audience. Even the audience knows that what I am portraying is just a character. I am a modern girl with values. So once the show is over, they will know that I am just an actor.
There is a speculation that you and Gurmeet (Ram in the serial) are real life couple?
I am tired of giving answers to everyone. I don't want to talk about it.