DISCLAIMER
read this post at your own risk
as my brain has lost its floppy disk
..
so its not ROM and not RAM
so all the ghajnis and sajnis and rajnis can bring tomatoes and potatoes and some pepper and salt too
So here starts an O.S. i.e. One stupidity
plot:
its late night..moon[omg guys its not chandu..its real wala moon] is shining all beautifully
Stars are twinkling and cicadas are disturbing the silence of jungles...our cool dude sid is sleeping on the tree near maithli's grave and our hot dude has dug a rabbit hole near her grave and is sleeping in it
Chandu and his chandni ie our MOONa and his MOONi are doing their neck dance practice obediently
So the detective pia runs to abhay's grave
[oops maithli's grave] and kicks the sand blanket
Sid gets all high alert by smell and so does our chandu and chandni
Abhay~ now what pia.. Cant you just leave me alone
pia~ no abhay i want answers..
What are you hiding from me abhay
i want to know
I need to know
Abhay~ pIA just leave me alone...mujhse dur raho...chali jao dur...ye kahani adhuri hai
[near the grave chai wala baba is busy writing some wierd figures on sand
..our sid has clung the branch tight and the cat near his all doing meaaww meaaww
.
.
]
pia~i have had enough of it abhay...no you have no right to hurt me like this..I cant tolerate your mood swings any more..why do you have such mood swings..I need a reason...why abhay why..
Abhay~mujhse dur raho pia
pia~ abbe dhakan..
Ekta mata ko bol she has given you same script without single change
[produces bangs his head on tree for giving him photostated script every day
]
abhay~ pia me ye raz tumhe nahi bata sakta...tum tut jaogi..
Pia~if you dont tell me about mood swings i will surely todofy your fangs.
.
.
Abhay~pia wo..wo
Pia~"wo" kya abhay
abhay~ pia wo i am..I am pregnant..me ma.
Sorry baap banne wala hu
[camera zooms three times on pia sid and abhay and chaiwala baba with zoom boom]
..
sid bites his tongue with his fangs
..pia faints
..chai wala baba throws his chai away..
They show wolves howling snakes hissing crocodiler yawning and blah blah scenes of national geographic.
And abhay becomes a vamp
Sid falls on pia who is lying on ground as his branch breaks..
.
His cat falls on maithli's grave and does all its stuff on it and runs away.
.
.
.
Abhay kneels on the ground and yells yaaaaaaaaaaaaaaaaaaa*[hooo
]*
why did you do this.. Why why why.
Me mar jana chahta hu..
Me kya karu maithli ki grave ko saf karu..ya fir us bimbo cat
..ko pakad ke kha jau...ya pia par gire apne john cena bhai ko uthau..
Just tell me
Sid murmurs "little baby brother"
abhay in anger looks in his eyes
Sid yells "abbe majnu ki aulad
..[son of romeo] aise kya ghur raha hai
baapu ki sari habits sikh li.
Chal lift me up..
Mummyyy meko slip disk h.
.
Abhay picks sid up in one hand and song starts
"pee lu tere neele neele naino se shabnam"
.
and so sid sits and abhay looks at pia who is deep buried in ground due to weight of sid.
.
He tries to take her out.
She slaps him tight.
Camera zooms five times and again that balaji telefilms style slap echoes
Pia~juth bole kaua kaate.
.
Pehale kyu nahi bataya..
Congrats...
We want party...
Abhay
blushes...
To know more:::hook on to india forums.
P.s. Its totally a fun post and i love abhiya alot
I hope i dint hurt any one's sentiments.:( and if i did..then do let me know i ll edit it all Plish it was just to get over the crap which ekta mata is showing now a days
And if ya guys want to kill me
Then meet ya guys at dehradun at midnight in jungles lol...
You guys must be wondering what does "p" means in topic... Lol its pregnancy...
.
And the culprit is none other than...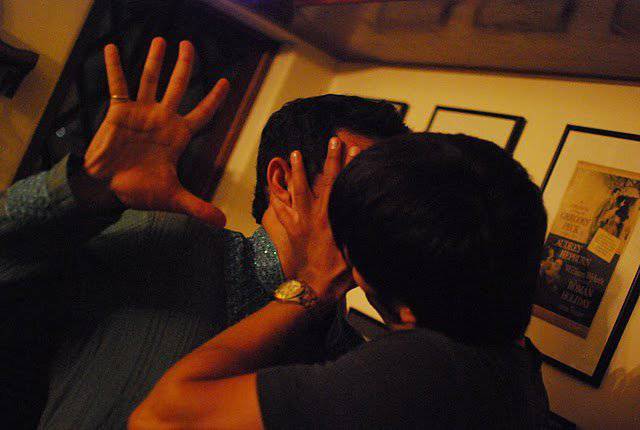 lol
thanks to detective gaya3 and payal who made my work easier
And yes so here we have happiest family.. Sid[faaa-dar] abhay[moth-ererrr] and their baby...omg so sweet
and see here is our baby vampire which will be born after 9 months but it came out for strolling arround in jungles with its mom and dad and to run like that.. Thanks koyal-kajol for the pic dear..
.
do let me know how it is.


Edited by SimplyAparajita - 13 March 2011 at 7:45pm