Finding your DESTINY..!!
ok.. guys this is a story of our beloved Abhay and Piya.. who are both in different worlds.. look how they come together as one..!!
Update 1- page 1
Update 2- page 1
Update 3- page 1
Update 4- page 3
Update 5- page 5
Update 6- page 9
Update 7- page 13
Update 8- page 18
Update 9- page 23
Update 10-page 28
Update 11-page 34
Update 12-page 38
Update 13-page 42
Update 14-page 46
Update 15-page 51
Update 16-page 57
Update 17-page 61
Update 18-page 65
Update 19-page 71
Update 20- page 76
Update 21-page 81
Update 22-page 86
Update 23-page 89
Update 24-page 89
Update 25-page 91
Update 26-page 95
Update 27-page 98
Update 28-page 102
Update 29-page 105
Update 30-page 109
Update 31-page 112
Update 32-page 115
Update 33-page 118
Update 34-page 120
Update 35-page 123
Update 36-page 126
Update 37-page 127
Update 38-page 130
Update 39-page 132
Update 40-page 135
Update 41-page 137

Ok this is my first update... hope you guys like.. please do comment..!!
Piya was sitting in her hostel room quite exhausted by the college work.She was flashing through her mind about the day's events.Well things had not quite turned out well for our Piya.She seemed to be disturbed by something... as she rememebered the incident her cheeks to a dark shade of red as she went past the situation through her mind when she was with Abhay.The name was enough to speeden her heart beats.She always used to wonder how A-B-H-A-Y only a 5 little word can drive her so insane.
She could see the incident very clearly she was helping the librainian in helping in arranging the books,and Abhay came there as the libranian had called for him to help Piya in arranging the books because everyone were busy in the working of the College Annual Function.The librainian excused herself as she had some other work to attend to leaving Piya and Abhay alone in the library.The minute she saw Abhay coming close to her with a bunch of books, her heart began to race fast,she had this overwhelming surge of nervousness shivering through her being. As he walked closer to her, he could sense her nervousness each step of his was creating in her body, but she was a magician no less. Watching her eyes waiting in anticipation for him, he found it so hard to stop himself from closing in to her, hugging her, pressing his hard lips on her soft, tender lips of hers... ah.! He just drove away that thought and just walked briskly towards Piya.
She knew this was happening to her very commonly these days.. the sudden adrenaline rush she quite herself didnt know how to stop it. She gupled trying to swallow down the sensation as he stood next to her of about a distace less than 2cm. He was slowly arranging the books in the empty shack according to alphabetical order. He called on to Piya saying, " Pass on that book which is in your hands please.." Quite taken back by the distance between them slowly regaining control she managed to say a 'yes' and gave that book to his hands.He noticed her semi-concious state and asked,"Hey are u ok..?".Now she was back to normal at least her heart was beating in 80's.. she looked up to him lovingly and said,"Yes, im alright, just tired that's al..!"."Then you better take rest I can handle all this, you know that a vamp can do things way more faster than a fragile human like you right..?" he said winking.
She just smiled,"No.. that's alright.. and humans are not that weak also" she said sticking her tongue out.. he just smirked seeing her childishness and said,"ok strong human..! bring all those books which is on the 3rd shelf of the last rack, i think its better if we shift the maths books here cause many students need them and it will be easier for them to take.. what do you think..?" pointing at the rack..."wow.. Abhay that's the longest sentence you've ever said..!" she said jockingly.Abhay remained unreactive about her comment, she frowned and walked to the last rack pulled a ladder, put her bag down..! 'oh ya.. i'll show him what a human can do!!' she thought to herself proudly as she climbed.She slowly climbed and took all the books carefully they were all pretty old, all the books there had a thin sheet of dust, by inhaling this it made Piya sneeze'achooo' and with she lost balance on her ladder. She tried to grip herself but quite the opposite happened.. her leg stepped on her own skirt and skidded and 'thud' she was about to fall when she felt the strong arms of her knight in shining armour around her thin figure holding her before she felt the ground.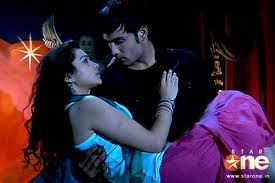 She opened her eyes to meet Abhay's angry gaze at her.. "You surely showed me what humans like you can do..!" he spat.He was angry because she was not being careful. But Piya was taken aback by the anger.. as she looked at him innocently she noticed that her gaze made his anger melt even faster than an icecream..! 'oh god what do you do to me Piya' he thought to himself.
He put her down carefully but still his hands were on her waist as she was dusting herself and she sneezed again two or three more times.She was alright now but his hands never left her.She looked up to him.. his eyes were full of passion,love.. 'wooow, he seriuosly need some mood control pills too much mood changing..!' she thought at the back of her head. Slowly removing one hand of her waist he caught her milky white hand and was about to kiss it and Piya suddenly exclaimed."No don't kiss me.. my hands are dusty..!" he just smiled at her response and said "hmm... ok go wash youself.. it'll be better to taste you than the dust" smirking.The words made her heart beat so fast that she thought that her rib cage will defintely break open.. it sent shivers down her spine. He noticed that she was blushing immensely with her head down and said whispered,"Go Piya wash your hands and come BACK".Her heart was dancing for each word he uttered, completely taken over by passion.Then a book suddenly fell from the rack and broke their intense gaze. She recollected herself and slowly walking over to the fallen book she said,"Ah.. i'll wash my hands after I finish my work Abhay.. we've to complete arranging the books by evening right..?" she uttered still shivering. As she lifted her head to see Abhay, he was already arranging the books.. "Dont just stand there.. bring those books here" he said bossily. 'god he needs a psychatirist' she thought as she brought over the books. Then by evening the work was over.. they had completed the whole work in silence.. it was 5 past 6.. she looked at the library and was very happy about how beautiful it was looking now.. with books neatly arranged..!! she sighed and gave a broad smile, "We did it Abhay" she said. He was already at the door and said a "yea watever" and walked on.
"humph...!!" she said and barged out too.. but not before she switched off all the lights and everthing. She immediately went to the washroom and washed her hands off using the Dettol bottle there. She looked up and smiled at her own reflection before running to find Abhay...