Sorry didn't get time to check correction.
Part 5
Present
Geet was walking towards parking load and she got inside her car. But she was not able to start it, she tried again and again but no use. She got outside and made a face towards car.
Geet : Tumhe abhi garab hona tha? Stupid, ullu, Monkey ghadi. I always give you petrol to drink naa then why are you showing me attitude? Did I do anything to make you upset? Now chup chap start ho javo warna mujhse bura koi nahi hoga samhji tum?
Unknown to her someone was hearing her dhamki.
It was Maan. He after visiting Daadi was going to parking load to take his car as he didn't come with his driver. When he heard a sweet voice, he stopped in his track and his eye searched for the owner of the voice. He saw Geet giving dhamki to her car. He was amused to see a serious Doctor acting like a child. He saw her giving a kick to car tyre and then yelping in pain and dancing on 1 leg and other leg holding tightly due to pain.
Geet : Stupid ghaadi tum kathe kya ho? I mean pithae kya ho petrol ki alava?
Maan was looking at her as if she is an alien.
Maan : Only she can give dhamki to poor cars. Mujhe nahi pata tha ki ek seethi saati doctor ke piche ek daring gunda hai.
Geet was very much angry this time and pointed her fingers towards car like a villan.
Geet : ye tera aagri chance hai, agar start nahi hu va tho meih tumara aise haal ...
(Suddenly Geet saw Maan and kept quite.)
Maan : Wow not bad haan. Doctor ke saath saath ek part-time gunda bhi ho? I'm impressed.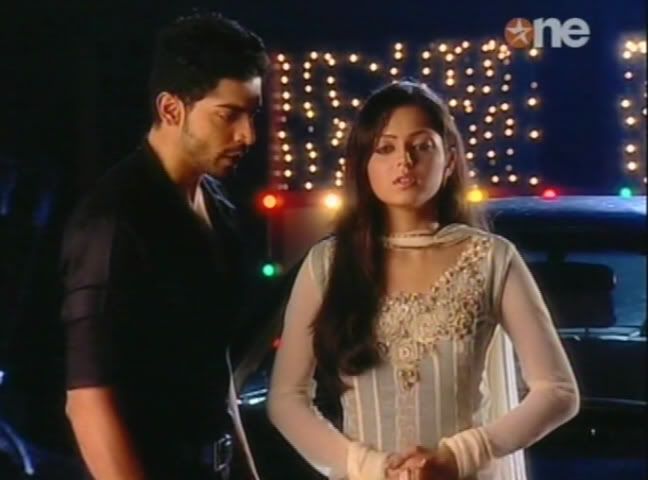 Geet : Ji aisi koi baat nahi hai. Aap yaha kya kar rahi ho?
Maan : Cricket kehl rahi hu. Wanna join?
Geet : Ji? (Confused)
Maan : Nothing came to take my car. So is your dhamki working?
Geet : Ji??
Maan : I mean is your car starting?
Geet : Pata nahi. I'll check
Surprising her car started as it got scared by her dhamkis. Maan started to laugh which made Geet turn towards him.
Geet : Aap hass kyu rahi ho?
Maan : Mujhe nahi pata tha dhamki dhene se car start hojayaga.
Geet : Ji aisi koi baat nahi hai ( Embarrassed). Ji goodnight.
Maan : OK goodnight.
Geet drove off followed by Maan in his car. They went to their respective home. Maan was unable to sleep thinking of Geet. He liked her. (Hey don't jump into any conclusions bcz he is not in love)
Morning
Geet was running inside locker room as she was late. But at corridor she bumped into Maan and was about to fall down but as usual Maan caught her before she land on ground. Geet's eyes wre closed but Maan was staring at the angel before him. After sometime later, Geet opened her eyes and saw Maan, she tried to stand up on her legs but Maan's hold on her was making it impossible for her to stand straight.
Geet : Ji meih teek hu
Maan :...
Geet : Mr. Khurana..
Maan : ...

Geet : Mr. Khurana (Little louder)
Maan : Haan.. Oh sorry
He came out of his trance and made Geet stand straight. She thanked him and ran away towards her locker room. Maan, after visiting his Daadi went back to his office. Geet was not at all affected by Maan's touch and never noticed him in special way. Days passed, Maan was getting more and more attracted to her day-by-day but Geet was busy with her work and other things. Daadi was making more excuses to stay a bit more in hospital so that Maan and Geet's love story start to blossom but Geet was unaware of her affect on Maan and Daadi's plan.
Meanwhile, in Aman's and Tia's life, everything was upside down. Tia will drag him to her room whenever Aman comes to meet Arjun. Arjun was unaware of it and poor Aman was scared to tell his friend about this abuse of Tia. Tia turned more aggressive when she came to know that Aman is dating Lavanya. She too started to give Aman dhamki just like Geet gave to her car. Aman was more scared when she told him that she'll tell to Arjun about Aman hitting on her but that made Aman more scared.
Aman : Kab? Kaha? I never considered you like that.
Tia : I know but Bhaiya doesn't know naa? He'll believe me only.
Aman : what you want? (Scared)
Tia : waisae I want many things but for now... Hmm stop dating Lavanya.
Aman : kkyyuu?(Stammers)
Tia : Kyu matalab? I want you to do it and you know naa that you're mine. Only mine. Now do it.
Aman : Nahi
Tia : Ok. (Calm)
BHAIYAAA(Shouts)
Aman : Ok Ok.i'll stop dating. Ab kush?
Tia : Bohut (Winked)
Geet knew that Aman and Tia loved each other. Tia was more bold but Aman was scared of loosing his friend so he ignored his feeling. She also knows Tia's possessive nature.
Here, Maan had little idea about Vicky and Pari. He knows Pari is from Bajaj family but doesn't know Geet's relation with Bajaj family. He was wondering why Pari is calling Geet 'Mom' and Vicky 'Aunty'. Dev thought Geet had done some kind of plastic surgery and told NT to do the same. NT got angry and hit his head with vase. Dev was hospitalized and it was Geet who looked who attended.
Maan scolded NT and Dev but NT defended that it was entirely Dev's fault. Maan got fed up with both of them and cut short NT's pocket money to shoppe and increased Dev's office work as punishment.
Daadi got discharged much to her disappointment but still she was adamant to make Maa and Geet fall in love. Maan got Geet mobile number stored in his for emergency. He used to call for discussing his Daadi's health. But Maan's actual reason to call her was to hear her sweet voice. Maan tried to be close with her as a friend but she distanced herself with others except Ammy, Ridz and Atul. Even Dr. Anjali and Dr. Sid were also kept at a distance from her.
One day, Maan met Geet at a Hotel. He had meeting there but Geet was there with Misha and Abhay for dinner. Maan after meeting was walking out but while walking he heard a sweet giggle from restaurant area of Hotel. He dismissed his assistants and secretary and walked towards the voice. He then saw Geet sitting with 2 kids. There were small cute little kids but didn't look like Geet's children. Maan scanned the restaurant area and noticed that all most every seat was empty. He then heard the waiter saying that the whole restaurant area was booked by her.
Maan was about to go near Geet and greet her but the Abhay's conversation made him stop at the track.
Abhay : Daadi bhook lag rahi hai. Why the hell is waiter taking this much time?
Geet : Abhay use proper language.
Abhay : Sorry Daadi.
Maan : (Self-Talk) DAADI?
Why are the kids calling her Daadi?
At that day too in hospital Pari called her mom and now these kids are calling her Daadi. Kuch tho baat hai. I have to find out.
Pre-Cap : Nothing
Sorry for delay. Will try to update once in a week. Plz press like button and comment if you guys like it.


Edited by Ash534 - 02 November 2011 at 10:59am