the story from the beginning click on the next link
http://www.india-forums.com/forum_posts.asp?TID=1615841
March 4, 2011 - SSBN Written Update
Previous episode
http://www.india-forums.com/forum_posts.asp?TID=1628622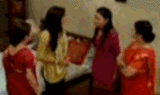 Akriti says that she robbed as she did not like Naina. Her mother raises her hand to hit Akriti and Naina stops. Akriti asks why did she try to stop.
Vibha can not see the girl's grief. Shyamal asks her daughter if she knew what an orphan was. She wants to end all talk and tells Akriti to ask forgiveness of Naina. Shyamal tells everyone the thief is known. Vibha just looks on. Akriti is depressed. I
In the hall, Ms Nair comes to meet the family and asks Daksh who is her lawyer, if anything has been found about the gold coins. Naina walks towards her and gives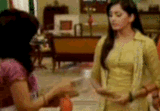 her the pouch of gold coins and gives her a cheque to return the advance she gave. Naina says "i am sorry". Ms Nair boasts that her police threat has worked. Ms Nair looks at the coins and asks if they are gold or fake coins. Ms Nair praises and thanks Daksh her trusted lawyer. He accepts the compliment. The women look on.
Daksh tells his mother that she made a mistake. Again Daksh accuses Naina and confronts her "have you any more lies to tell. Why are you quiet?" His mother stops him, but he tells her "Do not interfere. this girl is of no use." and walks away.
His mother calls him back. Naina says the brother loves his sister and she does not want to take away that from him. "He does not like me in any case so what is the use.", she says. She further says: "Akriti knows what the truth is. that is enough for me." They ask her what will happen to her business and she says that if one job goes, she will get another. Vibha and Shyamal also go away. Akriti wants to talk to Naina but she walks away.
Daksh is alone and mother comes and speaks to him. Mother says, "Son, are you still angry". He says, "i do not like her face and I can not tolerate her. Mother i know you and you loved her like a daughter. Do not love her, she is a liar." His mother tells him that she is not a liar, it is he who does not understand her. "You are a lawyer who thinks with the mind and depends on proofs, but I am a mother and I see the heart.", his mother tells him.
Naina goes to Akriti's room, gives her a cheque. Naina says, "This is your first salary and may be the last. Change your way of thinking and move on" Naina tells her that she has to understand.and should not accept defeat, but try to over come the obstacles.. "You do not want to try". says Naina and that she tried to help her and she goes out of Akriti's room.
Mother and son argue about Naina who the mother says did not make any mistakes. Daksh is adamant. He still maintains that the girl is guilty. His argument is that if a girl can deny her mother, then she can easily cheat her, and she is not worth it. When he still continues to argue, she shouts at him: "You can not see, she did not tell lies or said anything for putting anyone down, but what she did was to save your sister Akriti. The son still persists in is one track mind and says she is still doing it. The mother then tells him straight: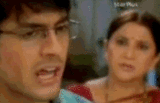 "Chintu Naina did not steal, the coins. It was Akriti who stole them." Daksh looks on stunned. He says she has told another lie. The mother tells him that this is not a story, but Naina took it on her head. Daksh is still the same His mother wonders and says she does not understand what stuff Naina is made of; every one blamed her, and she did not defend herself. His mother tells him, that she may have her reason to hide the truth about her mother, and she is not interested in finding out why and neither should he. She does not want to speak any more to her son. "I have nothing to say to you. She does not need to stay in a house where no one has any appreciation of her. Shyamal says that she is leaving as she can not stay where there is no trust.
Naina in her room is packing her clothes, and thinks of the past that has gone by. How she met Vibha. Daksh is walking alone and thinking. it is dark and night time. Shyamal comes into Naina's room and asks, "where are you going?" Naina starts: "but Kaki" and Kaki replies: "how can you go? Can a daughter leave her home. You are a part of our family. you can not go."
Naina says that she too feels bad. She says: "I can not go against people of this house where no one is happy about her being there.". Vibha blackmails her, and she grieves that she could not protect her. She extracts a promise not go anywhere without telling her. Naina changes her mind and embraces Vibha.
Sanket tells Rohini that Naina gave back Ms Nair her gold coins, and Rohini wants to know who stole them and then. Sanket offers a guess: "May be her staff." Akriti listens and no one says anything.
Link to Next Episode: 7/3/2011
http://www.india-forums.com/forum_posts.asp?TID=1631430


Edited by walquest2000 - 26 April 2011 at 12:52pm