Hi Everyone....
MahaPurush of the week
Keeping to the RBO flavour
------


So this week on the hot seat is someone who is hyper, always jumping from one page to another. She is always demanding a shanak analysis'.not to forget she gets bored at work'she loves Shanak and gushes over Yasharan even more'She is sweet'she is sour'she has been given a nutty name
'.oh and her eyes burn with too much of my
-ing'she changes mind like Rahul, seem to be bipolar, grips logic at one moment and throws it out the next moment
'she demands an answer every time'she loves chocolate and besharami on Shanak'Loves updating on Friday as a backup'she is always on CCC'Let's welcomeeeeeeeeeeeee.....
-Shalini-
Congratulations Shalini..
Get off the CCC .. come to the hot topic..
the hot seat.. and get ready to get grilled.
(pisssstt..beware of that girl Rooj...
oh yea that's me!)
Please feel free to use the siggy below to flaunt your special status for the week.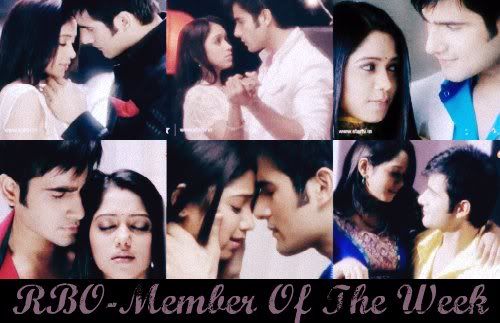 Time to grill everyone..
make it a fun week for Shalini (Shalnuts) lets grill her and get some info out of her.... Shalini (Shalnuts) get ready.. One..two.. here it comes....
Name:
IF name:
Age:
IF age:
Hometown (Current and where are you from):
How did I get started with India Forums:
Why am I hooked to RBO(Yasharan and Shanak)...:
Why do I like Shanak and Yasharan:
My hobbies and a little about me:
What I like best @ IF:
What I would like to see more @IF:
What do I dream about when I sleep:
Favorite Food(other than Indian)
Favorite Color:
Favorite Movie (choose one):
One random fact about me:
---
Now it is your turn to grill bake and fry her..
----
Credits:
All glitter courtesy of Tumhari_Khushi and Zwani.com
Smitha for the RBO MOTW siggie..
Thanks girls.


Edited by rooj-i - 03 March 2011 at 10:29am