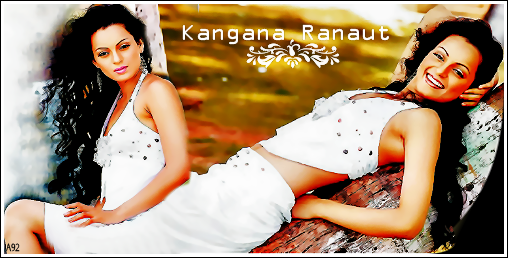 Birth Date
March 23, 1987
Passionate About:
Food, fashion, fitness and films
Love To:
Cook
Favorite Song:
Pyaar Hua Ikraar Hua
Person she most admire:
Mahatma Gandhi, Swami Vivekananda
Wardrobe Must Have:
White Linen Dress
Fitness Mantra:
Yoga with a balanced diet
Favorite Brand-clothes:
Armani, Versace, Sabyasachi
Fashion Is:
A job. You cannot look good and be comfortable.
If you want to look good, be prepared to work for it.
Favorite Perfume:
Chanel No 5


Kanaga Ranaut epitomizes feminine achievement. A combination of stunning looks, chic sense of style and award winning performances, from her debut in Gangster to recent hits like Fashion, Kangna has made an unforgettable impression on Indian Cinema, in a span of just four years.

Hailing from Bhambla in Himachal Pradesh, Kangna made her foray into Bollywood at the tender age of 18. Her tryst with acting began with theatre in Delhi, under Arvind Gaur. Madhur Bhandarkar, Mohit Suri, Anurag Basu are few of the many directors who have worked with Kangna.
A media magnet, Kangna's unique sense of style, uninhibited and candid approach to life, and depth of talent ensure her constant presence on covers of leading magazines, TV shows and newspapers.

Busier than ever, Kangna's next movie,"Once Upon a Time in Mumbai" showcases her as a seventies star. She will also be seen opposite Ajay Devgan and tries her hand at all out comedy in Anees Bazmi's "No Problem".
Kangna's also now filming for Anand Rai's romantic comedy Tanu Weds Manu opposite Madhavan, Sohal Maklai's thriller film Knockout opposite Sanjay Dutt and Game with Abhishek Bachchan. Kangna has also signed a two movie deal with PNC.
Diversity is Kangna's mantra as is evident from the numerous characters she has portrayed. This young beauty is forever surprising everyone and has carved herself a comfortable niche in this volatile industry.

( Source: realkanganaranaut.com)


Edited by jaanlover - 02 March 2011 at 3:47am