For the story from the beginning click on the next link
http://www.india-forums.com/forum_posts.asp?TID=1615841


1/3/2011
Previous day's episode
http://www.india-forums.com/forum_posts.asp?TID=1626344
In the Patwardan house, the Nair lady, argues with Naina, for having deceived them, and calls her lawyer, "Mr. Daksh Patwardan. please come here." Akriti watches the conflict with a relish as her mother watches her. She complains to him, that relying on him, she trusted this girl, Naina. She has done a huge fraud on them. She tells Daksh, that she had given them gold coins, and Naina has replaced them with fake coins, and Ms Nair, shows him these. Akriti's father watches them in astonishment and Naina, just shakes her head in disbelief.
Naina denies that she was involved. Seema tells them that she had fixed the original coins in front of her. The male assistant to confirms it as Akriti looks down. The Nair lady, turns around and blames the two assistants that they too have joined hands with Naina. Nair threatens to take legal action, and turns against Naina and her assistants.
Kaka too joins and says, he does not know Naina, and because of pressure from the family, he kept her as a Paying Guest. He passes the buck to his elder brother and sister in law. Vibha says, this can not be. I can not believe that Naina could do this. Does she look like a thief to you ! They reply, definitely she is a thief. Nair in her anger comes out with her bitchy side, all polished veneer, falling apart.
She says, that she wants her gold coins. She gives them an ultimatum of 48 hours, after that the police will take over and investigate. She warns Daksh Patwardan.
Daksh takes his long pent up anger on Naina, and blames her to the astonishment of his mother. All those who watch this serial, know who the true culprit is, and how easy it is for the self-righteous to have wool pulled over their eyes.
Kaka also joins the tirade, and says that he is not mad and can see every thing. That he was a fool to put his daughter to work with her. Throughout, it is only Vibha who shows a level head.
When Naina asks Akriti whether she had not noticed that in front of her she had fixed it. There is an argument between Daksh and Naina, and Daksh, takes his cousin away, in a triumphant exit.
Vi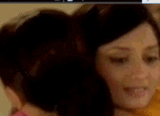 bha consoles Naina, and tells her that she knows her and she could never have done it. She is very depressed. Vibha hugs her.
Vedant confronts Daksh and asks him, about the incident that has happened, and he tells him to keep out of this and he protects his favorite cousin, Akriti, very concerned about her welfare. For him, she is as upright as himself, a true genuine truth toting gentleman.
In the office, Naina and her two assistants review the happenings of the previous day, and go over everything minutely.
In the kitchen, Akriti wants to help her mother. In the meantime, her husband comes in to warn her to check her things too, lest she could have robbed her things as well. She asks him, what valuable things are there of his in the house. He agrees. He tells her, that if she is caught, she will rot in jail for a long time, and she can then do her wedding plans for the jail birds. Akriti listens in apprehension. He wants to check in the garden, and if she has dropped one or two, he will be very rich, and gives out his exclusive, smirk of self congratulation.
The mother shifts the chair, to get the wheat container down, and Akriti stops her, and tells her the wheat flour is in another container. She tells her she knows, but the flour is almost over and she wants to give some wheat for grinding. Akriti makes an unusual offer, and tells her to leave it, as she will take it to the wheat mill. She is in a helping mood and brings salt, and the mother watches her in suspicion. Akriti looks at the container in which she has hidden the gold coins.
In Sanket's bedroom, Rohini gives her opinion of her detective abilities, and says sarcastically about Naina, that she has disgraced the people who helped her. Her husband is more circumspect, and tells her, that if she had stolen the coins, she would not have stayed in the house, but run away. He does not agree with her. Perhaps, he should have done Law, instead of Daksh.
At the dining table, the elder Patwardan sits and Vibha serves him, and then comes the younger brother, with his famous discovery, saying Naina has run away taken the goid coins, and she will put them in trouble. He knew from the beginning that she was no good, and Vibha defends her, that she has not run away. Kaka says Miss Nair gave the job to Naina on the recommendation of Daksh, so when the police comes, let him handle them and walks away. Lawyer's mind has still not gone on the fast track, and is stuck in the rut, of his unfounded contempt of Naina. Kaka's wife, looks aside at her daughter, as she is the only one who knew, she was awake that night and was perturbed, and could not explain the cause.
Daksh walks out and goes to the office, and asks the two assistants, where Naina is. They tell him, that she simple got up and went away, without telling anyone. They give Daksh the room keys and leave.
Professor Patwardan walks up and down in the house trying to call on his mobile and wonders where the girl could have gone. Daksh walks in and tells his mother, that she is also not in the office. The son tries to convince his mother, that Naina is a liar, and she did not deserve her love. When he tells her again and again that she is a liar, she asks why he says so. He tells her the case of Anjali, whom she introduced as her aunt, when she was her mother. Vibha starts doubting. If we had not watched the previous scenes, we too would have come to the same conclusion. The writer wants us to know, how easy it is for us to jump to conclusion, and brand people as evil, when they are in fact not so. Rohini and Sanket come in and she adds her bit of fuel to the fire, saying that she will not come back. Akriti's mother joins the light brigade, and adds her shots. What will they do once they find out who the real culprit was, and whom the famous lawyer was protecting as a virtuous model of integrity !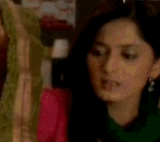 In the preview shot of the next episode, Naina, picks the dupatta that Akriti had left behind in the office. In the kitchen, Akriti's mother catches her doing something in the kitchen with a piece of cloth, and says: "Akriti !" and she is stunned. We have to wait and see what happens tomorrow.
Next episode:
http://www.india-forums.com/forum_posts.asp?TID=1627854


Edited by walquest2000 - 26 April 2011 at 12:50pm