... Om Namah Shivaya...
Shivo Bhokta, Shiva Bhojya
Shivo Karta, Shivah Karma
Shivah Karanatmakah..
Meaning:
Shiva is the experiencer and the highest object of experience. Shiva is the goal of Sadhana. There is nothing apart from Shiva. There is nothing other than Shiva. Whatever there is, is Shiva. There is nothing, which is not Shiva. There is no place, which is not Shiva. There is no time, which is not Shiva. To be aware of this is to be aware of Shiva.
Jai Bholenath...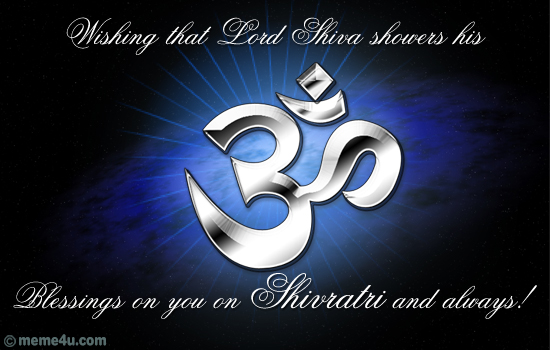 Har Har Mahadev...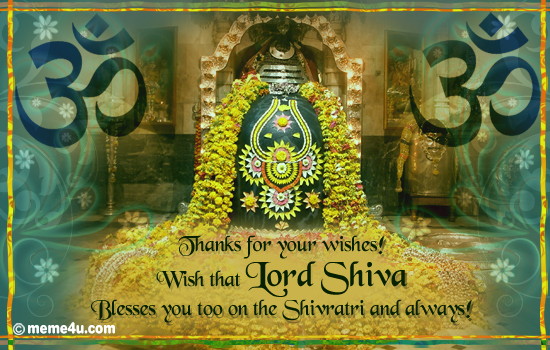 Jai Shiv Shankar..
Naagendra haaraaya thriloochanaaya bhasmaangadhaaraaya maheshwaraaya
Nityaaya shudhdhaaya digambaraaya tasmai na-kaaraaya namahshivaaya

Meaning:
Salutations to Shiva who wears a serpent as garland, who is three-eyed, whose bare body is covered with ashes, who is forever pure and the very embodiment of sacrifice.

There are many legends associated to the festival of Maha Shivaratri. One of the most popular legends, Shivaratri marks the wedding day of Lord Shiva and Parvati. It is believed that it was on the auspicious night of Shivaratri that Lord Shiva performed the 'Tandava', the dance of the primal creation, preservation and destruction. Another popular Shivratri legend stated in Linga Purana states that it was on Shivaratri that Lord Shiva manifested himself in the form of a Linga. Hence the day is considered to be extremely auspicious by Shiva devotees and they celebrate it as Mahashivaratri - the grand night of Shiva.
Mahashivratri Festival is particularly awaited by Hindu women. On Mahashivratri, married and unmarried women perform puja with great faith, as Goddess Parvati who is also called 'Gaura', is regarded as the giver of 'suhaag' - good husbands, marital bliss and a long and prosperous married life. One can therefore see find women enthusiastically observing the fast and performing the rituals Shiva Pujas on the day.
According to Hindu mythology, observance of Mahashivratri Vrat with discipline helps a devotee to control the two great natural forces that afflict a man, rajas guna (the quality of passionate activity) and tamas guna (the quality of inertia). When a devotee spends an entire day in the Feet of Lord and worships with sincerity, his motion is controlled and evils like lust, anger and jealousy, born of Rajas are ignored and subdued. Besides, when a devotee observes vigil throughout the night (jaagran) he manages to conquer the evils of Tamas Guna too. It has also been mentioned that when a devotee observes a round of worship every three hours, the Shivaratri Vrata becomes perfect.
It is also believed that on Shivratri, Lord Shiva became 'Neelkanth' or the blue-throated by swallowing the deadly poison that came up during the churning of "Ksheer Sagar" (Amrit-Manthan) or the milky ocean. The poison was so deadly that even a drop in His stomach, which represents the universe, would have annihilated the entire world. On the advice of Lord Vishnu, Gods approached Lord Shiva for help and protection as only he could swallow it without being affected. On the request of gods and out of compassion for living beings, Lord Shiva drank the poison. However, Parvati - Lord Shiva's consort pressed his neck so that the poison does not reach his stomach. Hence, He held it in His neck, which turned blue due to the effect of poison. Shivratri is therefore also a day of thanksgiving to the Lord for protecting us from annihilation. 'Neel' means blue and 'Kanth' means neck or Throat' (Blue-necked one).
Significance of Puja Items

According to the Shiva Purana, there is a special significance of the six essential puja items used in the Shiva worship.
Bathing of Shivalinga with water, milk and honey and wood apple or bel leaves added to it, represents purification of the soul.
The vermilion paste applied on the linga after the ritual bath represents virtue.
Offering of fruits symbolizes longevity and gratification of desires. Burning of incense sticks yields wealth.
The lighting of the lamp symbolizes attainment of knowledge. Offering of betel leaves marks satisfaction with worldly pleasures.
On Shivaratri day the devotees of Shiva observe fast. They keep vigil all night. Hymns in praise of Lord Shiva, such as the Shiva Mahimna Stotra of Pushpadanta and Ravana's Shiva Tandava Stotra are sung with great devotion. The Guru Gita, a section of the Shiva Purana dealing with the instructions of Lord Shiva to his consort Parvati on how to attain liberation while living in the physical body, is recited. Not many people know that Shiva is the original Guru, which is evidenced in this famous Sanskrit verse:

"Om namah Shivaya guruve satchitananda murthaye."

The prayers and worship continue late into the night when the devotees offer coconut, Bilva leaves (which have to be a stalk with three leaves), fruits, and specially prepared sacred food to Shiva and his consort Parvati. Offering leaves of a Bilva tree (Aegle marmelos tree) to Lord Shiva on Shivaratri is considered very auspicious.

Lord Shiva is easily pleased. One of the names of Shiva is Ashutosh, which means "easily pleased." May Lord Shiva be pleased with everyone through the following prayer:

Om Namah Shivaya! O Ashutosh! you are my inner Self. My mind is Parvati. My ten states of prana (life force) are your servants. My body is your house. My actions in this world are your worship. My sleep is Samadhi. My walk is circumambulation (the act of walking around) of you. My speech is your prayer. Thus do I offer all that I am to you. Om Namah Shivaya!

Keep on chanting whole day Shiv-Panchakshri Mantra...''Om Namah Shivaay''
Shiva Prayer:-
Om Namastestu Bhagavan
Vishvesharaya Mahadevaya
Trayambakaya Tripurantakaya
Trikagni - Kalaya
Kalagni - Rudraya Neel - Kanthaya Mrityunjaya
Sarveshvaraya Sadadhivaya
Sriman Mahadevaya Namah.

Meaning:
Om. I bow down to Lord Shiva, who is the creator and protector of the universe, who is the greatest among Gods, who has three eyes, who is the annihilator of all the three worlds, one whose throat is blue, who is the conqueror of death, who is the Lord of all, who is propitious who is possessed of all marks of greatness and who is the greatest among Gods. To him my prostration.
This Year Maha-Shivaratri is on Wednesday 2nd.Mar-2011...
Wishing you All on India-Forums and DIDDians Good Luck,Prosperity and Happiness..
May the Blessings Of Lord Shiv-Shankar,
be with you all On... Maha-Shivratri .....and always.
Set_raj...


Edited by set_raj - 04 March 2011 at 10:37am