Originally posted by -Alina-
I'm no more youngest one now
I'm confused...should be happy to know that I'm no more the youngest one, pampering baby or should I be jealous from Meg???? You know how it is when a newborn comes so the older one feels a lil jealous and all !!!! lolxxx okay I feel Jealous !!!
oh yeah i just so hate this...I soooo wanted to come back to my home...its like I'm stuck at some other place !!! but finally its all going to end tomorrow and InshAllah you all will get bored from Me :P
Harshaddddd !!! well that the only thing which makes me feels better....you guys wont believe how insane I'm about it !!! and these serials and his roles and his personality is really influencing me so much like I'm think to solve problems in his way !!! lolxx I know that's actually awful !!
Oh man that Anurag beating Ritesh was like a wish come true !! I'm really thankful to Ekta for showing such a scene...though it was hardly of a min or so but still I enjoyed :)
Well what you guys call me??? Baccha, kiddo?? right?? so now you tell me have you ever seen a bacha or kiddo getting those scenes??? wait don't answer this I know what you gonna say !!! But still you know how innocent I'm *winks* btw why you have to tell this to whole world?? ab sab kya sochay ge?? :P lolxx..It so fun to be back !! *hugs*
oh yeah
hanslo hanslo phr mein bhi aapki tarha old age mein ajao gi :P
Anyone will guess that its me the way you have given my beautiful description !!! lolxxx Love you di !!!
Awwwww that's actually very very touchy !!! I'm speechless !!! Thanks for being there in my life di !!! agar aap na hoti I would have been what i'm today !!! You actually helped me out with so many probs !!! you are like me savior !!! *hugs* Love you vandy di !!!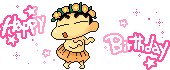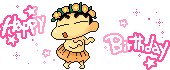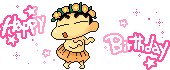 [/QUOTE] thanku kyu bola
chalo u get a promotion at this fc
just enjoy ur day alina...we'll wait for the time wen u r free...and we can relive old days discussing harshad day and night