Part 74
The darkness gave path to the bright light. Radhika was moving in kitchen busy and Dev browsing on his laptop, was about to get into the shower. Suddenly as if remembering something, Radhika
"suniye'
Dev paused looking at her
Radhika: I forgot to call home yesterday, can you please dial the number and give me.
Dev: you should start doing it
Radhika: but I am making this na
Dev: that's ok, when you become free, trial the number ok
Radhika: but how?
Dev: easy, just dial 011-91 and the area code and the house number , you will get it.
Radhika: what, coming out drying her hands
Dev: 01191,and the house number as he was entering into the shower.
Radhika: ok
Dev: give me five minute, I will be right back after shower, ok
Radhika with a smile: ok
She speed up the breakfast prep and then ran towards the front room to grab the phone in her hand. She recollected the number and repeated once that he said and then with confidence she dialed 91101'''''
She almost finished pressing all that numbers after the code, she heard a strange man's voice thru the receiver. Surprised Radhika tried to listen, she heard an English man's sound, but didn't understand anything. Casually she turned the phone off and then tried again 911-01....
Again she heard the strange man's english man's talk ..
"ye , what's happening, why the call is not going?" she mumbled herself with little irritation. Thought of dialing one more time, but then knocking at her forehead she said self 'let him come". She put the phone on the table and was walking towards the kitchen, the phone rang. She paused for a second, but then went in doubt, 'what if it is for him'. She casually went to kitchen, opened the fridge and took the orange juice out, as he said he prefer one glass of oj with breakfast. She was happy to see that fully bloomed poori's inside that white corning ware vessel . She looked at the curry masala and tasted one more time and smiled self with patting on her back self. But then suddenly she heard the emergency vehicle sound coming from the patio side. Out of curiosity, keeping the spoon back in that curry dish she went to the patio to check.
She saw one police car , with all the flashing lights on, parking in front of their apartment complex. A police man in his royal uniform came out and he just looked at the surrounding first and then his gaze went up. Radhika pulled back herself slightly in a reflex, naturally to escape from his look. She saw another police car coming too. She got curious and watched outside with all the happenings , she turned once to check on whether Dev is out or not and then her conscious eyes looked at the policeman again.
Dev came behind and stood drying his hair, looking outside
"kya ho reha hai?"
Radhika looking back at him from her shoulder side: patha nahi, one car came first, now the second one too.
Radhika's curious eyes found the police man who came out going and talking to the officer inside the second car. Again the police officer looked up and they saw him walking towards the door.
Dev: Radhika, let's have breakfast, or I may get late.
Radhika turning: ha, but what might have happened?
Dev: kya patha. Come
Radhika :um
Walking towards the table, Dev sat on a chair, serving himself some curry while taking a sip of OJ
Dev in a normal tone : ghar phone kiya kya?
Radhika: I told you to dial for me, I tried and was hearing some englishman's talk
Dev raising his firehead: what?
Radhika: ha , I tried , but not getting the connection, in between this man comes and saying something.
Suddenly they heard the knock at the door.
Dev looked up at Radhika's face in confusion and then "what number did you dial?"
Radhika : somebody at the door
Dev getting up form the seat and again in confused tone : what number did you dial Radhika?
Radhika: 911-01..
They heard the knock again, Dev walked towards the door with a colorless face. Radhika just followed him and stood half way thru , without understanding anything.
Dev looked at Radhika's face helplessly and then opened the door.
"sir, is everything okay here, we got a call" the englishman's sound reached Radhika's ears.
Dev: yes sir, everything is fine here
Police officer: but we got a call.
Dev: that's because my wife was trying to dial an international call, and instead of 011 she dialed wrong number....
Police officer coming in , scanned the area, looked at Radhika's shocked face , he saw the food on the table, listening to Dev's detailing , his eyes wandered everywhere within seconds.
Police officer , looking back again at Radhika's face: you okay mom
Radhika just nodded her head involuntarily.
Policeo officer repeated : you okay mom?
Radhika: ji.. no.. yes, yes.
Police man repeated: you okay mom?
Radhika nodding her head: yes
Police officer looking back at Dev : looks like everything is Ok for now.
Radhika's heart started pounding loud, The police officer's talk was reaching her ears, she stood there like a statue. All she saw was Dev closing door and turning and looking at her. Radhika saw his lips moving.....
Dev came near her and shook her shoulder: Radhika, are you ok
Radhika: ji, yes yes
Dev : Radhika its me, I asked you to do one thing, and you...., didn't you hear what I said .
Radhika running towards the patio door, she peeked out and found the police officer who just came to their house is talking with the other officer inside the car and soon she saw him flying off.
She took a deep breath. Radhika came running back towards dev: Actually what happened?
Dev controlling his smile: So you didn't get it.
Radhika shrugged her shoulder along with a disagremnt sound from her throat..
Dev serving curry into his plate said: instead of dialing 011 , you dialed 911. Don't think you are in India, here if you dial 911 , na , they will be at your door step within minutes.
Radhika: but I dialed to home only
Dev: Radhikaaaaa, his soft voice trailed off ( I wish i could get that call sound out of him , i mean it will be like soft, loving call, which trying to make her understand things) that's what I said, you dialed wrong code and moreover when they called back , you didn't pick the phone. I am glad I am here when you did this, so was able to manage it.
Radhika in her innocent voice: when did they call us back?
Dev: right after you called and hang up.
Radhika: so it was them!
Dev munching onto his food : yes it was them. Now don't try again ok. I will write and give you the full number list.
Radhika making a childish face: don't underestimate me like that. Now I know
Dev getting up and knocking on her head: now I also know, may be next time the fire engine will be here knocking at the door.
But then pausing himself with that thought , looking at her face : Radhika, don't operate anything after I leave, not even the stove top, ok. Just for today. You have everything on handy otherwise , right.
Radhika tighteening her forehead : what?
Dev coming back facing her : ha, you are allowed to use the laptop only, and here, there is CD's of few movies, watch that, will show you how to operate that, but otherwise no more emergency calls for today, ok. My first day back at work, and don't want to be called from there.
Radhika walking behind him towards the washroom: I didn't get anything what you just said.
Dev washing his hand: I am getting late to work. I will write the numbers for you to dial, but otherwise I want you to play on laptop oly. Ok, or if you want to watch any movie, few cd's are there. No other work, till I come back. Use the microwave for warm up food, but otherwise, no climbing trees, no running around, no playing with fire. Ok , sit inside like a good kid.
Radhika still walking back as he went to closet, selecting his shirt, listening to him.
Dev: did you get what I just said
Radhika: you are making fun of me na. Her voice trailed off when she said that. She continued ... I never thought this to happen and
Dev putting his hands through the blue striped shirt sleeves , coming near: no Radhika, I was not making fun of you, how can I do that? You are my Radhika, I just don't want you to put in any such situations, as I won't be here near you and
He paused as he saw the eye drops falling down her cheek, he felt bad, coming near, he lifted her chin up: Radhika, I just don't want you to
But then he just wrapped his arms around her neck and held her closer, and tried to comfort her : don't cry like this now, you didn't do anything wrong, I should have stayed back with you, but this is my first day, I will try to be back as soon as I can. Ok. I just want you to be safe, till I come back, that's all.
Releasing his grip on her shoulder , he moved back and looked at her face, wiping her tears off
Dev: now give me a smile
Radhika tried seeing his concern
Dev: please
She tried to bring a forceful smile to comfort him
Dev: um, Radhika don't you know, I am getting late to work, and my lovely beautiful wife is standing this close with me. I don't feel like going, but I need to.
he continued...
Radhika was listening to his talk as she understood this was just to bring her back into normalcy, she saw his open shirt and started buttoning it. Dev loved that gesture, he held her shoulder while continuing with his missing talk. She just gave a corner lip smile while buttoning it listening to his lovely talk.
Radhika looking back at him: hogaya
Dev looked down at his buttoned shirt, and then with a smile he said: thank you.
Radhika just looked at his face with a half moon smile.
Dev: and do this everyday, ok.
She just smiled shyly.
Dev: so Radhika , don't worry about my lunch today, I will have my lunch from outside today, I used to that, and will start packing form home soon.
She smiled.
Dev as picking his office bag out and continued : but you eat on time, I will call you , so pick the phone. Also if you need to call me at any time. Then pausing for a second, one minute
He went and took a notepad out, he wrote his number and Rema's number and giving that to her he said: Radhika, my number is there and also Rema deedi's . so in case if you don't get me, you can call deedi, ok. Deedi will be at home only. I will call you in between, so answer the phone, ok. Check the caller id, that way it will be easy for you.
Radhika taking the note from him smiled, especially after the incident, he started blabbing too much with her, with instructions and helps to make sure she will be fine.
Finally he walked towards the door, he paused for a second, turning back , he pulled her closing the space between them....he placed a kiss over her forehead: you take care ok
Radhika smiled again
Dev with a smile back: I will be back soon, ok.
She just nodded her head in agreement. She put the latch on as he walked out. She came to the patio and watched the car moving out. She felt lonely , but then came back and settled the kitchen back in order, remembered his instruction not to touch anything. She went and turned the laptop on. She felt so happy and excited when she saw Lechu and Rahul's emails and then she saw one from Heena too.
Excited Radhika started sending messages, but then to her surprise Rahul came online. an ear to ear smile appered on her face and soon she get back into Chandenpur news. Time ticked by.
She didn't feel much hungry, just munched on some chips as Dev called to check on her. She settled the closet one more time, arranging her dress. She looked at the laundry bundle and remembered his words. Thought to do it later that day. She found a magazine, just went to bed with it and soon she drifted off to sleep.
The knock at the door, awakened her, she jerked and listned to the door knock again, coming back to her senses she ran towards the door and she heard the phone bell rining too. She looked out thru the tiny round glass piece and found Dev's face standing with holding onto the phone. In desperament she opened the door quick.
Dev with a relief : Kaha the thum?
Radhika looked at him with a sleepy smile
Dev seeing her safe ,with a smile: so, you were sleeping. Nice. And I was wondering why you are getting late to open the door. As walking in he said: you know what, afternoon is the best time to sleep, because it's night time back in India. So.
Radhika in her sleepy sound : how was the day?
Dev with a smile , putting his bag away near the counter, wrapped his arms around her sideways and held her closer: good, but missed you so much. Mostly I was thinking about you, what you may be doing. But tomorrow I will be able to concentrate better
Radhika: why?
Dev: because , now I know My Radhika is is sleeping sound here, because she is not getting enough sleep at night, because I won't let her. he said that in a teasy way
Radhika: chi
Dev: what chi? Now go , as a nice wife, make a hot tea, by then I will change and come, ok
Radhika: um, let me wash my face first.
Dev: Ha, that's a good choice, i was about to tell you that.
Radhika looked at him with her corner eye, and then rolling them up, she sniffed and then rubbed her finger under her nose tip. Then gave a childish look.
Dev laughed seeing her expression and said: that's it, I missed my this Radhika, now go and wash your face, you really look all cranky .
Radhika :not fair
Dev: yes it is, or go and check yourself in the mirror.
Radhika took forceful feet to the washroom, checked herself in the mirror and saw her messy hair and her sleepy eyes 'he is right". She peeked out from the door to make sure he is not nearby and then suddenly she washed her face and combed her hair. I never slept this deep anytime , she thought to self.
Radhika poured the tea in two cups and picking the chips packet she came and settled everything near the sofa table.
Dev changed to his homely Tee and shirts and came sat on the sofa. Radhika brought another packet of chips too and sat next to him, very closer. Dev circled his arms around her shoulder , keeping the tea cup back on the table he asked: so what did you do except sleeping..
Radhika talked about chatting with Chandenpur..
Dev: um, what else?
Radhika: nothing
Dev: did you feel bored
Radhika: no, it went quick
Dev: um , good. You should have watched some movie
Radhika: no, I was fine
Dev again sipping onto tea started telling about his work and she smiled thru listening to him.
Finally he said; we will look for a job for you too, then you don't have to sit alone like this. Let see. But before anything , you need to learn driving, license is must to live here.
Radhika: do I need to cut my hair too?
Dev: what?
Radhika: ha, Rema deedi and Padamja Di, told me the other day
Dev looking at her braided hair: do you want to
Radhika: I don't know, I just asked.
Dev: you love your hair , right
Radhika: um
Dev: let see what will happen Ok, for now don't worry about this lovely hair, just worry about your hubby , ok, saying that his face moved near to her face mumbling; so you slept without me, did you miss me........
Radhika just smiled shyly , feeling the ticklish that his finger's made.
Later they went out to J C penny store, purchase few casual dress for Radhika. More than picking on the dress, her eyes were wandering over the people and their dress style and all. Dev brought a nice hand bag too. She looked around at each section and aisle to see the colors of U.S. she passed few Indian faces, an unknown smile played on her face seeing them. They took the escalator to men's floor, Dev looked for few formal shirts and then saw Radhika moving towards the crafty side. The entire evening they spend in that store.
The day went quick for them. Next day Dev went to office giving her special instructions. Radhika smiled thru his concerns , and showed that she is actively listening. Day went same for Radhika, she chatted with either Rohan.. And then afternoon nap.
That evening they walked around the apartment complex. She walked into the greenery. Her eyes looked at those yellow blooms. Radhika saw the dandelion flowers very close. She saw the fully bloom ones and then near to that was the feathery heads of dried ones.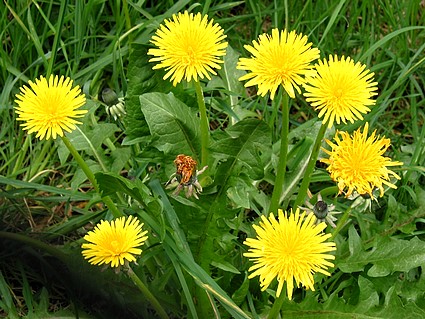 She felt so happy and asked dev: Can i pick one
Dev just smiled as if giving her permission.
Radhika picked one of that feathery head in her hand and blow on it forcefully. each dried seeds got detached from its head and started flying away, She looked up at those free ones, her eye met then flying ones with the blue sky above. She saw the Chandenpur meadow there , above the ground, through that vision , just between that air filled space of flying seeds and the clear sky. She smiled, her heart smiled, she looked up at the sky, the unknown pleasure passed through her spine.
Dev's knock on her shoulder brought her back into reality. She smiled back.
Dev: Chale
She nodded her head in agrement.
They walked around the area. She listened to him as he was explaining it all to her. She saw the family walking around , One lady was pushing on a stroller, talking with her friend, walking on the walkway around the play ground. Dev and Radhika sat near the kid's playing park.
She saw the kids swinging high , even in groups too. They were competing to each other. She loved their strange talk.
She saw the big ladies sitting ont he empty ones and chatting each other and then swinging high. she felt happy and looked at Dev for permission. He just smiled. She waited, and as the park got empty with passing time, she went and sat on that iron chained plastic seat and pushing hard on that rubber material on the floor, she lifted up herself in the air. She looked at Dev with the most beautiful smile. Dev smiled back seeing her happiness.
Slowly it was getting dark outside. Dev came and sat next to her in another swing. They chatted for sometime, watching the cars moving in the parking lot. Then went back to their apartment. Dev could esily see the happiness in Radhika's face, and within minutes he heard her talking to her daadi about it, her play time at the kid's park. The talk went on as Dev was browsing on the computer. Time ticked by, she sat closer to him, holding onto his upper arm, resting her head passively on his shoulder, looking at the monitor.
**************************************************************
Thank you friends. Did you get a chance to read my replies to your comment with part 73. Yes I did individual replies. That thread got locked as it reached page 151. So this is the first part here. I am not in a hurry at all, trying to control my speed with an expectation to meet my lovely readers back here, and next update will depend on the response back. thanks for all the support.
love and take care
Devika
Thanks for reading my post, have a good day...
Part 75


Edited by Devika. - 28 February 2011 at 3:00pm