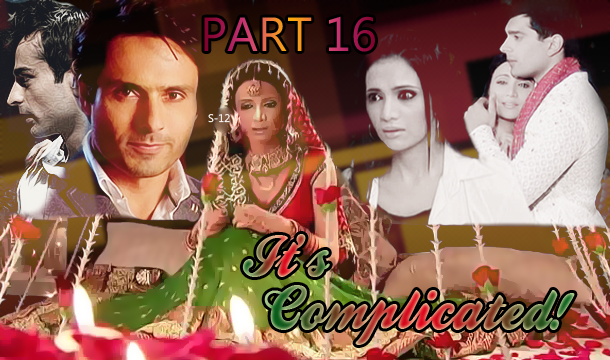 Feeling the warmth of his hands over her, she looked at him... "I won't stop him!! For anything!!" She told her heart her decision... "Ajj iski ho jaoongi tabhi kal uska saamna kar paoongi!! You were wrong Rahul! Mein sabit kar dungii!!!"
She looked up at him nervously only to find him frowning at her... "Tumhe to itna tezz bukhar hai!" He immediately ket his hand over her forehead to check...
"Nahi... bukhar??? nahi to..." Shilpa took time to register what just happend...
"Kya nahi??? tapp raho ho bukhar mein... kaamp rahi ho tum!" He made her aware about her own health...
"Nahi... Angad!! mein theek hun!" She was not feeling well but still this care from his side was entirely a new thing she felt...
"Wo dikh raha hai mujhe... " He shook his head... "Change karlo... mein dawa nikaal det hun, kha k so jao!" He almost announced...
Mr Angad Khanna! A tough and handsome guy straight from NewYork... He was a decent and focused kind of a person... Angad holds a chain of Indian Restuarants in NewYork and was doing well in his business...
He was the only child of his parents and so a confident, independent one... His father died years back and now he was living with his mother all alone in NewYork...
Shilpa herself didn't knew where and when Angad's mother first saw her but she remembers she met Angad the very first time when she got lost in the big city... she was trying to find someone who can help her out with the way to her appartment when she bumped into Angad...
Its not that they hit it immediately and became friends.. A BIG NO!! He guided her they way and left and she didn't even remembered his face...
...
"Wo..." With this high temperature and mental tiredness, Shilpa was not just able to think about anything at the moment... When she came out after changing, she found him sitting down on one side of the bed in his simple tshirt and loose trouser...
"Dawa khalo... aur so jao!" He smiled at her brushing away the flowers from her side of the bed...
"Wo... mein aise he koi bhi dawa nahi kha sakti..." Shilpa hesitantly spoke out... she was feeling hell uncomfortable to share a bed with him...
"Matlab???" He frowned...
"Matlab..." She was getting a bit dizzy... "Mujhe mostly medicines suit nahi karti... allergic reactions ho jate hain!" She explained...
"Arre par koi to dawa tum bukhar mein leyti hogi..?" He inquired out of concern...
"Kya karti ho tum??? pata haina k aise he koi bhi dawa nahi leyni hai???" Tears beemed in her eyes as a long back fight with Riddhima hit her... Riddhima was the one who takes care about all her medicines and everything...
"Aur meine kya kiya uske saath?" She closed her eyes feeling disgusted of herself...
"Shilpa???" Angad called out her name again bringing her back to reality...
"Haan?? wo... mere bag mein hogi medicine... mein nikaal leyti hun..." She gulped down the lump formed inside her throat and opened the zip of her hand bag which was kept on a side...
Angad provided her with some water after which she thanked her... "Ajj humari shaadi hui aur yeh sab... i am sorry!!" she apologized...
"Pagal ho kya?? Pehli baar to nahi mil rahe naa hum?? samajhte hain ek doosre ko.." Angad smiled at her to which she nodded and hesitantly lied down on the bed after which he covered her with the blanked and moved to his side...
He breath hitched as she felt him lying down on the other side... "Jitni baar khud se larro gi!! utni baar tum harro gii!! Tum jhuko gii!! Aur apne issi pyaar k agay jhuko gii!! Baar baar jhuko gii!!!" Rahul's words again echoed in her ears making her close her eyes tight from where tears starting flowing down...
It wasn't like a click but it took a long time when Shilpa came on a conclusion about her feelings... She term that day to be the worst when she realized that indeed the reality about her feelings for Rahul is not Love...
He was her friends ! A very dear friend... Still she was happy with him and was even ready to live with him in his happiness till the day he came all the way from Canada to NewYork just to meet her...
"So??? How is everything going??" Rahul smiled at her...
"Kyun?? achi nahi dikh rahi??" Shilpa giggled...
"Dikh rahi ho... par pata nahi kyun? pehle jesi nahi dikh rahi..." Rahul commented...
"Huhhh???" She frowned...
"I don't know yaar... pichle kuch dinow se kuch badli badli lag rahi ho... phone pe bhi aur ab mil k bhi..." Rahul was a bit confused but it made Shilpa nervous... She still doenst know what love is all about but past few events in her life did told her that its just pure friendship she is sharing with Rahul...
She remembers she was sitting with her land lady watching something on TV when her landlady casually asked her if she had ever missed her boyfriend like as if she just wanted to be in his arms...
"Please... time kahan hota hai kisi k pass yeh sab sochne ka???" Shilpa smiled lightly...
"Pagal!!! kabhi na kabhi to dukhi hui hogi... kabhi usske liye ansoon aye honge ankhon mein..." The land lady smiled at her...
"Meri ankhon mein ansoon??? Meri ankhon mein ansoon bohat kum atay hain!! apni mom! bhai behn se hatt kar mein kabhi kisi k liye nahi roi..." Shilpa clipped...
"Jab dard he mehsoos nahi kiya, to pyaar hua hai yeh kese pata chal gaya??" LL arched her eyebrows at Shilpa...
"Maine aj tak kabhi kisi ko apne itna kareeb nahi ane diya k wo mujhe hurt kare..." Shilpa rolled her eyes...
"Iska matlab tumhe pyaar hua he nahi!!" LL announced... "Kyunki wo in aknhon mein ansoonow ki wajah bannega.. wo tumse pooch kar tumhare kareeb nahi ayega... wo a jayega!!"
"Aapki baatein bohat ajeeb hoti hai!!" Shilpa frowned... but later giving that a thought really made her face the one side of real world around her... The other side was what? she doesn't even wana think about it or you cane say... she was afraid to think about it...
"Kahan kho ggai??" Rahul clicked his fingers in front of her...
"Kuch nahi... tum batao?? how is your mom dad??" Shilpa questioned...
"Dad is critical yaar... samajh nahi a raha kya karun?" Rahul sighed with disappointment... His dad was suffering from Cancer...
"Doctors kya keh rahe hain??" she further inquired...
"Kya kahenge??? " he scratched his cheek...
"To phir??? tum unhe chor k mujhse yahan kyun milne chale aye??" Shilpa became serious...
"Kyunki mein bohat mushkil mein hun Shilpa!! Meri madad sirf tumhi kar sakti ho..." He took a deep breath...
"Mein???" She got a bit confused...
"Haan tum!! Shilpa... hhh tumhe Muskaan yaad hai??" Rahul asked looking at her face...
"Muskaan??? wo tumhari dost jo ek baar india i thi?" Shilpa tried to conform...
"Haan wohi... Tumhe pata hai? Muskaan dad k dost ki beti hai! aurr unki 6 saal pehle maut hogai thi... tab se wo mere mom dad k saath reh rahi hai!! Main yahan India mein tha lekin wohi hai jissne mere mom dad ki dekhbhaal ki... unhe apne parents se zyaad respect aur care di... i owe her very much yaar!!" Rahul looked down...
"Baat kya hai Rahul???" Shilpa got suspicious with his talk...
"Mom Dad chahte hain... k mein Muskaan se shaadi kar lun.." He announced expecting a reaction from her side...
"Ummm... muskaan se shaadi.." Shilpa repeated looking here and there making Rahul allert... she just didn't reacted the way she should... no sadness, nothing was on her face just the confusion...
"Par mein Tumhe chahta hun!!" He added quickly making her look in his eyes...
"Tumne apne parents se baat ki mere baare mein???" She asked after a while...
"Tum mujhse pyaar karti ho naa??" He asked...
"yeh kesa sawal hai Rahul???" Shilpa got up from her place...
"Bohat seedha sa sawal hai!! Actually tumne aj tak mujhse kabhi kuch kaha he nahi..." He too got up as anger gushed inside him... he was here to take her with him for few days so thats he could meet his parents... And here she behaved too weird sending him strong negative vibes about their relationship...
...
Cuddled up with pillow, Shilpa was sittind down on a sofa lost somewhere glancing at the ceiling... She wasn't getting anything at all.. Rahul was demanding his answers and explanations... he has kept his family and their expectations on stake for her...
"Mamma!!" Shilpa called Padma atlast to find some peace...
"Arre... aj meri yaad kese agai??" Padma smiled at her...
"Kuch nahi... bus aise he... app kya kar rahi thi??" Shilpa asked lightly...
"Tumhe he yaad kar rahi thi... Riddhima bhi i hui hai, usse dekh dekh kar tum bohat zyaada yaad a rahi ho... kis pe cheekhun?? jao coffe banao! khana lagao!!" Padma giggled making her smile...
"I Really miss you mama!!" she confessed...
" miss you too beta!!" Padma sensed something different in her voice... "Tum kuch pareshaan lag rahi ho!!" Padma asked but it was too late as tears already started flowing down her cheeks and she disconnected the call...
"Mujhe kya hota ja raha hai?? Wo mere liye apna sab kuch daw pe laga raha hai aur mein??? mein chah kar bhi uska saath nahi de pa rahi?? Kyun??? Jab se i hun khush nahi hun!! kahin na kahin lagta hai k kuch miss kar rahi hun! kuch peeche choot gaya hai... Aur ajj Rahul k sawal... unka koi jawab kyun nahi tha mere pass??" She soliloquized herself...
Her phone started ringing and seeing the home as called ID, she wiped away her tears and getting ahold of her voice picked it up...
"Hello??" His voice sent chill down her spine... "Nahi!! " it was some really weird feeling she felt... Disconnecting the line, she switched off her mobile and ran inside her room in the dar with all lights off...
FlashBacks about several Nights hit her when she cried because of Armaan with Riddhima a reason to get far away... Tonight the real story was hitting her... He was the one who was hurting her since long... It was his words which made her cry... He was the reason behind her tears for several Nights...
She didn't allowed, nor he intended but he did came close to her in some way... He mistaken her as Riddhima but his hold around her waist was still a memorable for her... she still can feel it when ever memories hit her... He was the one she felt peaceful after talking to about several things...
"Mera dimagh kharab ho gaya hai!! Wo Riddhima ka pati hai!! mein soch bhi kese sakti hun aisa??? Armaan k baare mein iss tarah??? Mein kya kar rahi hun apni he behn k saath???" This was geeting out of Shilpa's control now... Rahul's questions had made her face the other side of reality about her life she never ever wanted to face...
...
"Tum tumhare saath chalne ko tayyar hun!!" Shilpa gave her nodd to Rahul but Rahul did saw everything in her eyes...
"Kisse bhaag rahi ho??" Rahul asked straight...
"Mujhe koi zaroorat nahi hai kisi se bhaagne ki..." She replied with agression in her voice...
"To phir tum mujhe khudse ulajhti, larti kyun dikh rahi ho??" His voice became loud...
"Tum chahte thai naa k mein tumhare saath chalun... to phir ab jab mein tayyar hun to fuzul ki baatein kyun kar rahe ho??" She yelled...
"Kyunki mujhe dikh raha hai tumhari ankhon mein k tum kya chahti ho!! " He matched her voice... " Kum se kum mein to in ansoonw ki wajah kahin nahi hun!!" he was heart broken...
"Fuzul baatein mat karo... tum jaante ho mein kisi k liye nahi roti!! mein aisi he hun!!" She gritted her teeth...
"Really???" He made her turn around by her shoulders... "To meri ankhon mein dekh k kaho k tum mujhse pyaar karti ho... comeon!! just confess it dammit!!" He shouted looking deep in her eyes...
"Rahul!! kya pagalpan hai yeh???" She pushed him away...
"Pagalpan he sahi.. meri tassali k liye itna to tum kar he sakti hona?" He again made her face him...
"Fine!!" She was too stubborn... "I..." She looked in his eyes...
"Comeon say it... I??" He glared over those beeming tears...
"I... I LOVE..." It was hard to lie... "I LOVE HIM!!!" She shouted turning around...
...
She was down on her knees, crying her heart out... "Please meri madad karo Rahul!!! Mein tum mein se kisi ko hurt nahi karna chahti... mujhe nahi pata yeh kya hai? kyun hai?? mujhe kuch samajh nahi araha..." She cried out bitterly...
"Hhh..." Rahul passed a sad smile to her and sat down beside her... "Yeh to mein humesha se jaanta tha k tum mere saath khush ho lekin mujhse pyaar nahi kati..." he spoke out slowly making her look at him...
"Shilpa!! Main nahi jaanta wo kaun hai jo tumhare dill mein ghar kar gaya hai! Aur janna bhi nahi chahta..." He took her hand in his and said... "Tumne ab tak jo kahan... usse saaf zahir hai k tum jaanti ho wo tumhara nahi ho sakta... aurr shayad tumhe usse paane ki koi chahat bhi nahi hai!!" Rahul pressed his lips together... His words were making her cry more and more...
"Lekin jab kisi chahat k bagair bhi uss pyaar ka ehsaas tumhare dill mein hai to... to uska matlab yehi hua naa k tumhari kismat usse tum tak le kar i hai... " Rahul tried to make her understand...
"Main usse pyaar nahi kar sakti... kabhi nahi!! never!!" She yelled...
"Jo tumhare buss mein he nahi hai usse kyun larr rahi ho??? Tum sirf uss ehsaas se bhaagne k liye mujhse shaadi karne ko tayyar ho gai??? Tum khudse ladne lag gai??" Rahul questioned...
"Shilpa! har rishte se pehle hum ache dost hain!! Aur humesha rahenge... Tum larna bund karo khudse... zindagii ko chalne do wo jese chal rahi hai!! kyun khud k liye mushklein khadi kar rahi ho??" He tried to sooth her...
"Tumhe nahi pata hai kuch bhi... Main tumhari zindagii barbaad nahi karna chahtoi lekin usske liye apne dill mein yeh ehsaas... yeh saza hai mere liye!! eyh sab kuch tabah barbaad kar sakti hai!! I HAD TO GET OVER IT!!" She didn't wanted to disclose the name...
"Jab yeh ehsas tumhare bus mein he nahi hai to kyun khud ko saza dena chahti ho???" He questioned...
"Tum kabhi nahi samjho gay!!" She got up from her place... "Par ho sake to mujhe maaf kardena... i am sure.. Apne parents ki khushi ka khayal rakho gay to tum bhi khush raho gay!!" She indirectly told him to go and get married to Muskaan...
"Shilpa! Mark my words... Tum abhi meri baat nahi samajh rahi!! lekin ek waqt ayega jab tum samjho gii... Tum bund karo yun iss tarah khud se ladna!! Tum jitni baar khudse larro gii!! utni baar tum harro gii!! Jis pyaar mein chahat nahi hoti ussne humara zor nahi hota!!"
"Tum iss sab se iss tarah to bikul bhi nikaal nahi sakti... Kyunki ek na ek din ayega jab tum larte larte thuk jaogi!! Aur jhuko gii!! Issi pyaar ki agay jhuko gii!! Tum ek baar nahi baar baar jhuko gii uske ek shaks k saamne!! Uss pyaar k saamne jo tumhare dill mein uske liye kudrat ne peda kiya hai!! Jisspe tumhara zor nahi hai!!" Rahul warned her and left...
"Shilpa k baare mein soch rahi ho??" Armaan caressed Riddhima's shoulder as she lied down next to him after feeding both the babies and putting them to sleep...
"Wo jab se wapas i hai bohat ajeeb behave kar rahi hai!!! Phir iss tarah iss shaadi k proposal k liye haan keh dena?? Shilpa aisi nahi thi Armaan..." Riddhima sighed...
"Riddhima!! Ajeeb to wo behave kar rahi thi.. lekin Angad ek acha ladka hai! infact uss din jab shilpa uske saath engagement ring choose karne gai thi tab meine dekha tha unhe... khush thai saath mein wo..." Armaan kept his POV...
"Meri behn hai! mein jaanti hun... kuch ghalat hai!!" Riddhima was not at all convinced...
"Agar uski kismat mein Angad tha Rahul nahi to phir yeh sab to hona he tha naa!! and i think mere hisaab se Shilpa ki khushi se zyaada aur kuch matter nahi karta hai..." Armaan pressed his lips together...
"I Really hope and pray k ab wo khush rahe... Mujhe nahi pata k uske aur Rahul k beech kya hua tha... par ab mein usse khush dekhna chahti hun!!" Riddhima breathed deep...
"Agay barhna itna saan nahi hota... Mujhe kyun lag raha hai jese usne kabhi Rahul ko chaha he nahi??" Armaan thought...
"Pata nahi uski tabeat kesi hogi??? bukhar tha usse subha!!" Riddhima was not in peace...
...
Shilpa was felt changed by many after her return from NewYork... It came as a shock to everyone when Padma asked Shilpa about a proposal her long lost friend has sent for his dear son and Shilpa agreed to it without even meeting him...
She was eager to go away from Armaan and Riddhima's life as soon as possible... Before when Armaan had issues, she avoided Riddhima to make sure no problem will arise in her married life and now she herself was having issues and so she was trying hard to avoid Armaan and was getting distant from Riddhima carrying the guilt in her heart...
When she first met Angad, she was all quiet and reserved but slowly and gradually they became good friends... For the first time with Angad by her side on her enagement day, she wasn't carrying any guilt in her heart in front of Riddhima and Armaan... And this was the only thing which made her happy that day which other took wrong as they thought she was happy with the engagement...
"What??? You are getting Engaged??" A bomb fell over Atul the very next morning as Rahul spoke to him and informed him about his engagement with Muskaan...
"Mujhe samajh he nahi araha hai tum log kya kar rahe ho???" He frowned...
"Mat samjho... Bus itna samajh lo k hum ajj bhi utne he ache dost hain!!" Rahul smiled at Atul... His ties with Shilpa were never broken... He was the only one who knew what Shilpa was going through... he was a great support for her all this while..
Its just that, he stopped advising her and she stopped listening to him... But they did share that hi hello still...
...
Slowly opening her eyes, Shilpa looked all around only to find her mother in law sitting by her side...
"Aap..." Shilpa tried to straighten up but her mother in law interrupted... "Arre nahi!! leyti raho... abhi bukhar kum hai!! lekin hai..." She smiled...
"Ummm wo..." Shilpa didn't knew what to say...
"Angad ne bataya mujhe tumhe kal raat kitna tez bukhar tha..." Avantika caressed her forehead lightly...
"Main ab better hun!!" Shilpa smiled lightly... "Mumma!" She silently wished Padma t be there with her...
"Ab tum araam se uth k mu haath dho lo... mein naashta bhijwa deti hun, phir dawa le k araam karo thoda.." Avntika smiled at her and left...
"Sab itna ghalat kyun ho raha hai???" Shilpa felt irritated... "Ek musibat khatam nahi hoti k doosri ajati hai!! whyis it so complicated???" She whined...
Sameera