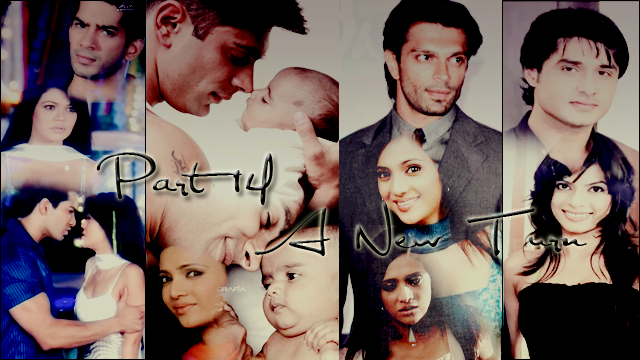 It was hard to keep Baldeive away from Nikki for so long but Abhi was smart enough to deal with it... It was Baldeiv's habit to drink alcohol each night and Abhi smartly added sleeping in all of his stock.. Each Night he enters in his room and soon retires to bed whereas Nikki feels herself much more protected in crowd so she tries to keep herself busy with elders as much as possible...
"Bahu!! tum din ba din kamzoor hoti ja rahi ho... jao ja k araam karo apne kamre mein.." Nikki's mother in law asked her to go and take some rest while working in the kitchen...
"N... nahi to... mein theek hoon!!" Nikki's throat got dry as she knew if she will leave, Baldeiv will surely get her today...
"Arre... halata dekho apni!!! chalo jao..." This time her mother in law shouted at her...
"Ummm jee!!!" Gulping odnw the lump under her throat, she went out of th kitchen...
"Tumhe hua kya hai??? Iss tarah khana peena chor dene se kuch nahi hone wala hai..." Abhi's voice boomed in the corridoor making her stod still for a while..
"Abhi!!! tum kyun nahi chale jate ho??? shaadi ho chuki hai meri!! Wo maar dega tumhe!!" Nikki pleaded once again...
"Aur tum jo apne app ko pal pal maar rahi ho??? uska kya??" He came forward and stood infront of her straight...
"Main kya karun??? Tum kya chahte ho???" She felt too weak to argue at the moment...
"Tum iss jahanum mein akele rehna chahti ho naa??? theek hai!! main chala jaoonga! lekin..." He paused to look at her questioning face...
"Lekin kya??" She asked...
"Lekin uske liye tumhe mujhe prove karna hoga k tum phirse koi ulta seedha kadam nahi uthaogi!! Jis din mujhe dikh gaya k tum apna khayal rakh rahi ho... tum jee sakti ho!!! mein chala jaoonga!!" He kept his words in front of her...
"Agar tumhari yehi shart hai!! to aisa he sahi!! Tum wo sab dekho gay jo tum dekhna chahte ho!!" Nikki replied back in a strong voice while looking in his eyes... she was admant to do anything which will send Abhi back...
...
In the beginning days of Riddhima's pregnancy, Armaan used to call Shilpa even late nights on Riddhima's demand but now he was fully active in dealing with Riddhima and her mood swings... He used to get irritated now adays when Riddhima demands Shilpa's presence as he thinks when he is providing her everything, he is giving her all his time then why the hell she always needs Shilpa by her side..
Till now he understood really well the bond between Shilpa and Riddhima... He understood that they are sisters and shares a life but it really annoys him now as he thinks Riddhima is not getting the point that She is his life now... Its completely okay if Riddhima needs Shilpa sometimes but all the time??? No!! This All the time was again creating harsh feelings inside him against Shilpa...
He has always seen Riddhima calling Shilpa in good and bad time... she is happy, she will share it first with Shilpa! She is sad, she in in pain! she will again call Shilpa!! "Why not me Dammit??? I am her husband!!" He kicked the stone away as the anger was building up inside him more and more...
"Kabhi jo main Riddhima k mu se apna naam sunn lun zaroorat ke waqt... har waqt, har baar, har cheez k liye bus Shilpa! Shilpa! Shilpa!! Akhir kyun???" He shouted out loud... "Usse to kabhi bhagte nahi dekha maine Riddhima k peeche!!! Phir Riddhima k liye Shilpa har cheez se oopar kyun hai???" This question was eating him inside from don't know how long...
Preprations of AtulAnjali's wedding were on full swing at Mallik Residence... everything was going so good except for the storn inside Armaan... Don't know how many times he thought to have a face to face talk with Riddhima regarding this but each time he tries, he fails keeping in mind that her health and mood swings are dangerous at the moment... Then again his needle landed on Shilpa... "Usse baat karun???" He gave it a thought million times but again failed when it came to implementation... He was frustrated and he was not taking it out...
...
"Abhi! Are you sure??? Mujhe khatra lag raha hai!!" Shilpa gulped down the lump under her throat as she received Abhi's call and the purpose behind it...
"I am sure!! Maine tumhari tasveer dekhi hai baldeiv singh k paas... Tum jald se jald wahan se niklo aur kuch dinow k liye kahin bahar chali jao... Mere pass kisi ko bhi kuch samjhane ka ya batane ka waqt nahi hai... isliye dirrect tumhe he warn kar raha hun!!! Rahul wagera kisi ko nahi samjha sakta mein yeh sab..." Abhi tried to clear things out for Shilpa...
"Lekin... agar wo Riddhima???" Shilpa was hell shocked that how this crappy baldeive singh is now after her...
"Wo Riddhima k nahi tumhare peeche hai... poori history geaography nikali hui hai usne tumhari..." Abhi said between his teeth...
"Arre par meine uska kya bigara hai???" Shilpa was hell annoyed by now...
"Bigare hai??? Usske accordingly tumne beech raaste usse thappar maara tha!! ab yeh sab kab aur kahan hua tha tum khud yaad karo... and for God sake kuch bhi kar k niklo wahan se... " Abhi asked her to hurry up...
"Tum usse rok nahi sakte???" Shilpa asked in a worried tone...
"Rok sakta hun!!! lekin yeh ek hafta bohat bhari hai yahan mujh par bhi... iss ek hafte k liye kahin gayab ho jao phir main dekh lunga jo bhi hai!!" Abhi sighed trying to tell shilpa that this all is not so easy...
"Theek hai!! main dekhti hun!!" Pressing her lips together she ended the call and next thing she did was to rush towards Rahul...
"What??? Yeh sab kya hai???" Rahul's eyes widen up hearing about this newly invented fiasco...
"Arre mujhe khud nahi pata... aur main kyun kisi ko free fund mein thappar maarne lagi..." Shilpa shook her head with worried expressions...
"Ab itni bhi masoom nahi ho tum!!! maaara to zaroor hoga tumne..." Rahul glared at her...
"Ab tum mat sunana shuru ar dena... tell me a way out!!" She made a cute puppy face...
"Way out!!" He mocked at her face sarcastically and took some time to think...
"Aur kuch solid sochna!! Riddhima ko dheyaan mein rakhte hue..." Shilpa added...
"To ek kaam karo naa... yeh sab ja k Armaan ko bata do!!! i am sure wo kaafi khush ho jayega aur usse behtar ideas tumhe bahar bhejne k iss waqt aur kisi ko nahi aenge..." Rahul taunted her...
"Excuse me???" Shilpa narrowed her eyes at Rahul...
"Excused!! Jis hisaab se aj kal Riddhima ko har time tum chahiye hoti hona??? Duniya ka koi bhi pati bardasht nahi karega!!" Rahul shook his head at her...
"Smajhti hoon yaar mein... lekin filhaal yeh jo sar pe musibat i hai mere isko door karo..." Shilpa pouted...
When nothing fell right on its place, Shilpa at last went to Armaan for some help...
"Tum pagal to nahi ho??? Beech raaste kisi ko kahin bhi jarr do gi???" Armaan shouted out loud at her...
"Cheekho nahi mujh pe abhi!! mujhe help chahiye tumhari..." Shilpa was really looking worried today...
"Help chahiye!!!" He said between his teeth... "Ab betho aur sochne do mujhe kuch!!" He said in a strict tone...
"Tumhe to khushi honi chahiye... jaan choote gii tumhari!! Aur shayad mere jaane se tumhari biwi bhi line par a jaye.." Shilpa made a face looking at Armaan...
"Yeah Right! Tumhare peeche gunde ko para dekh kar khushi honi chahiye mujhe..." He said between his teeth...
"Ek minute!!! Tum donow ka chahra!! agar tum chali gai to Riddhima ka kya???" He flared up as a thought strik his mind...
"Wo mere peeche hai Riddhima k nahi!! Aur Riddhima aj kal wese bhi ghar se kahin bahar nahi nikalti... Ek hafte bahane se house arrest aur rakh leyna usse..." Shilpa was in no mood to create another fight...
"Are you sure wo tumhare ilaawa kisi aur ko nuksaan nahi pohchana chahta??" Armaan asked with concern...
"Nahi!! haan!! pata nahi..." Shilpa looked away...
"Great!! tum to waqai lutiya duba do sab ki..." He spoke out sarcastically...
"Rahul se baat ki??" Armaan asked after a while...
"Wo keh raha hai mumma aur Arjun ko le kar kuch holiday type plan karun aur ek do jaghe badalte hue simla nikal jaoon..." Shilpa replied with a sad look on her face...
"Ghalat to nahi bola usne... phir mujhse kyun suggetion maang rahi ho??" Armaan arched his eyebrow...
"Are you mad??? Riddhima ko iss tarah chor k jaane pe mumma ready ho jaengi???" Shilpa made a face...
"Kya nai musibat paal li hai tumne Shilpa!!!" Armaan sighed with worried expressions...
...
"Ab yeh Shilpa k peeche kahan se parr gaya hai?? meri to samajh he mein nahi araha.." Abhi gritted his teeth... Baldeiv's all secrets were out infront of him by now and knowing about Shilpa being his next target Abhi felt like really kicking him this time...
"Yahan nikki ne kuch kum pareshaan kiya hua hai jo ab yeh ek nai musibat!!" He threw a pebble in the water...
"Arre Kuljeet Singh!! Tu yahan betha hai??" Baldeiv came and sat down next to him...
"Yaar Baldeiv!! Tum kabhi kabhar samajh nahi ata mujhe... Khud ki biwi ko sambhli nahi abhi tak tujhse aur yeh ek nai ladki k peeche par gaya hai!!" Abhi shook his head at Baldeiv...
"Tujhe pata nahi hai jani!! Nikki to meri ho he gai hai bus samjho... yahan to bach jati hai wo lekin ab mein usse yahan se door le k jaane wala hoon!! wahan usse kaun bachaega??" Baldeiv smirked...
"Huh!! Kahan le jayega??" Abhi questioned getting prepared to face another challenge...
"Yahan se door registaan ko paar kar k ek jagaha hai wahan mera ek bangla hai... bus wohin!! Saath mein tujhe aur shayam ko le chalunga bus!!" Baldeive started revealing his plan...
"Humay kyun??? tu akela ja..." Abhi started playing smart...
"Pagal hai kya?? tu jaanta hai naa yahan se bahar kitne dushman hain mere... " Baldeive grinned...
"Hahahaha!! haan sab jaanta hun!! Aur yeh doosri jo ladki hai??" Abhi inquired about Shilpa...
"Yeh?? yeh badi nasheeli cheez hai... issne ek baar raaste mein mujhe thappar mara tha!! isse kese aise he jaane dun?? kal ja raha hun mein mumbai!! wahan iska bhi kaam tamam karunga!!" Baldeiv laughed out evilly...
"Isske ghar mein kaun kaun hai??" Abhi inquired more...
"ek maa hai aur ek chota bhai hai!! lekin wo mera kya ukhar leinge???" Baldeiv was ready with his plans...
"I hope Shilpa nikal gai hogi wahan se..." Abhi thought while looking at the water...
"Hahahaha!!! usne tujhe beech raaste thappar maara tha aur tu ne aise he jaane diya tha usse??" Abhi tried to dig out more...
"Aise kahan??? kutta chor diya tha apna uske peeche... lekin phir wo kisi ghar mein ghuss gai aur bach gai!!" Baldeiv tighten his jaw...
"Kutta??" Abhi shook his head thinking... "Yeh kutte wala scene to Riddhima k saath hua tha... shilpa??? OMG!! Yaani yeh Riddhima aur Shilpa mein dhoka kha gaya aur ab Shilpa ko Riddhima samajh k uske peeche para hai??? ufff!!!!"
"Searching for this???" His voice boomed in the kitchen at this 11th hour of night when the whole house was covered with darkness and everyone was fast asleep...
"Ufff!! Armaan!!! dara diya mujhe..." Riddhima gasped keeping her palm over her chest as she saw him standing at the counter with a bottle of coffee in his hands...
"Darpok!" He commented shaking his head over her horrified look...
"Itni raat ko coffee piyo gii to so gi kab?" He arched his eyebrow while walking upto her...
"Mera dill chah raha hai!!" She made a puppy face which she knew always melts him...
"Dill to mere pass bhi hai!!" He smiled pulling her closer to himself by her waist...
"Acha?? mujhe kese pata hoga yeh??" Her eyes sparkled with a mischivious smile...
"Abhi batata hun!!" He passed her a side looped smile as his mind registered what she is upto and carried her in his arms...
"Arre choro mujhe... coffe banani hai meine..." She almost ordered showing her fake anger to him...
"Aur mujhe nahi banane deni hai!!" He mocked at her face and walked out of the kitchen straight towards their room... Putting her down on the bed, he walked back to lock the door and then came back to her... "Haan!!! to kya keh rahi thi tum??" He said kneeling down over her...
"Main...k..kuch nahi!!" She pushed herself back as he came more close to her...
"Haan!! tum to kuch nahi kehti..." He said kneeling down more which atlast made her lie down fat on the bed...
"Bilkul!! main kuch nahi kehti..." She acted innocent pushing him away which made him lie down next to her...
"Kya yaar?? ek dum ajeeb ho gai ho tum... saara din atul ki shaadi ki tayariyun mein lagi rehti ho mom k saath aur jo baaki ka waqt hota hai uss mein shilpa! shilpa! cheekhti rehti ho!! mere liye to time he nahi hai!!" He complained making a face...
"To tum time khech liya karo..." She said lovingly while turning her side and adjusting herself over his chest...
"Tumhe masti bohat zyaada soojhne lagi hai aj kal!!" He announced while placing alight kiss over her forehead...
"Ab kisi ek ko to masti soojhni chahiye naa... tum to apne sarru mode se bahar he nahi nikalte..." She pouted giving him a shock...
"Main sarru mode mein hota hun???" He narrowed his eyes over her...
"Haan..." She mocked at his face... "Hospital, hospital se ghar, ghar pe mujhe tung karna, tv dekhna, idhar udhar chapar chapar karte rehna aur..." Before she could complete hernever ending long list, he placed his lips over her taking her into a long passionate kiss...
...
"Shilpa!!" Padma called out her name loudly which made her jump out of her bed...
"Kya hua???" She ran up to padma and asked...
"Tumhe kya hua hai??? itni ghabrai hui si kyun ho??" Padma asked looking atthose horrified expressions of Shilpa...
"Wo... mein..." Shilpa tried to compose herself... this Baldeiv Singh fiasco was really scary...
"Acha suno... Sarita bhabhi ki death ho gai hai!! Mujhe chandigarh jana hoga... " Padma announced in a sad tone...
"Huh??? " Shilpa took some time to get things registered in her mind...
"mein aur Arjun bhi chalte hain!!" She was getting a golden apportunity...
"Pagal ho?? Riddhima..." Padma tried to say something but shilpa interrupted...
"Mumma!! Annanya anty haina?? app kyun uski fikar kar rahi hain??? hum bhi chalte hain warna bura lagay gaa.." Shilpa insisted...
"Hmmm theek hai!! " Padma was feeling too low at the moment that she didn'r argued more with Shilpa...
...
"Kya??? sab chale gaye?? mujhe bataya bhi nahi!!" Riddhima frowned at Armaan who just informed her about her family's visit to chandigarh...
"Relax!! zaroori tha unka jana aur phir tum shilpa ko jaane nahi deti... isiliye usne nahi bataya!!" Armaan tried to calm her down...
"Armaan!!! kya mein waqai aj kal zaroorat se zyaada Shilpa ke peeche par gai hun??" She asked innocently...
"Haan!!!" Immediately popped up in his mind but he didn't say it...
"Yaar!! usski bhi apni ek life hai!! tum apna darr, apni cheezein mujhse kyun nahi share karti??" He asked softly while taking her hand in his...
"Tum hasso gay!! mumma se jab bhi share kiya wo hass di!! Lekin Shilpa!! wo samajhti hai mujhe..." Riddhima spoke out innocently...
"Kyun hassunga mein??? tum bharosa to kar k dekho!!" He tried to assure her about his support...
"Bharose ki baat nahi hai Armaan!!! " She tilted a bit and kept her head on his chest...
"To phir kya baat hai??" he asked lovingly while stroking her hairs...
"Mujhe naa... pata nahi shayad bachpan mein kuch hua ho... lekin ek ajeeb sa khwab ata hai!!" She strted revealing it all...
"Kesa khawab??" He asked while caressing her cheek...
"Ek bhayanak sa darakht jo mujhe apne ander khech raha hota hai aur main jab bhi madad k liye pukarna chahti hun to meri awaaz nahi nikal pati... par phir mere saamne shilpa ajati hai aur sab safed hojata hai!! meri takleef, chot sab khatam!!" Riddhima sighed...
"Hain???" Armaan got a bit confused hearing such stuff...
"Pata hai Armaan!! shayad ek doctor ho k tum iss sab pe believe mat karo lekin mera shilpa se jo rishta hai wo bohat ajeeb hai!! baar baar aisa hua hai k hum donow mein se koi bhi ek agar takleef mein hai to doosre par uska sar zaroor hota hai!!! phir chahe hum kitne bhi door hon.." Slowly Riddhima was opening up infront of Armaan today...
"Hoga!! zaroor hoga iss baat se mujhe koi inkaar nahi hai!! lekin kuch cheezein tumhe bhi samajhni hongi Riddhima!! iss tarah tum sirf apni he nahi balki usski bhi zindagii complicate kardogi... Har baar tum usse ek naya wada ley leti ho!! usse wo itne wade mat lo jinhe nibhate nibhate wo thuk jaye!!" He tried to explain her lightly...
"Shayad tum sahi ho!! " She took a deep breath while wrapping an arm around his neck... Right now she just wanted him to hug her tightly and protectively which he knew and did...
AtulAnjlai's relationship was a light hearted one... These two understands eachother well and that was their biggest strength... Just few days were left in their marriage and they made it a point that they will give eachother their own space and wont force anything on anyone...
In these few days which Annanya spent with Anjali for shopping, she digg it out how down to earth and mature Anjali was... As far as Riddhima was concern, she was the first choice for all but for Atul; Shilpa was Annanya's first choice which now she understood can never be perfect than Anjali... Slowly Annanya realized the twin face can create alot of troubles in future...
"Anjali yeh kesa hai??" Annanya asked while pointing at a jewelry set...
"Apko jo pasand ho aunty!! meine zyaada kabhi dheyaan nahi diya in sab cheezon pe... hospital se waqt he nahi mila.." Anjali pressed her lips together...
"Arre par apne liye bhi to waqt nikalo naa.." Annanya shook her head lightly at Anjali... She was liking this soft spoken girl very much...
"Mom!! yeh sab hogaya ho to chalein?? " An irritated Atul asked who was tired with this never ending shopping...
"Tum chup betho!! ek tum aur ek wo tumhara bhai!! pakar mein he nahi atay!!" Annanya scolded Atul...
"Haan!! yeh sahi hai... usske hisse ka bhi sab mujh par daal dein!! sirf ek din!! ek din app usse iss tarah le k poora din ghoom k dikhaein! i swear mein agay se kabhi kuch nahi bolunga!!" Atul put forward a challange...
"Yeh kaam Riddhima bhi nahi kar sakti hai samjhe!!" Annanya showed her eyes to Atul...
...
All this while when Shilpa was not around Riddhima, Armaan was having a gala time... He was actually feeling like getting emotionally attached to Riddhima now... he was living all those pregnancy days with her.. He never knew things could take such a turn in his life like this... Things were changing again but somewhere deep down something was pinching him...
Riddhima was fast asleep and he was just changing his sides as sleep was far away from his eyes... Slowly he got up from the bed and without making a noice walked outside towards the terrace... He threw himself on the swing and stared at the moon..."When life is getting blissful why am i so unsatisfied atthe moment??" He questioned his heart... Closing his eyes he tried to think of something and got his answer...
He was worried! he was worried about Shilpa and the danger that was revolving around her... "Yeh ladki bhi!! pata nahi kya kya kar leyti hai!!" Armaan sighed... Walking back to his room, he picked up his mobile and hen looked at the wall clock, it was striking 1 am...
"Abhi???? neend nahi ayegi pata nahi kiya to..." He told himself and messaged her.. "Theek ho??? "
This day was too bad for Shilpa... she almost had death experience today about which she didn't let anyone know except for Arjun...
Arjun was not a kid anymore... True he was younger than Shilpa but these days he was turning out to be her Best Friend... Arjun's bonding with Rahul was much more than Armaan... he never let anyone know except for Shilpa that few times he just feels a little scared of Armaan... And Rahul was like his best buddy..
"Tum Rahul se kuch nahi kahoge!!" Shilpa warned Arjun...
"O comeone di!! wo sirf ek unexpected accident tha!! the driver was drunk!! mujhe nahi lagta k kisi ko batane se kuch faida hone wala hai jo mein newpaper ka ishtihaar bana dun iss baat ko..." Arjun frowned at Shilpa...
"Good!!" Shilpa took a sigh of relief... she wasn't sure if it was baldeiv singh's man or just a random accident...
The truth was that right now she was horrified... She was trying hard to contact Abhi but all went in vain... Rahul calls her everyday but shilpa was not feeling like telling him all this on the phone... She had decided that if Rahul will ask himself she will tell him the truth but the thing was that nobody was asking he if she is alright!!
All she gets to hear about was how is Riddhima?? How is Aunty (Padma)? etc etc...
Shilpa was out of mumbai and that was the only reson why Rahul thinks she is fine... He knew her and the fact that she is a strong girl but was she really by heart?? She was laying down on the bed thinking about the morning incident... sleep was far away from her eyes and she was feeling so much suffocated.. She was still confused feeling scary by heart and thinking whom to share with everything she is holding in her heart and that is when her mobile buzzed...
"Rahul hoga... bus bata dungi usse mein sab! Atleast dill to halka hoga mera!!" She decided and picked up the phone...
"Armaan??" Shilpa starled for a moment... she was not at all expecting him...
"Haan!! theek hoon!! how is Riddhima??" She messaged him back..
"Theek hai wo... Aurr tum theek ho isiliye abhi tak jaag rahi ho?? you early sleeper!" His next message waas filled him taunts..
"Ufff!!" She shook her head after reading his message... "Yeh akhri insaan hoga duniya ka jisse mein apne baare mein kabhi kuch batana chahungi!!" Shilpa gritted her teeh and the next moment she heard her mobile ringing and it was Armaan's call...
"Hi!!" She picked up her cell phone while walking out of the room so that Padma and Arjun won't get disturbed...
"Hi ki bachi!! kya hua hai ab??" He asked...
"Kuch nahi hua hai... kya hoga??" She tried to sound normal...
"Dekho mujhe iss waqt tumhe call karne ka koi khass shawk nahi hai!! phir bhi maine kiya kyun??? kyunki muhjhe laga k kuch garbar hai!" He sounded serious this time...
"Huh!! agar garbar hai bhi toi'll solve it... tum apni biwi pe dheyaan do na.." Shilpa retorted back at him...
"Meri biwi sukoon se so rahi hai!! lekin mujhe neend nahi a rahi hai kyunki mujhe aisi intution a rahi hai k kuch masla hai tumhare saath..." He tried to keep his temper cool...
"I don't know kya ho raha hai yaar!! darr lag raha hai mujhe ab... subha ek gadi!! marte marte bachi hun aj..." Shilpa broke down...
"Dekha??? Tum theek ho??" He asked with concern... he himself can feel that fear in her voice..
"I don't know!! mujhe to yeh bhi nahi pata k tumse yeh sab kyun bol diya tum please yaar!!! keep Riddhima safe... meri wajah se usse kuch hua naa?? to wese he mar jaoongi!!" Shilpa almost pleaded...
"Calm down!! kuch nahi hua hai Riddhima ko... Aur na mein kuch hone doonga!! Just take care of yourself aur Abhi to try kar baar barr... mein subha baat karta hun tumse.." Armaan tried to calm down Shilpa and ended the call... Now, he himself was not in peace...