Hail Shweta Tiwari!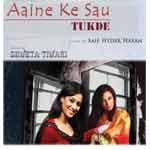 Product Rating:
4
100%
Recommendation
Dramatics
has his own charm and experience. I've always admired and held the play actors and crew in high esteem. After all, it's not a movie where one error can be forgiven via retake! In a play, there's most probably no scope for folly because you are performing live in front of hundreds. And if you commit one, you have to make sure you wittily cover up immediately which obviously isn't easy. Unfortunately for me, inspite of having such respect for this field, I never got an inclination to attend drama regularly'its movies that caught my fantasy. But at the same time, I made sure that I try to atte
View next photo
nd plays, although occasionally. And when I got a chance to see
Aaine Ke Sau Tukde
, I realized this is a chance to be missed due to many reasons. It has
Shweta Tiwari
as the lead (and ONLY performer), who I consider as one of the finest actresses, and also that it's directed by
Mr Saif Hyder Hasan
, our very own
MouthShut
employee! And I am so glad that I went for it! The play is deftly handled and performed that engages you and doesn't leave your imagination hours and days after it has ended! An experience to savour!
The premise of the play: Minal
has a
twin sister Maanya
, whom she just hates right from childhood. Maanya was separated from Minal and parents during infancy due to certain unavoidable circumstances and is again brought back home. The parents then tended to attend more to Maanya, leaving Minal dejected and angry. But not only
sibling rivalry
and
favoritism
, Minal, as she grows, also suffers from
incest, sexual abuse
and
extra-marital affair
and all this traumatic experiences were in a way connected with Maanya. Her sole aim in her life was to hit back and take revenge for all the wrongs and her only support in her journey was a
mirror
which she considers magical. Will Minal succeed in finally avenging or will the magical mirror fail to do its work?
Aaine Ke Sau Tukde has several
characters
-the
twin sisters, parents, chacha-chachi
, maternal uncle
Jyoti
, Minal's hubby
Danish
, son
Jubal
and Maanya's hubby
Kunal
. But all these characters were essayed by, believe it or not, just one actor-
Shweta Tiwari
! Since I haven't seen many plays, I don't know if such monologue dramas are common but for me this was a completely unique experience. The play is a flashback of sorts wherein Minal is reflecting back on her life and narrating it to the mysterious person,
Rehan
. While doing so, she gets into various characters and the way she slips in and out of so many personalities is seen to be believed. At not even a single place do you get confused as to which character she is essaying. Also, single handedly engaging the viewer's attention for 2 long hours is no easy feat.
In short, we didn't see Shweta Tiwari performing'.we saw magic happening on stage!
The appreciation should also go to writer-director
Saif Hyder Hasan
for coming up with such an out-of-the-box idea and executing it accordingly. Several sequences in the play shake you and give goosebumps. Although there are several impactful points in the play, one of my favourites when the kid Minal sees her twin for the first time and describes that she was the
ugliest girl of the world
, ignoring the fact her sister looks exactly like her! The entire Uncle Jyoti episode was definitely the most exciting as Shweta convincingly plays a teenaged tomboy teen excitedly in love. The twist here also shakes you and the following
intermission
helps to sink in the feeling! The second half is as attention grabbing as the first hour. Minal temporarily giving up the feeling of revenge brings a smile onto your face. And then the Kunal episode and its aftermath leave a deep mark.
Any blemishes? Unfortunately, yes. It was difficult to comprehend what was going on in the first few minutes of the play. But soon a clearer picture emerged. The whole thing about Rehan seemed little erratic. But on second thoughts, spending time on this aspect would have increased the play's duration and so whatever little explanation on Rehan was offered was sufficient keeping in mind the overall play. The play culminates on a positive note but again it's difficult to digest that a person who's so disturbed in life thinks in such a manner. But again, this can be overlooked.
The work of the crew was as good as the cast.
Sets
were topnotch and the
props
used (especially the mirrors) added to the beauty of the play. The
theme music
was haunting and is still playing in my ears! This is the first play of producer
Kannu Raj Gill (Dreamscape Entertainment)
and they have ensured that it's promoted well and also turns out to be appealing to audiences.
Finally,
Saif Hyder Hasan
excels as the writer-director and how! The dialogues are sharp and the dark humour and wit at places astonish you, particularly where Minal who unwillingly gives birth to a child wishes he dies of some disease of somebody steals him from the hospital! Direction seemed fully apt. This was no easy drama in any respects and Saif with Shweta wonerfully infuses life into it. At the end of the play, Saif Hyder hasan, in true
Farah Khan
style, introduced the entire crew of the play on the stage! The audiences gave a
standing ovation
when Shweta's name was announced! It was really a sight to see!
On the whole,
Aaine Ke Sau Tukde
is an intense and mesmerizing play that is surely to impress and awe the audiences chiefly due to the smart dialogues and situations and of course Shweta's out of the world act.
If Aaine Ke Sau Tukde was a movie, Shweta Tiwari would have surely won all the important awards like Filmfare, IIFA and National Awards
! The play, till now, has completed 3 shows. I hope audiences go for it in hordes so that the play completes many hundreds of shows! After all, it deserves to be seen, awed and appreciated!
http://www.mouthshut.com/review/Aaine-Ke-Sau-Tukde-onsosrtlmn


Edited by Nitu_ST_Deewani - 22 March 2011 at 2:17pm