'I told my daughter not to cry'
Last updated on: February 23, 2011 14:41 IST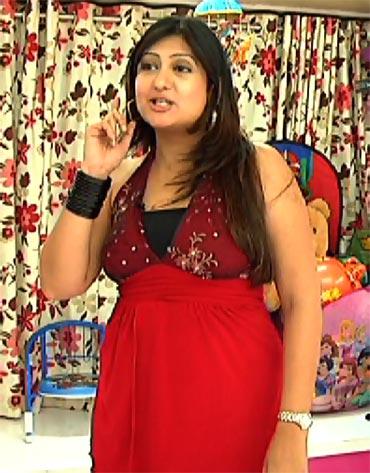 Next
Rajul Hegde
in Mumbai
Juhi Parmar swapped places with Gauri Tonk in the reality television show Maa Exchange, and unlike the earlier women who swapped places, it looks like these actresses had a wonderful time.
They share their experiences.
Juhi Parmar
I am not a mother yet. When the offer came to me, I asked them why they chose me. They told me that they wanted to show motherhood through us. For example, they wanted me to react the way I would when I became a mother.
I thought it was a great opportunity to live the life of a mother. It's a challenging experience to get into somebody else's life for eight days. This show is different from the one I had done earlier, (Pati Patni Aur Woh). I had my husband's (Sachin Shroff) support there. Here, I had to take care of the family by myself in an unknown set up.
I set up my own rules and made them do small things.
Yash and Gauri's daughter Pari, 7, is a well behaved girl. Her grandmother used to pack her school bag. I asked her to do it herself. I explained that she was a grown up girl now, so she should take care of her books, and time table. These are small responsibilities that will make a difference and help her be independent.
I encouraged Yash to do more comedy shows because has a good coming timing. I asked him to hold an exhibition of his work because he paints well.
Gauri and I have a cordial relation with each other now. After the show, she called me up and wished me on my anniversary.