Originally posted by Angelic_Swancy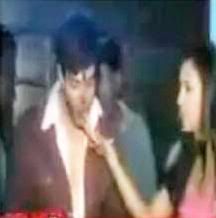 He Looked at her with those same dazzling eyes at he did a few days ago. While she put cake in his mouth, how many years had they spent together. He smirked as he dipped his tongue onto her finger and licked it with slow uneaseness, while looking into her eyes at the same time. The slow sensual moment made her want to look away, anywhere but into his eyes.
"Baby" Shilpa whispered as she looked at him. "Stop please, people are around us" she tried to say, but he didn't stop, he took her full finger in his mouth and dance sensually around it.
With the loud Pop he brought her finger out of his mouth, and then ever so causually he took the same finger within his hand, as he looked around and saw that everyone was busy doing other stuff to even concentrate of them.
He pulled her from the inside hall, to a secluded arena outside the big room. He looked up to see her protesting along the way, but the moment they reached the corner, he backed her up against the wall, and started his torture on her neck. Sucking, biting and licking every inch of it, as all she did was moan and groan against his pleasure.
"Karan!" she growled as he bit into her collar bone. "Please Karan, don't make me wait, please" she begged, as he just smirked.
"Do you want me shilpa, huh shona? do you?" he said slowly as he brushed his lips along side hers, yet not touching it fully.
Shilpa arched her back to give him the kiss, but Karan just moved away and tsked at her. And then he was on the case back again, moving up and down her lips, causing light havoc through her body, causually teasing her taste buds. His tongue came out, as he licked the middle of her lip, he laughed as she tried to grasp his tongue with her lips, but was unsucessfull.
Without any sign, Shilpa grabbed the back on his head and slammed her lips onto his. And then the torture began.
I wanted to continue more, but i hav something else to write too. So sorry, it's not as good, as i wanted it to be.