Gunur and khanak reached excel college and every body are looking them (especially boys) as the 3 beauty queens has landed
on the other side
Sayank and shaantanu are coming towars there mom (sayank's mom) and shaan is just going with them and sayank's mother realises something in air (as every mother feels about her childrens) suddenly she feels that her sons had come a tear fall from her eyes and sayank enters the house shaan is also with them shaan comes inside and sayank walking towards their mother they keeps their hand on her eyes one hand sam and 1 mayank keeps she touches their hand and smiles and says mayank samrat and turn around they hug eachother shaan had teary eyes n smiles
m. maa tum hamesha kese pehchaan leti ho
sa. haan maa not fair that's cheating
shaan smiles with so many tears in his eyes(actually he misses his mom)
shilpa aunty(Sh.a): arre maa hoon mein tumhaari she was saying something but she sees shaan she asks to sayank beta yeh kaun hai
m. maa yeh hamme america mein mila hostel mein yahi to hai hamara best friend pichle paanch saal se
shaan goes towards sh.a : (by mistake he says maa) and a tear fall from his eyes he turns around and clean it and take the aashirwaad of sh.a
sh. sorry wo mein
sayank sees eachother
sh.a: (she understands everything) beta tum mujhe maa bula sakte ho
sh: thank u aunty
sayank smiles
shaan became happy
shaan: wese mayank samrat tum dono bohat lucky ho yaar itni pyaari maa jo mili hai tumhe
sh.a: arre beta tum teeno itne lambe saffar se aaye ho chalo khaana waana to khaa lo
m. maa wo (actually he is finding nupur he looks here n there)
sh.a: nupur college gayi hai
m. abh acha oh par meine thori na pucha tha
sh.a: haan haan par teri in aankhon ne to puch liya na mujh se buddhu
mayank puts his hand on his head
sh.a (while looking at sam) : aur gunjan bhi college gayi hai
samrat does the same as mayank
(he puts his hand on his head)
shaan says: acha aunty to mein chalta hoon
sh.a: arre beta khaana to khaalo
sh: par aunty
m. shaan!!
sh: okay baba
s. good boy
they eat their food then mayank says maa hum chalte hain
sh.a: kahaan excel college uhum uhum
m. maa tum bhi na
sh: haan aunty jaane dijiye nai to sahaab ro pare gein
m. shaan tu ruk mein
sh.a: oho itne bare ho kar jhagra karte ho
m. maa shuru kisne kiya
sh.a: shuru chaahe jisne bhi kiya ho acha theek hai jao bhayi lekin pehle fresh to ho jao shaan beta tum bhi fresh hojao haan
sh. ji aunty
sh.a: hmmm
sh. oops maa
sh.a: hmm
they take shawar n all then go to excel college
sh.a: arre beta keys to lete jao
s. thanks mom
mayank drives shaan is sitting with mayank n samrat on the back
mayank on the tape and the song is "zindagi do pal ki"
m.dekhna samrat mein usse dekhte hi pehchaan jaunga
shaan n sam smiles
on the other side
gunur and khanak feels a heavy air their their hairs starts blowing (udhna)
n. gunjan tujhe kuch feel huwa kya
g. haan di
n. dekhna mein mayank ko dekhte hi pehchaan jaungi
khanak smiles
sayank n shaan reach college
khanak n gunur turns around air is too much there duppatta also
(sorry wasn't able to find nupur's pic)
starts blowing and they keep their hand on their face khanak's hand also on her face
shaan looks at khanak mayank at nupur sam at gunjan
all 3 duppatta goes to ...nups at mayank ...gunji ka sam par and khanak ka shaan par (filmy style)
they takes it and starts walking towards them gunur feels something
3 of them make them wear it
nupur to herself : mayank
gunjan to herself : samrat
samrat. chashmish
mayank. nupur
they smiles looking at eachother
n. mayank!!
g. samrat!!
they hugs each other and the tears of happiness falls from gunur's eyes
shanak watching it
shanak looks at eachother
they broke the hug
n. mayank tumne bataya bhi nahi haan
g. ese hi aagaye esa kyun kiya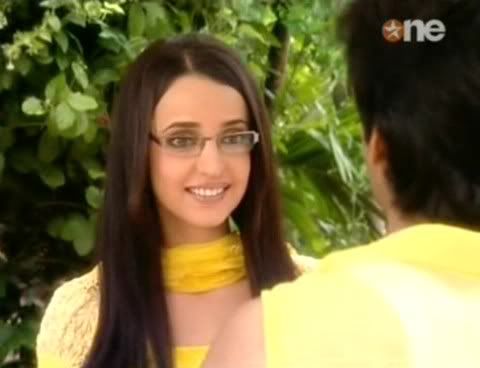 m. tum ne hame pehchaana kese
s. mayank theek usi tarah jese humne inhe
they all smiles
sh: arre hamara introduction bhi koi karaayega kya
k. haan bhayi
n. yeh hai mayank
g. yeh hai samrat
n. aur yeh hai khanak
m. yeh hai nupur
s. yeh hai chashmish oh gunjan
m. aur yeh hai shaan
n. well hum sab to ek dusre ko jaante hain bas khanak tum aur shaan hi ek dusre ko nahi jaante
k. hi
sh. hi
n. uhum uhum bas hi hogaya arre tum dono baatein karo tab tak mein aur gunjan mayank aur samrat se baatein kar lete hain chalo mayank
s. chalo chashmish
k. arre nupur gunjan
sh. hello khanak
k. hello
sh. i mean chalein kuch baatein kar sakte hain? after all pehli baar mil rahe hain
khanak smiles
MAYUR
n. mayank sach batana meri yaad aayi yaa phir
m. sach kahoon ya jhoot
n.hmmm har baar jhoot hi kehte ho chalo is baar sach hi kehdo
m. har pal har dam har ek lamhe mein tumhe hi yaad karta rehta tha nupur tumhari wo nok jhok wo meethi meethi baatein wo
shararartein wo
nupur is all with teary eyes mayank also
n. bas mayank
they hug eachother
m. nupur tum yeh baar baar rona band karogi
n. hmm..(she nods) ok aur mister yeh aapki aankhon mein kya hai
m. okay okay they laughs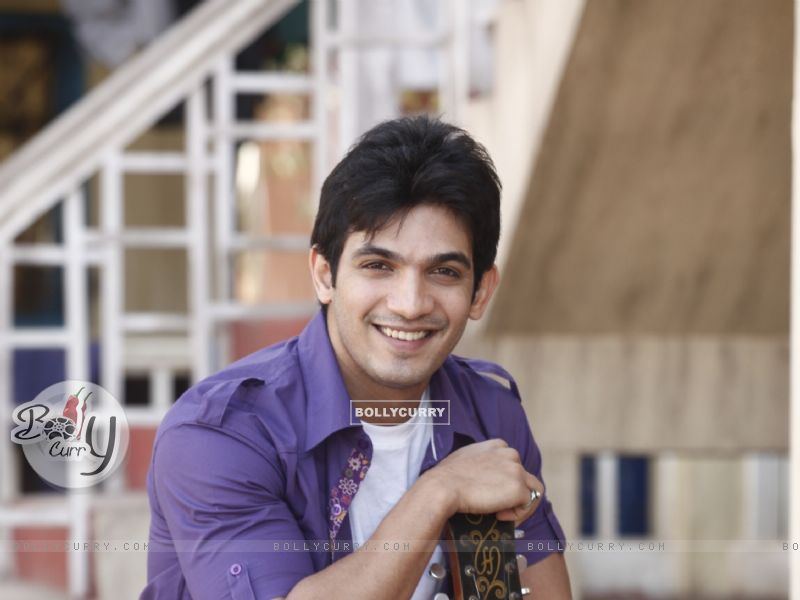 SAJAN
s. chashmish chashmish chashmish chashmishhhh
(samrat gunjan ko gol gol ghumaata hai)
g. samrat samrat kya huwa aaraam se
s. aaj mein kitna khush hoon mein tumhe bataa bhi nahi sakta
chashmish tumhe yaad hai hamara wo bachpan wo
g. haan samrat pehle saans to lelo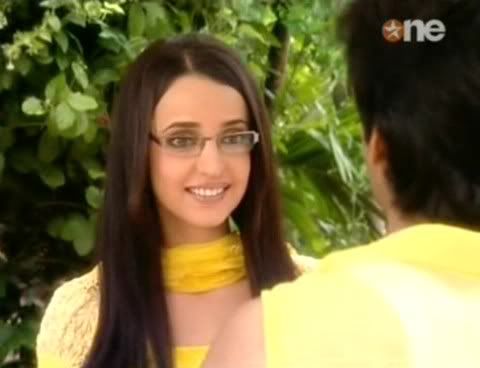 s. nahi chashmish aaj ka pura din mein tumhari hi baaton mein bita dena chahta hoon
they hug eachother
(next time bada part likhungi sorry sajan fans)
SHANAK
sh. abh i hope aap comfortable hain i mean aap thori
k. thori ?
sh. nai kuch nai
k. ni ni bataayi ye na aap
sh. dekhiye pehle to yeh aap mujhe aap aap kehna choriye
k. pehle aap choriye
sh. meine pakra kab hai
k. shantanu
sh. waah! kinta pyaara lagta hai aapki mu se mera naam sun na
k. oh to aap flirt kar rahe hain
sh.flirt???? kaun mein nai to
k. by the way aap thori ka kya chakkar hai haan
sh. kyaa (he says innocently)
while saying kya kya they comes too close to eachother
(remember that shanak classroom scene n fool phool scene
)
they realizes
then they feels awkward
sh. sorry
k. its okay
sh. mein yeh keh raha ke aap mujhe thori si darpoak lagti hain
k. kya
shaan runs away and khanak runs after him
k. rukiye aap
sh. arre yeh kya kar rahi ho tum
k. ruko aap nahi kahoon na theek hai par mein aur darpoak ruko tumhe to mein abhi batati hoon
(hey friends i think aap will suit in khanak's mouth only na shaan will slowly slowly say tum okay)
they runs and then both fall on each other
shaan down n khanak up
they looks in eachothers eyes
then mayur n sajan are coming towards them
and are shocked to see
all 4 mouth is open
shaan sees them and gets up
sh. oh hello esa wesa kuch nahi hai
n. mayank tumhara dost bohat bara flirty hai ek hi din mein oops i mean ek hi ghante mein
sh. hellow esa wesa kuch nahi hai haan
g. haan haan sorry shayad hum galat waqt par aagaye
s. wese jodi buri bhi nahi hai
m. samrat
s. sorry baba
khanak leaves
n. arre khanak hum to mazaak kar rahe the
gunur goes after her
SAYANK AND SHAAN SCENE
s. uhum uhum
sh. o hellow kya uhum uhum jo tum soch rahe hona esa wesa kuch bhi nahi hai
m. haan to humne kuch pucha kya samrat
s. nahi to wo to mera gala kharaab hogaya tha
sh. teri to
sam runs n shaan after him
mayank laughs
GUNUR AND KHANAK SCENE
n. khanak sun to khanak
g. khanak
she stops
k. kya hai
n. hum to mazaak kar rahe the
g. khanak wese esa kya huwa tha ke tum us bichaare ke peeche is tarah se haath dho kar pari thi
k. kya kaha bechaara kis angle se uski himmat kese huwi mujhe darpoak bulaane ki
n. oh to yeh baat hai wese gunjan perfect couple hai ek hi din mein apni uhum uhum ko pehchaan liya
k. nupur tu ruk
nupur runs n khanak after her
k. nupur ruk
on the other side
sam n shaan are also coming n then nupur sees shaan n sam sees khanak sanu wink at eachother n then when they reach near so nupur make khanak fall n sam puch shaan to save her so she fall and he saves her
sanu n gunjan watching this
both shanak looking into eachother eyes
sh. beautifull
mayank also comes
k. oh mister hatto yahaan se
sh. hello ek to meine tumhe bachaya upar se mujh par hi apna ghamand dikha rahi ho
k. to kya meine kaha tha bachaane ko
sh. theek hai lo nahi bachata
he leaves her
she falls on floor
sh. bas khush
k. auch!!
nupur's mouth keeps open
n. oh hellow mayank apne dost se kaho ke apni hadh mein rahe
khanak nods
m. shaan wese tumhe esa nahi karna chahiye
sh. oh really fine i m going
k. ghamand to dekho mr ka
sh. oh mrs shut up
khanak mouths kept open mrs?
k. hellow tameez se baat kijiye
sh. kyun agar nahi karunga to police mein complain karogi
k. tumhe to mein
m. oh ho bas bas bas kitne larte ho na tum dono
s. haan shaan yeh larkiyaan hoti hi laraaku hain inhe to bas laraayi ke ilawa kuch aata hi nahi hai (gunjan keeps her mouth open with agryness) kyun mayank
nupur looks at him
m. abh abh wo
sh. yeh kya bolega darpoak
m. hellow haan to mujhe pata hai larkiyaan hoti hi laraaku hain
n. mayank larkiyaan nahi larke kyun khanak
k. haan ofcourse
sh. ofcourse ki bachii larkiyan laraku hoti hain
k.larke
sh. larkiyan
k. larke
sh. larkiyan
mayur n sajan looking at them like when shaan say larkiyaan they look at him n when khanak say larke the look at her
k. larke
sh. larkiyan
k. larke
sh. larkiyan
k. larke
sh. larkiyan
k. larke
sh. larkiyan
k. huh
sh. huh
n. basss!!!!!!!! enough chalo khanak
k. chalo
gunur n khanak goes
sam also takes shaan n mayank with them
m. samrat
s. hmm
m. tumhe nahi lagta ke kuch zyada hogaya
sh. lo phirse bola darpoak
m. shaan dekh tu mujhe baar baar darpoak mat bol samjhe na
sh. ok baba
s. abh ghar chalein
m. haan chalo abh shaan abh tu kahaan rahega
sh. matlab
s. wo shaan humne tujh se ek baat chupaayi hai
sh. kya
m. dekh pehle tu beth jaa
sh. haan par huwa kya hai guys tum log mujhe darra kyun rahe ho
s. wo
m. mein bata ta hoon
m. dekh shaan america mein hi ek letter aaya tha tere naam se par tu us din bohat khush tha aakhri din tha yeh parso ki hi baat hai dekh tu
sh.bolo mayank usmein kya likha tha
m.usmein likha tha ke teri jo bhi property hai tera ghar car aur sab kuch tera nahi raha
shaan gets huge shock
gunur n khanak are listening this
m.haan wo teri papa ka jo dushman tha na wo tere bade hone ka intezaar kar raha tha kyun ke wo tujh se badla le sakke aur wo to shuru se hi tera nahi tha
shaan is all with teary eyes
gunur n khanak also
n sayank also
sh. ma mayank wo mere maa papa ki aakhri nishaani thi
then he hugs tightly to mayank
nupur goes there n tells mayank
n. mayank
shaan wipes his tears n smiles
sh. oh to laraku aagaye
n. bas shaan humne sab sun liya hai
shaan looks down
n. mayank yeh tum dono ke saath reh sakta haina tumhara ghar to bohat bara hai aur wese bhi america mein to tum dono is par dependet the na i mean isi ki help se to tum dono aaj yahaan tak pohanche ho
s. haan nupur
sh. nahi samrat mein tumhare ghar nahi reh sakta
m. kyun nahi dekh shaan tujhe meri kasam hai bas
sh. mayank tu
s. haan aur nai to kya abh bas hammein aur kuch nahi sunna
n. haan chalo ghar chalte hain
m. hellow madam meine sunna hai aapko car chalaani aati hai
n.haan ofcourse after all mein nupur hoon nupur bhushan
they all laughs
khanak goes from there
g. khanak kya huwa
khanak with teary eyes
mayur sam n shaan watching this
k. kuch nahi gunjan bas ese hi
g. khanak tujhe agar jhoot bolna nahi aata haina to tu koshish bhi mat kar samjhi na
n. haan khanak bata kya baat hai abh tujhe bhi meri kasam
k. NUPUR
g. khanak plz batado
n.please warna mein marr jaungi na
khanak keeps her hand on her mouth
k. bas chup batati hoon.....wo aaj subha jab mein ghar gayi thi na wo wahaan ek letter tha wo ghar abh mera nahi raha
mein
g. khanak mein jaanti hoon
khanak looks at her confusingly
g. haan aur mein di ko bas bataane hi waali thi
n. koi baat nahi gunjan yeh hamaare saath reh legi
k. par tumhaare paas to jaga hi nahi haina
n. kisne kaha
k. wo tum gunjan mayank samrat aur shaan
g. arre wo teeno to shilpa aunty ke saath raheingi unke paas waala ghar hamaara hai tu hamaare saath rahegi bas
k. par
n. par war kuch nahi haina mayank
m. haan ofcourse
all happy
precap : all are having lunch in shilpa aunty's house
shanak talking and became friends
mayur sweet nok jhok
sajan on terrace
hey friends yeh ghar ka mene isliye likha bcoz i want them to stay in 2 houses so may be u all liked it
hey friends plz let me know did u all like this part and what do u y i m sorry n dair is liye lagi ke hamesha ki tarah mujhe pics daalne hote hain
as u all know na ke pics k bina ff adhoora adhoora lagta hai plz comment on pics also that u all did liked it or
bas abh thak gayi i mean aur pics nahi daal sakti
hope u all liked it