finished watching "The Case of the last show", an intriguing case which unfolds in a very interesting manner. What I iked best about the cases of that era was that the venues which they used at that time despite many of them being the same as now looked realistic with commonplace believable people. The interrogation method, out of the bureau scene and the TRIO as well as Freddy and Sudhakar looked like real cops. ACP handled everything firmly without unnecessary vehemence and shouting.
there were many things i liked about this case.
First, when after knowing the identity of the victim and calling upon his near and dear ones, ACP and Abhijeet are seen in a particular scene contemplating who must have brought the tickets for the victim, filmstar Ashok.ACP is seen asking a volley of questions in an indulgent tone from Abhijeet which the latter answers spontaneously thus arriving at the concluion that the secretary must be seized. ACP sounded like the tutor of a kindergarten and Abhijeet his obedient pupil, yet, the scene did not make them look imbecile nor the way the scene was handled looked childish.
Secondly, of course, the way they caught the cat's paw Paresh through that lady' s picture they had found in his wallet which they got from that pickpocketer. The way the creatives linked the revelations leading to Paresh's capture was splendid First, they caught the 3 employee of a bar who were watching the movie through those tickets, they in turn lead them to the pickpocketer and he hands over the wallet of Paresh. In paresh's wallet, they find his GF's pic and what i liked best was it was Sudhakar who rings their attention to the letters in the pic's background and after that everyone takes part in unravelling the hazy letters leading to Paresh's GF and then to Paresh. I also liked the way Daya coolly rang up on the bar's phone number thus capturing Paresh.
Lastly, the clever ruse which they used to hoodwink Paresh that the blind phone booth attendant had been unable to recognise him causing Paresh to lead them to the masterind behind the plot to kill Ashok also was praiseworthy.
and posting these 2 caps of DUO, really loved their sardonic expressions here...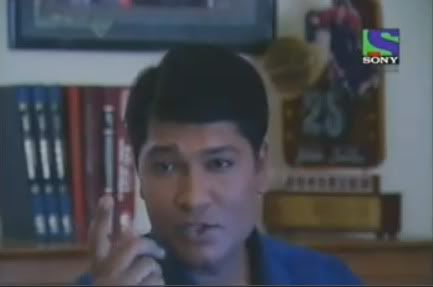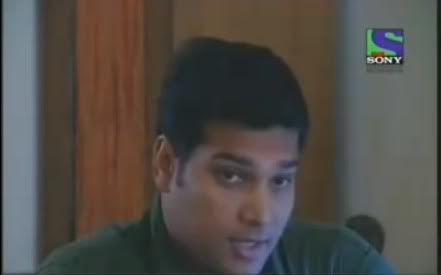 Edited by deep_baner - 17 May 2011 at 6:01am