thnx to all.....
.........here is chapter four. i hope u'll like it nd plz forgive me for my mistakes........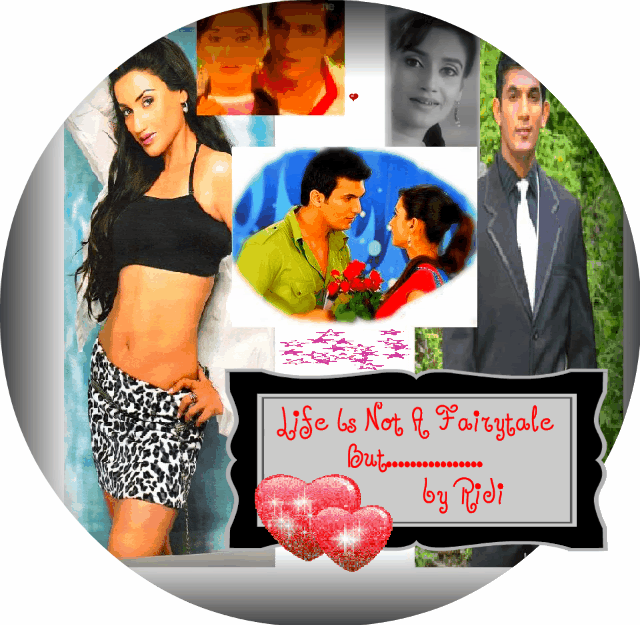 Chapter Four
Sujata: yeh tune kya pehna?
Nupur: kyun kya hua?
Sujata: jis nupur kabhi salwar suit k siwa kuch nehi pehenti woh mini skirt'''..zatka toh lage gi hi na''.
Abhijeet: kya sujata''jaisa desh waisa bhesh''ab bat hi karte rahoge ya kuch order bhi do ge''.
Sujata: okay baba'..
Sujata called the waiter. Nupur took a seat opposite Mayank. Meanwhile a waiter came. Sujata gave the order. Then she started the chit chat'..
Sujata: toh bata tera kya hal hey''hum se itne din contact kyun nehi kiya?
Nupur: rehne de na'..tu bata? Tumne shadi kab ki?
Sujata: tu baat lo palta mat''.meine jo pucha uska jawab de.
Nupur: dekh Su'..mujhe iske bare mein kuch baat nehi karni hey'.
Sujata: kyun nehi karni?
Abhijeet saw that this conversation became an argument. So he decided to stop this right there.
Abhijeet: rehne do na Sujata'..agar who nehi batana chahte toh''.hum itne din baad mil rahe hey kuch aur baat karte hey na'..pat hey bhai Nups na hamre group ki jaan thi'..hamesha khush rehti thi hasti rehti thi''.aur sabki problem solve karti thi'..
After hearing that Mayank became more confused. He couldn't understand anything. Because he didn't know that Nupur whom Abhijeet talked about. He knew that Nupur who never smiled, who was very rude. Then who was that Nupur. Where was she now?
Mayank looked at Nupur. Now he could understand Nupur was not like that she showed to everyone. But he couldn't undersatand why did Nupur become like this? When he was thinking this waiter came with the food. Sujata served the food to everyone. When she was serving the food in Nupur's plate Nupur stopped her.
Sujata: kya huya? Tu mujhe rokh kyun rahi hey'.tu toh humesha jaida khati thi''aur humara khana bhi chin kar khati thi'
Nupur: par ab mein aisa nehi karti''.
Sujata: tu bahut badal gayi Nups''.
Nupur: insan ko badalna padhta hey Su'
Abhijeet: okay'..ab khana khate hey''
They continued their food. Sujata and Abhijeet talked about their past'.Nupur's past. Mayank was watching Nupur. Sujata and Abhijeet's words were making Nupur uncomfortable. Suddenly Nupur's purse dropped on the floor and everything from her bag was spreading on the floor. Sujata bent down to collect those things. One thing got her attention''.there was a cigarette's packet. She was shocked because she knew that Nupur hated smoking. Then why she kept cigarette in her purse. What was going on in Nupur's life? She had to ask her. She didn't let it go this time. But she also knew that if she asked it right now Nupur would avoid it. So she thought some other way.
Sujata: toh Nups tu yeh bata tu yaha akeli rehti hey kay?
Nupur: ha''
Sujata: toh thik hey'..aj mein tere sath rahungi'.aur kal Sunday hey'.holiday'.hum dono aj sari raat baat karenge'..tujse bahut sari baat karni hey'.
Nupur knew that she couldn't avoid her. So she agreed with her. They finished their dinner and left the caf. At the parking lot they forbade each other good bye''
Abhijeet: toh mein bhai k sath jata hoon''assa kal mein aur bhai bhi Nups k ghar a jate hey. Aur Nups hum sab ko khana bana ke khilaenge'..after all she was a great cook.
Sujata: ha'ye bahut assa idea hey'..kyun Nups?
Nupur: thik hey'''
Abhijeet: okay toh plan fixed'..ab good night..kal milte hey'.
Sujata: good night''
Nupur and Mayank: Good night'
After that they want their own respective car and drove off themselves towards their respective house. On the way they both were thinking''
Mayank POV
Yeh sab kya hey? Sujata aur Abhi dono hi Nupur ko jante the''.aur who log jis Nupur k bare mein baat kar rahe the uske sath iss Nupur ka toh koyi mil nehi hey'..un log jis Nupur ki baat kar rahe the who hamesha hasti thi''.sab ki madat karti thi''sabko khush rakti thi'smoking aur drinking nehi karti thi'.aur yeh Nupur kabhi hasti nehi''.sabke sath rudely behave karti hey'..smoking aur drinking karti hey''..aur unn logo ne bata bhi ye sath saal se unse koyi contact nehi ki''..
Suddenly Mayank remembered their first meeting. How Nupur became angry when Mayank asked her about India''.
Kuch toh baat hey''.jo Nupur ko ita badal dala''kyunki jis Nupur ki baat yeh kar rahi the woh bahut hi sweet aur assi hey'..hir ye aise kaise ban gayi''.
Nupur POV
Ab mein kya karu? Mein jis sacchai se itne din tak bhagti ayi aj usi sacchai mere samne khara hey. Mujhe pata hey Su iss bar sach janne ke bagair mujhe nehi choregi''jin sacchai ko mein itne dino tak sabse chupa kar rakha woh ab sabke samne a jayenge'ab mujhe Su ko batana padhega mein kyun saat saal pehle ghar chorke ayi thi''hey baghban tum humesha mere sath aisa kyun karte ho''mein toh apni kismet man lit hi phir kyun tum mere atit ko mere samne lekar ayi kyun'..
After sometimes Nupur and Sujata reached Nupur's apartment. Nupur unlocked the door and they both entered the house.
Sujata: wow'..nice apartment. Par Nups ek cheese tujme abhi bhi nehi badli'
Nupur: kya?
Sujata: tu pehle bhi messy thi ab bhi wohi hey'..
Nupur: woh toh hey'.ab tu jaldi se change kar le.
Sujata: ha'par mere pass toh koyi kapre hey nehi'..
Nupur: rukh..mein lekar ati hoon tere liye kapre''
After changing their cloth they both sat on the balcony with cup of coffee. Nupr was waiting for Sujata's interrogation''..
Sujata: Nupur''.
Nupur: hm'
Sujata: ab bata kya baat hey''.aur mujhe sach sunna hey''.
Nupur could understand this is the high time. She couldn't avoid this time. So she decided to tell the truth'..
Nupur: Su''..aj mein tujhe sab bataungi''.kyun ki mein aur nehi seh sakti''.
love
ridi
chapter five-page 32



Edited by ridi_onasis - 05 March 2011 at 3:23am