Posted:

08 February 2011 at 6:13pm

| IP Logged

"I know you like me
You know you like me
Let's get together girl
You know you want to"


Hello people! We, the amazing CC's of IF are back yet again with a new game!
Sound's like fun eh?
That little part from I hate Luv Storys up there isn't just random and for the heck of it [although the CC's do have a reputation of such things], it actually goes very well with our next game!
Which
, is the none other but very fun and awesome-tastic game,
::A
NTAKSHA
RI!::
-Songs of Love.
Although we're more than sure that most of you know how to play this, here's a little HOW TO PLAY for the uninformed! *pauses to shake head frowning*
How to Play?
One member "sings" a song and the next member has to sing a song that starts with the letter that the previous song ended with and since i have a tendency to never make sense whenever i am explaining such things, below is an example.

Ravjot [Member 1]: Tu hi to Jannat meri, tu hi mera junoo
Tu hi to mannat meri, tu hi rooh ka sukoon
Tu hi ankhiyon ki thandhak, tu hi dil ki hai dastak
Aur kuch na janu mein, bas itna hi jaanu mein....
Tujh Mein Rabh Dikhata Hai, Yaara Main Kya Karoon

Aman [Member 2]: Needon mein bulaye tumhe
Tum jo aaye, zindigi mein, baat ban gaye
Sapne tera chahaton ke
Dekhti hoon ab kahi...


That's basically how you play this!
And since this month is February, the songs need to be about love, romance, etc.
To start you off.........
"Tera hone laga hoon
Khone laga hoon
Jabse milaa hoon"

[NEXT: Needs to start with N]

Have fun!
Ciao for now IF-ians!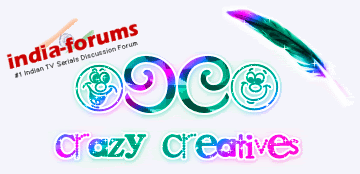 Edited by Angel-Jot. - 08 February 2011 at 7:01pm