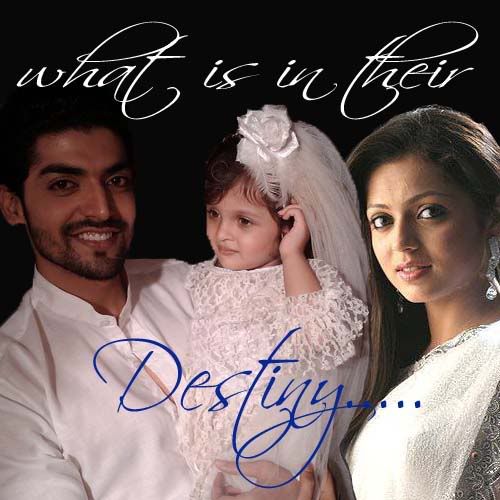 Part 16
Maan "Tho chup chap sach bolo kyaaa vrat bola tumne????"
Geet "Maan mein ne manat mangii thi ke agar aap aur Piya thik hojavoge tho mein har tueday Nirjal vrat rakhungiii aur nagee paree Mandir darshan ke liyeee javungiii"
Maan "Koi zaroorat nahiii yeh vrat rakhne kiii dekho tumhariii tabiyaat bhi thik nahi haiii"
Geet "Maan mein apniii Mannat nahi thod sakthiii please Maan mujhe yeh karne dejiyeee pleaseee"
Maan "Thik haiii Geet tum karlooo apnii mannat puri" n angrilyyy went away from there n went to his gym n started doing tai-chi.
Geet to calm her anger went to the garden n sat there n soon dozed off bcoz of tiredness. After about 2 hours Maan came back to the room n saw that Piya was sleeping but Geet wasn't anywhere there. He then checked the bathroom but she wasn't there n then saw the balcony door was open n saw Geet was sitting in the garden.
He went down to the garden n said, "Geet yaha bohut thand hai room main chalo."
Geet woke up by the sudden sound n saw Maan there but didn't tell anything n turned her face in the other direction. Maan got angry n picked her up on his shoulders n went inside. Geet hit her small fists to release her but he didn't listen to her n entered their room n dropped her gently on her side so as to not wake up Piya n said, "Good night" n slept off hugging Piya. Geet fumed more bcoz she has finally calmed down but Maan again angered her n slept turning her back to them.
The next morning Geet woke up early n remembering the last night she made a gol gappa face n turned to see the father-daughter sleeping peacefully n frowned more. She freshened up n went n broke her vrat in the pooja room n then went n prepared tea for Veer,Madhuri n Dadi n then went n woke up Robbie n said, "Robbie apne bhaiya ko jake uthao aur kaho jaldi se ready hojaye warna who aur Piya late hojayenge aur unhe keh dena agar breakfast chaiye toh neeche aaye unko breakfast dene ke liye koi room main nahi anne wala." Robbie was confused n asked, "Bhabhi aap hi toh jake bhaiya ko utha sakti ho na toh phir mujhe kyu keh rahi ho???"
Geet, "Mujhe bohut kaam hai main free nahi bhethi unke saare kaam ke liye aur tu ja raha hai ya main Shilpa ko bheju aur tumhari kal ki pol khol du Mom ke samne???"
Robbie, "Arre nahi bhabhi. Main jata hu" n ran to Maan's room n told him n ran away before Maan can start his interrogation.
After coming down with Piya Maan glared at Geet who returned it to him.
Maan, "Maa Aaj koi zyada busy nahi hai kya???"
But before Madhuri could tell anything Geet said, "Mom aap kyu altu faltu sawal karne walo ki baat sun rahe ho??? Aap nashta kijye jaldi se phir aapko mere saath XYZ shop jana hai na."
Madhuri, "Haan tum bhi jaldi se nashta karlo"
All then settled on the dining table n Maan asked for coffee which was near Geet but Geet was angry on Maan so how could she give it n so said, "Shilpa yeh coffee apne bhaiya ko de do". Shilpa n all were confused as why were Maan n Geet behaving like this???
Maan glared at her n took the coffee from Shilpa's hand n drank it. After finishing his breakfast n as he n Piya were leaving Robbie shouted, "Ouchhh" n gluped his saliva seeing his Bhabhi's angry glare n turned to Maan n said, "Bhai phele apni dawai lijye aur Piya ko bhi pila dijye."
Maan turned n took the medicines n said, "Robbie bol do ki mujhe medicines lena yaad hai lekin kisi ko khana khane ka bikul bhi yaad nahi hai." N went away with Piya while all were getting confused as to what was going on.
After Maan left Robbie turned to Geet n said, "Bhabhi aap khud bhi toh bhai ko unki dawai ke bare main bata sakti thi toh phir mujhe kyu bola??? Aur pinch kyu kiya mujhe??? Pata hai kitna zor se kiya aapne mera pura haath lal hogaya hai aur abhi bhi dard kar raha hai." Rubbing his hand where Geet had pinched him.
Geet made a face n said, "Mujhe unse baat nahi karni thi isiliye tumhe bola aur tum nahi mane isiliye tumhe pinch kiya aur agar aage meri baat nahi mani toh aur bhi buri halat hoga tera." N went away from there to get ready n go with Madhuri.
Here Maan after leaving Piya at school went to Office '''
As he entered the Office he saw people sitting on their desks n chit chatting about various unimportant stuffs n then some of them had their shirts not tucked-in n all this added to Maan's anger
N he shouted
Maan "Yeh sab kya ho raha hai mere Office mein ???????"
N everyone was stunned to see the MSK standing on the front door n all of them just lowered their heads n stood like a statue''.
Maan "If in next 2 mins I don't see all of you properly dressed n back to work
All of you are FIRED''"
As soon as Maan told this every one started making themselves presentable in front of their Boss standards n got back to work as they knew they would have a hard day ahead with their Boss already so angry early in the morning'''
At Home,
Madhuri n Geet left to XYZ Mall for shopping n as Madhuri sensed Geet not in her usual mood she thought of getting Geet in Mood'''.
Madhuri "Geet beta I have a idea'.."
Geet "Haan Mom boleyeee'.."
Madhuri "How about we both have Girl's lunch out today n we will call Shilpa n Daadi to the restaurant n will pick up Piya from the Office as Maan was going to take her to Office'."
Geet " Yaaa Mom sounds nice''."
Madhuri "Okk so lets do one more thing I will buy you clothes which I want to see you wear n you will buy me clothes you want me to see in n then we would buy for Shilpa n Maa together n then Change n whatever we choose you have to wear n no denying'''."
Geet got excited hearing this "Okkk Momm but remember no denying n you will have to wear it for Lunch n then even when we go Home ''.."
Madhuri "Yaaa surelyyy" seeing Geet back to her Buubly self'.
Geet "Okkk Mom we off will be here in an hour n then will go to shop for Shilpa n Daadi '.."
After an Hour,
They called up Daadi n Shilpa n got to know Daadi had some kitty party so she couldn't join them but Shilpa would be joining them directly at the Restaurant''
Madhuri n Geet also exchanged the packets they got for each other n got ready as they couldn't tell no n left towards Khurana Constructions
At KC,
As Piya was with Maan his anger was in control n he had Piya sitting in his lap n trying to type A '.B'.C'.D'. on the laptop as that was what their teacher thought them today n then as Maan had a Video Conference Call, he made Piya sit on the couch with her homework n told her not to disturb him n Piya like a Good Girl didn't make a single noise for sm 30 mins then as her homework was also over she was feeling Bored so she started singing the rhymes n also dancing while singing it'..
Tinkle Tinkle little star
How I wonder what you are'
Up above the word so high
Like a diamond in the sky ''.
Maan had just finished his video call n got busy with checking accounting details of it n then he heard Piya in her own world singing n dancing to the rhymes n he found her doing it so cuteyyy''..
Maan "Piyaaa aap kitna acha dance kathe hoo Baby ' Kisne sikhayaa????"
Piya "Papa Teacher ne sikhayaaa''..
Aap ko bhi mein sikhav????"
How could Maan tell no to this princess such a cute request ''.
Maan "thik hai princesss mujhe bhi sikhav"
Piya n Maan started dancing n singing the rhymes n as they finish it once again start doing it n were lost in their own world until Maan heard some person laugh ''..
N Maan was shocked to see Geet laughinggg n to top it all Geet holding her Mobile Camera facing Maan which he was sure that she recorded his dance'''
Maan to break the akward situation " Geet tum yeh kisko layiii hoo apne saath ???? Mujhe phele inse kyun nahi milvayaaa????"
Maan moving to the lady by the side of Geet "Hey beautiful '.. aap bohat hot lagrahiii haiii'..Kya aap mere saath date pe chalengiii???????"
The other lady "Kya karu Handsome merii shaadi already hogayii haiii warna yesa chance kabhi miss nahiii karthiii"
Maan "Its okkk Beautiful '' meri bhi shaadi hogayii haiii '.. aur meri biwi ko tho problem bhi nahi hogiii''."
OL "But mere Husband ko Problem hogiii naa'.."
Maan "Aree Beautiful Maan Singh Khurana naam hai mera mein sab kuch handle kar lunga bus tum merii Date banjav '''"
OL holding Maan's Ears "Abb mujhe paatha chala Robbie yeh sab lines kaha se sikh tha haiii ''.
Jab bada bhai hii yese flirt kar raha haiii tho chota bhai aur kya karenga????"
Maan "Mom kaan chod naa dard horaha haiii aur waise mera teacher mere Dad haiii'''
Akhir who College mein mr. popular jo the n aap bhi tho unki issi ada pe mar mitti thi ''."
Madhuri "Maan tumhe yeh sab kisne bathayaa'"
Maan "Aur kisne mere Gurujiii ne' par abb lagtha haiii who jhoot bol rahe the''.. aap ko dekh kar koi na phisalee yesa hoohii nahi saktaa'.." n winked at his Mom
Madhuriii blushed hearing her son's flirty comments n Geet was at awe seeing a really different side of Maan as she had never seen Maan flirting so openly n like a pro with anyone else''
Precap '
Tom (Maan) n Jerry (Geet) show at Khurana Mansion at the Joint Family Dinner with the Khurana's n Handa's


Edited by rsroopali - 14 September 2012 at 6:33pm