Srimati Radharani appeared on the eighth day of the waxing moon of Hrsikesha (Bhadra) mase, at noon.
In Goloka Radharani goes to Barshana (Varshan) for Her Appearance day celebrations
On Bhadra Sukla Saptami, Sridama, Radharani's brother or Her mother Kirtida comes and picks Her from Yavat, Her mother in-law Jatila's house and takes Her to Barshana where there is three day celebration for Her appearance day. Krsna comes from Nandgram and stays for three days to participate in the festival and of course Radha & Krsna enjoy unlimitedly Their ever-new pastimes in Their secret hideouts, even in very house of Vrishbhanu & Kirtida-devi. That is why everyone goes to Barsana on Radhastami for 4:30 am Mangal Arotik at the Sriji temple there.
---

Who is Srimati Radharani?

How Srimati Radhika Appeared as the daughter of King Vrishabhanu and Kirtida Sundari:

The Appearance day of Srimati Radhika

All about Radhika the best of all the Gopis

The Glories of Srimati Radharani

Sri Vraj Mandal Parikrama 1997
- HH Lokanath Swami

Radharani's birthplace at Rawal (Raval) in Vraj.

Radharani's Palace at Varshana, Vraj.

Pila Pokhar where Radharani's touch made a pokhar (kund) changed colour to golden.

Sri Radha Kunda

Srila Prabhupada - Srimati Radharani's Appearance Day
- Montreal, August 30, 1968

Srila Prabhupada - Srimati Radharani's Appearance Day
- London, September 18, 1969

Srimati Radharani's Dream

Drama.......from Lalita-Madhava

Associates of Srimati Radharani


Sri Radhastami Puja


Songs, Astakas, and glorifications of Srimati Radhika


Sri Radha-nama - an explanation of Her Divine name


108 Names of Srimati Radharani


1000 Divine Names of Srimati Radharani


The Indescribable Beauty of Srimati Radharani


25 Transcendental Qualities of Srimati Radharani


Sri Radhika-astaka


Sri Radha Kripa Kataksha of Rupa Goswami


Sri Sri Radha-Kripa-Kataksha-Stava-Raja of Lord Shiva


Sri Radha Kunda Astakam


Sri Sri Gandharva Samprarthanastakam of Srila Rupa Goswami


Prayers about Sri Vrindavan Dham - Sri Vrindavan Mahimamrta - Sataka 1


Phala Stuti

Srimati Radharani's lotus foot emblems and verses

The relationship of Krishna, Balaram, Radharani and the Gopis


The Spring God of Love - From "Ananda Vrndavana-campu" by Kavi Karnapura


Paradigm of the Absolute:


Padma Purana on Kartika - Sanatan Goswami presents Damodarastakam - Radharani as the Kartika-devata

Miscellaneous Verses glorifying Srimati Radhika HERE:

Here's a wonderful devotional site from Padma Inc. http://www.radharani.com/radharani.html

---
Sri Radha-astami - The appearance day of Srimati Radharani: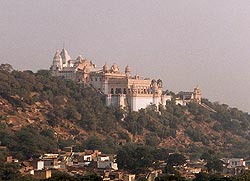 That in Varsana we are under Srimati Radharani's shelter, here is Her janma-lila. He mentioned how Srila Prabhupada was very reserved whenever he talked about Radharani - She is so special, all happiness expands in Her, and Krsna expands Himself in Her, She is the source of all fortune and the original angel. Krsna does not tolerate any offenses against Her. . .
Saying this, let us remember the pastime about how Srimati Radharani appeared. She came just to serve Krsna. . . She wanted to make devotees for Him, just like Gadadhara Pandit (who is Her expansion), also came to make devotees for MahaPrabhu's.
When King Vrshabhanu offers his Beautiful, blind baby girl to Narada Muni for blessings, Narada Muni became overwhelmed in ecstasy, his hair stood on end, tears were flowing from his eyes, all his body was shivering. . .Narada Muni took that girl baby and put her on his lap. He started to think :'I have gone to all the places in the entire universe, no where I had found such a beautiful girl like this. NOWHERE!!
I am very fortunate.' Then he tells King Vrshabhanu that he is very very fortunate to have this baby girl as daughter. Wherever this girl is, this place resides the Goddess of Fortune. So your duty is just to take care of this baby and nothing else. Narada Muni prayed to Radharani with very pleasing prayers, having Her on his lap. He asked Her to give darshan of Her Youthful Kishori form. Radharani being very pleased appeared before him with all Her sakhis and told Narada Muni to meet Her in Kusum Sarovar. Accordingly Narada Muni got darshan of Srimati Radharani in Her Kishori Form which is very very pleasing, which attracts the Supreme Personality of Godhead.


Sri Radha is the Best Gopi: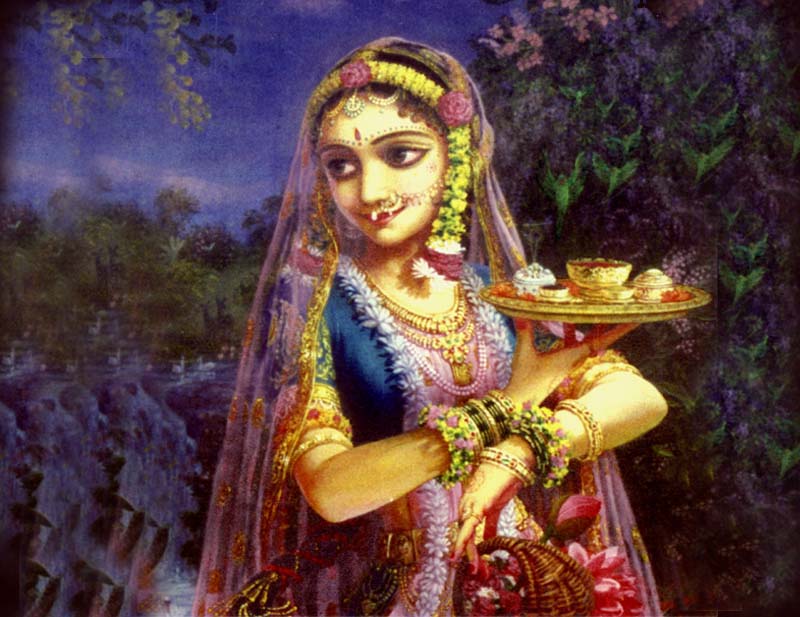 "The SKANDA PURANA states that out of many thousands of gopis, sixteen thousand are predominant; and out of 108 gopis, eight are still more prominent; out of eight gopis Radharani and Candravalli are prominent; and out of these two gopis, Radharani is the most prominent" (KB Chap. 31). "Because Radha possesses all the charm and sweetness, She is the better of the two. In the Sruti-sastra Radharani is known by the name Gandharva-devi. Srimati Radharani considers Sri Krsna millions and millions of times more dear than Her own life's breath". (RKG) When we compare the gopis, it appears that Srimati Radharani is most important because Her real feature expresses the highest ecstasy of love. The mahabhava (ecstasy of love) experienced by the other gopis cannot be compared to that of Sri Radha. Radharani is the very form of ecstatic love for Sri Krsna who says: "The happiness I feel when meeting Radharani is a hundred times greater than the happiness I get from meeting others". (CC Adi 4.258) "Srimati Radharani is the beloved consort of Krsna, and She is the wealth of Krsna's life. Without Radharani surpasses all in beauty, good qualities, in good fortune, and, above all, in love". (CC Adi 4.214)
Being the greatest devotee and the nest worshiper of Sri Krsna, Sri Radha possesses the most exemplary and exalted mentality. "Srimati Radharani said, 'I do not mind My personal distress. I only wish for the happiness of Krsna, for His happiness is the goal of My life. However, if He feels great happiness in giving Me distress, that distress is the best of My happiness.' Srila Bhaktisiddhanta Sarasvati Thakur says that a devotee does not care about his own happiness or distress, he is simply interested in seeing that Krsna is happy, and for that purpose he engages in various activities. A pure devotee has no way of sensing happiness except my seeing that Krsna is happy in every respect. If Krsna becomes happy by giving him distress, such a devotee accepts that unhappiness as the greatest of all happiness". (CC Antya 20.52v&p)
The Special Reason for Writing the SRIMAD-BHAGAVATAM
"Since so many Puranas already depict Krsna's pastimes, it was not necessary to retell Lord Krsna's pastimes in the SRIMAD-BHAGAVATAM. What was the special reason for writing the SRIMAD-BHAGAVATAM? The SRIMAD-BHAGAVATAM was written to introduce and describe the glories of the gopis; and especially to establish Srimati Radharani's supremely elevated position as the most beloved of the Supreme Lord Krsna". (SVMP) According to Srila Visvanatha Cakravati Thakur, in the SRIMAD-BHAGAVATAM verse (10.83.42) the word "sriyah" refers to the supreme goddess of fortune, Srimati Radharani." "The transcendental goddess, Srimati Radharani is the direct counterpart of Lord Sri Krsna. Radha is the central figure for all the goddesses of fortune. Radharani possesses all attractiveness to attract the all-attractive Personality of Godhead. Radharani is the internal potency of the Lord". (BGT)
The Indescribable Beauty of Srimati Radharani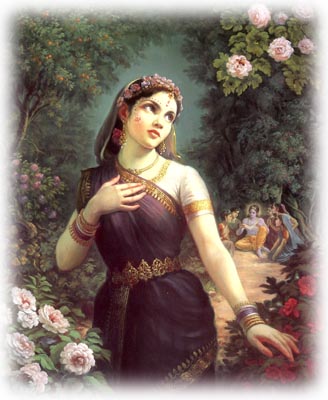 Srimati Radharani is fifteen years old and full of the luster of youth. Radha is expert in all the sixty-four fine arts and Her transcendental form is like an ocean of nectar. Radha's splendid bodily luster is like molten gold or stationary lightning. Radha wears wonderfully beautiful blue garments, and She is decorated with various pearls and flowers. Gandharvika (Radha) is very beautiful, and has long, nicely braided hair. Radha's splendid forehead is decorated with the red pigment, sindura, and with beautiful locks of curling hair. Decorated with blue bangles, Sri Radha's arms have defeated Cupid's staff with their beauty. Decorated with black mascara, Radhika's expanded lotus eyes are the most beautiful in all the three planetary systems.
Radhika's nose if as beautiful as a sesame flower and the tip is nicely decorated with a pearl. Anointed with carious perfumes, Sri Radha is splendidly beautiful. Radha's ears are decorated with wonderful earrings and Her nectarean lips defeat red lotus flowers. Srimati Radharani's teeth are a row of pearls and Her tongue is very beautiful. Decorated with a smile of pure love for Krsna, Radha's beautiful face is as splendid as millions of moons. The beauty of Radhika's chin has defeated and bewildered Cupid. Decorated with a drop of musk, Radha's chin appears like a golden lotus flower with a bumblebee.
Bearing all the marks of wonderful beauty, Radha's neck, back and sides are enchantingly gorgeous. Radhika's breast is like splendid golden waterpots covered by a bodice decorated with a pearl necklace. Srimati Radharani's beautiful enchanting arms are two red lotus flowers illuminated by the series of moons that are Her fingernails.
Jeweled rings decorate Radha's splendidly beautiful fingers. Charming, full of sweet nectar, and decorated with a deep navel, Sri Radha's beautiful waist enchants the three worlds. Radhika's sloping hips lead to Her charmingly beautiful slender waist which is bound by a creeper of three beautiful folds of skin and decorated with a sash of tinkling bells.
As beautiful as two exquisite plantain trees, Sri Radha's thighs enchant the mind of Cupid. Sri Radha's beautiful knees are two reservoirs filled with the nectar of various transcendental pastimes. Radha's beautiful feet are decorated with jeweled ankle-bells, and Her toes with toe rings as beautiful as the treasure of Varuna. (RKG)
Sri Radha's Gold and Flower Ornaments
Srimati Radharani wears twelve different ornaments on Her transcendental form. These ornaments which include Radha's crown, earrings, belt, ankle-bells, finger and toe rings, armlets, and jewel necklaces that look like strings of stars are all fashioned from pure gold; they appear like myriad shining suns. Sri Radha wears a locket containing a picture of Sri Krsna and a signet ring that is engraved with "Radha". Radha's Syamantaka jewel is also known as Sankhacuda-siromani" (Sankhacuda's crest jewel). Srimati Radhika's ankle-bells stun Sri Krsna with their tinkling sounds.
Besides jewels and gold, Radha wears a variety of flower crowns, necklaces, armlets, sashes, earrings, bracelets, anklets and blouses. Radha taught Lalita-sakhi how to make these flower decorations, which Radharani prefers over the jeweled variety. Srimati Radhika's favorite crown is made from flowers and buds of five colours arranged in five points. The gopis also artistically arrange flowers to create five different kinds of earrings; resembling objects like a peacock, lotus, shark or half-moon. (RKG)
"The glaringly effulgent tiara's shimmering halo; beautifully sports in all directs stretching to the horizon. Glistening, sleek armlets, bracelets and necklaces refract a collective, flickering of jewel-like coronas. Hip-spanning belt of softly tinkling bells. Anklets charming musical chimes embellishing the majesty of Her divine lotus feet. Oh, my dear mind! Just worship the effulgence known as 'Radha'". (RRS)
Srimati Radharani's Clothing
Wearing light-colored clothes during the full moon and dark colours in the moon's absence, Sri Radha dresses to please Her beloved Krsna, and to facilitate Her nightly meetings with Her gallant lover, Sri Syamasundara. Radha's favourite outfit is a "Krsna-blue" sari and shawl matched with a pink blouse that delights Sri Krsna.
"Radharani's upper garment is red like a ruby, and it is the favourite of Lord Hari. Radha's lower garment is the color of a blue cloud, and it is Her favourite." (RKG), "Sri Krsna said to Sri Radha, 'All glories to Your wonderful ruby-red silk sari. O Radha, this sari has doubled the passionate love I bear for You in My heart'". (UN)
Glorification of Srimati Radharani's Indescribable Beauty
Sri Krsna praised Srimati Radharani, 'My dear Radha, Your curling locks of hair, long restless eyes, firm breasts, slender waist, shyly lowered head, creeper-like arms and jewel-like fingernails are all exquisitely beautiful. The jubilant festival of Your beauty makes the three worlds tremble in transcendental bliss'". (UN)
"The beauty of Srimati Radharani's eyes forcible devours the beauty of the newly grown blue lotus flower, and the beauty of Radha's face surpasses that of an entire forest of fully blossomed lotuses. Radha's bodily luster seems to place even gold in a painful situation. Thus the wonderful unprecedented beauty of Srimati Radharani is awakening in Vrndavana". (Vidagdha-madhava)
"Entwining this way and that with decorations of fresh forest flowers, and bound and tied up with jewel-threads; Adorned with jasmine garlands of exotic fragrance and hanging down very best of noble gemstones; Your hair style arranged by the hand of Hari, will I ever see it, Oh Radhe?
"Teeth like rows of pearls and lovely lips like bimba berries; Thin waist, wide hips and a deep navel like a whirlpool of newer youth; This indescribable lover – the very heart of the cleverest maidens – May Radha protect us!
"Oh moon-faced one! O doe-eyed one! O Goddess! Oh lovely-nosed one! O one with reddish lips! O sweet smiler! O Supreme Laksmi! O creeper-armed one! O lustrous one of conch shell-smooth neck! O one with plantain tree shaped thighs! Oh whose collection of lotus toenails brightly illuminates all directions! When, Oh Radhe, will You be worshipped by me?" (RRS)
Sri Radha's Twenty-Five Principal Qualities
Among Radha's innumerable transcendental attributes, She has twenty-five principal qualities. 1) Radharani is very sweet and most charming to look at; 2) Radha is adolescent and always freshly youthful; 3) Radhika's eyes are doe-like and restless; 4) Sri Radha's face is smiling and every blissful' 5) Auspicious, beautiful lines adorn Sri Radha's lotus hands and feet; 6) Radharani maddens Krsna with Her fragrant bodily aroma; 7) Srimati Radharani is the most exceptional singer and vina player; 8) Radha's words are charming and pleasing; 9) Radha is expert at telling jokes that delight Krnsa; 10) Srimati Radhika is exceptionally humble; 11) Radha is the embodiment of mercy and compassion; 12) Sri Radha's intelligence and wit surpasses all; 13) Radharani is expert at performing all activities of love: 14) Shyness is the shining gem in Radha's character' 15) Srimati Radharani is the beacon light of modesty and never swerves from the path of honesty; 16) radha is never perturbed by worldly sorrow or misery; 17) Sri radha has unbounded gravity and sublimity; 18) Radhika is ever fascinated to unite Herself with Krsna; 19) Radha possesses Mahabhava, the highest sentiments of love; 20) Radharani is the reservoir of loving affairs in Gokula; 21) Radha's transcendental glories are shining in all the worlds; 22) Sri Radha is most affectionate to her superiors; 23) Radhika is submissive to the love of Her senior girlfriends; 24) Radharani is the chief among Krsna's gopi lovers; 25) Radha always keeps Sri Krsna under Her control. Krsna submissively obeys Radha's command. (CS)
"Srimati Radharani always keeps Her hand on the shoulders of Her friends and Radha always talks and thinks of the pastimes of Krsna. Radharani forever offers Krsna a kind of intoxication by Her sweet talks. Sri radha supplies all the demands of Sri Krsna, and Radharani possesses unique and uncommon qualities meant for Krsna's satisfaction. Srimati Radhika is able to fulfill all the desires of Krsna. No one else can do so. Radha is so expert in all affairs that the damsels of Vraja come to learn the arts from her". (TLC Chap.31)
(HH Mahanidhi Swami. 1991. Appreciating Sri Vrindavan Dham. pages 79-84.)

---
Sri Vraj Mandal Parikrama 1997 - HH Lokanath Swami writes for VNN.
On the outskirts of Gokula we stop at the local Gaudiya Math temple. Here
we offer respects to the beautiful and opulently worshiped deities of Sri Sri
Radha Gokulananda. Lord Caitanya stands by Their side. On an altar to
Their left are lovely deities of Nanda, Yasoda, Krishna and Balarama.
Krishna in His form of Bala Gopala has a bright, mischievous smile. We are
warmly welcomed and the pujari places Sri Sri Nitai Gaurasundara on the
altar, and offers Them arati and milk sweets. The kirtana is touching.
On our way to Raval we meet modern roads, hooters and fumes. Lord
Caitanya's and Raghava Pandita's parikrama must have walked through
quite a different setting on their way from Gokula to Raval, Radharani's
birthplace, is tucked away in a pleasant and lonely place on the banks of
the Yamuna, and we cross many thorny patches to get there. There is
always a higher price to pay for the sweetest mercy. "In the city of
Mukyervali the precious jewel known as Srimati Radharani took birth in the
mine of Kirtida- devi's womb, which is glorified by jubilant demigods,
sages, ad human beings. I pray that when I enter King Vrsabanu's capital
city of Mukhyeravali-pura, populated with many gopas, gopis and surabhi
cows, I may become drowned in a great flood of transcendental bliss and
love." (Vraja-vilas-stava)
Srimati Radharani's birthplace, where she appeared on a golden lotus, is
very special. Brsabanu and Kirtida, after ten thousand years of performing
great austerities as Suchandro and Kalavati, were blessed by Lord Brahma
and received the Queen of the goddesses of fortune as their daughter.
Radharani's appearance in Vrsabhanu's temple was a moment of great
rejoicing. "Sri Radha vanquished the sighs and depressions of everyone.
Her body was as soft as milk cream and she was beautifully shaped. Seeing
Her beauty, Her parents could not control their excitement and repeatedly
looked at her moon like face. The world was reverberant with a glorious
sound , and the gopis, accompanied by musical instruments, sang the
Mangala Gita." (Bhakti Ratnakar 5th wave)
"In fact, Radharani is the internal potency of Sri Krshna, and She eternally
intensifes the pleasure of Sri Krisna. Impersonalists cannot understand this
without the help of a maha- bhagavata devotee. The very name Radha
suggests that She is eternally the topmost mistress for the comforts of Sri
Krishna. Devotees in Vrindavan therefore seek the mercy of Srimati
Radharani in order to be recognised as loving servitors of Sri
Krishna..."(Caitanya Caritamrta, Adi lila 4.56 ppt)
When Lord Caitanya arrived in Raval He became ouerwhelmed with
spiritual joy and seeing Him, people came from all directions, chanting the
holy names. After spending some time here, Lord Caitanya proceeded to
Mathura. When Raghava Pandit's parikrama party come to Raval they felt
great love for Srimati Radharani. They spent all night, here, discussing the
Lord's pastimes.
There is a temple of Lardlilal (Radha-Krsna) here. Sitting in the small
temple room listening to Srimati Radharani's glories we are steeped in
thought of Her causeless mercy. "O Queen of Vrindavana, Sri Radha, I
worship you, Your fair complexion is more resplendent than molten gold,
the colour of Your sari the hue of a blue lotus flower...Even the beautiful
lotus in full bloom or the rising full moon offers no comparison to Your
breathtaking face, for it is much more exquisite...The arches of your elegant
eyebrows put to shame cupid's bow. Your cascading black tresses sway
and the dark mascara on Your roving eyes makes them look like restless
black partridges. Your fine nose is decorated by a ring studded with the
noblest pearl, and Your lips are more charing than bright red tulips. Your
sparkling, even teeth are like rows of spotlessly white jasmine buds...O
Srimati Radha! Among all the beloved gopis You are the cherished jewel.
Therefore, kindly be pleased with me..." (Catupuspanjali by Rupa
Gosvami)
Breakfast prasad is sumptuous. We sit in rows beneath the trees that shade
the once gorgeously decorated gardens of Raval. A soft breeze is blowing.
Local villagers greet us with an enthusiatic "Jaya Radhe". "Jaya Radhe", we
echo in chorus.
A three kilometre walk along thorny paths bordering the Yamuna leads us
back to Mathura. The Yamuna's sands sparkle like jewels. "Yamuna-devi's
charm is further increased by the lowing of the Surabhi cows that graze on
her beautiful banks. The Kadamba trees lining her shores intoxicate and
exhilarate her with their heady perfume, and she experiences her greatest
ecstasy when Krishna's devotees assemble on her banks. May that
Yamuna-devi, daughter of the sun-god, always purify me." We sit on her
shores to wait for all the devotees to catch up with the main kirtana party.
We see the city of Mathura rise from the plains of Vraja like some ancient
medieval kingdom. We've made it! One hundred and sixty eight miles in
thirty days. A tremendous feeling of accomplishment and exhilartion rises in
our hearts. Our Vraja Mandala Parikrama is almost over and our walk on
the path back home, back to Godhead, has just been shortened. A tall
bridge leads us across the Yamuna back to Mathura, where we take our
final bath at Vishram Ghata. The kirtana reverberates through the crowded
backstreets of the city. . Despite separation from Vraja and the devotees
we may always be united in our desire to fulfill Srila Prabhupada's mission.
Our eagerness to search for Krishna in our service to him is awakened.
Finally the party returned to Visrama Ghat and took a holy dip in the
Jamuna there. We thanked Srimati Radharani by whose grace devotees
had an easy journey through Vraja.
Submerged in the cool green water the devotees reminisce about their
uniquely wonderful experience. "By tasting a single drop of the memory of
the transcendental ocean of sweetness of the divine couple my heart has
become restless. I bow down before the land and people of Vraja. I yearn
to see my two masters." (Vraja- vilas-stava 3)
With a heavy heart, some devotees were feeling transcendental emotions,
separation and regret at the finish of the yatra.
Prabhupada's family that prayed together and stayed together day and
night for a month had to split and go their separate ways. At the same time,
they all looked rejuvenated and ready to return to their services in different
parts of the world.
Thank you for reading these accounts from our Vraja Mandala Parikrama.
I was suprised with the overwhelming response of appreciation from just a
few grains of nectar dust from Vraja Mandala that I sprinkled in your
direction. I wish I could have done more in this regard.
There is always next time. I look forward to speaking to you during next
year's 12th annual Vraja Mandala Parikrama. I would prefer to speak to
you face to face in the land of Krishna during that Kartik period.
Otherwise, we will continue more of what we did this year.
Please remind me in case I forget.
Offering our obeisances in the dust of the lotus feet of the devotees again
and again, we pray to always remember the nectar of Vraja Mandala
Parikrama.
Your servant,
Lokanath Swami
(Vraj Mandal Parikrama 1997. from VNN. Date: 16-Nov-97, Camp: Raval )

---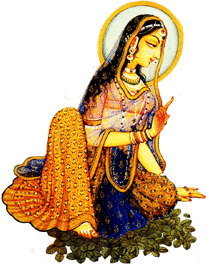 Radharani's birthplace at Rawal (Raval) in Vraj.
Radharani's Palace at Varshana, Vraj.
Pila Pokhar where Radharani's touch made a pokhar (kund) changed colour to golden.
Sri Radha Kunda
The Padma Pura confirms that r Rdh is the foremost of the gops:
yath rdh priy vios
tasy kua priya tath
sarva-gopu saivaik
vior atyanta-vallabh
"Just as rmat Rdhr is most dear to Ka, Her bathing pond is similarly dear. Of all the gops, She is the most beloved of the Lord."
The Bhad-gautamya-tantra also names rmat Rdhr as Ka's foremost consort:
dev ka-may prokt
rdhik para-devat
sarva-lakm-may sarva
knti sammohin par
"The transcendental goddess rmat Rdhr is the direct counterpart of Lord r Ka. She is the central figure for all the goddesses of fortune. She possesses all attractiveness to attract the all-attractive Personality of Godhead. She is the primeval internal potency of the Lord." (This translation is rla Prabhupda's English rendering of Caitanya-caritmta, di 4.83.)
Additional information about r Rdh is given in the g-pariia (the supplement to the g Veda): rdhay mdhavo devo mdhavenaiva rdhik/ vibhrjante janeu. "Among all persons, it is r Rdh in whose company Lord Mdhava is especially glorious, as She is especially glorious in His."
(The servants of HDG Srila A.C. Bhaktivedanta Swami Prabhupada. SB 10.32.8. purport.)
Prabhupada: So our request is... Everyone who is present here... Today is Rdham. So pray to Rdhr. And She is hare, har. This hare, this word, is Rdhr. Har, Rdhr. Rdh or har the same thing. So Hare Ka. So we are praying to Rdhr, "My Mother, Rdhr, and Ka." Hare Ka. "O Ka, O the Lord." Hare Ka Hare Ka, the same thing, repetition. "O Rdhr, O Ka." "O Rdh-Ka." "Rdhe-Ka" or "Hare Ka," the same thing. Hare Ka Hare Ka Ka Ka Hare Hare. Again addressing, "O Ka, O Ka, O Rdhr." Hare Rma. The same thing, again. Hare Rma. Rma is also Ka. Rma is Rma, Rma is Balarma. They are all Ka. Hare Rma Hare Rma Rma Rma Hare Hare. So this repetition of addressing Rdh and Ka or Hare Ka is to pray, "My dear Lord, the, and the energy, the spiritual energy of the Lord, kindly engage me in Your service." That's all. "I am now embarrassed with this material service. Please engage me in Your service."
This is good sense. We are servants here. We are engaged in so many services. But it is not giving us comfort. Na trap nopanti. The service which we are rendering to others, they are not satisfied, I am not satisfied. This is material service. But if you give service to Ka... Svalpam apy asya dharmasya tryate mahato bhayt. A little service can save you from the greatest danger. This is the formula.
Just like Ajmila. Ajmila, in his boyhood, he was brhmaa. He was giving service to Viu. But in young age he became a victim of a prostitute, and he fell down. But at the end, ante nryaa-smti, when Yamadta was coming and were so fearful, he did not know whom to take shelter, but he was attached to his youngest son, whose name was Nryaa. So he thought, "This Nryaa would give me protection." So he asked him, "Nryaa!" But at the same time he remembered that "That Nryaa, oh, hm, I sometimes gave service." So immediately Nryaa saved him. Svalpam apy asya dharmasya tryate mahato bhayt.
So it is our duty therefore... That is the duty of human life, to become Ka conscious. And that is stated here. Vta-rga-bhaya-krodh man-may mm uprit, bahava. It is not that one or two. Many. Jna-tapas. Jna. That is required, knowledge and tapasya. That is human life. If, if we remain just like cats and dogs, eat, sleep and have sex life, beget children and die someday, this is cats' and dogs' life. This is not human life. Human life is different. Man-may mm uprit. Jna-tapas pt. To become purified by knowledge and tapasya. Tapo divya yena uddhyet sattvam. That is the statement of abhadeva. Everywhere. We have to purify our existence, and get out of this repetition of birth and death. That is success of life.
So we shall pray to Rdhr... What is Rdhr? Rdhr is the pleasure potency of Ka. Pleasure potency. Parsya aktir vividhaiva ryate. The Supreme Lord has many potencies. Na tasya kryam karaa ca vidyate. Therefore He has nothing to do. He has got so many potencies. Just like big man, a rich man. He's sitting. But his energies, his potencies, are working. Big, big factory. And he knows everything. Similarly, parsya aktir vividhaiva ryate. He has got many multi-potencies. One of them is this pleasure potency. Pleasure potency...
He also wants pleasure. So when Ka wants... Ka is Para Brahman. He cannot enjoy anything material. He has to create the source of enjoyment by His own spiritual potency. That is Rdhr.
So Rdhr is described in the stra: rdh-ka-praaya-viktir hldin-aktir asmd. That is Ka's hldin-akti. She gives pleasure to Ka. So She is very kind. And today is Rdham. If we pray to rmat Rdhr... Therefore in Vndvana you'll see. They are first of all glorifying, "Jaya Rdhe!" Everywhere you'll hear. "Jaya Rdhe."
Guest: Jaya Rdhe.
Prabhupda: To glorify rmat Rdhr. So if Rdhr's pleased, he'll be able to approach Ka very easily. And that is the goal of our life. That is the goal of life. Vta-rga-bhaya-krodh man-may mm uprit. Mm uprit means you have to take... You cannot take shelter of Ka directly. You have to take shelter of His potency.
Ka is therefore trying to help us. Guru-ka-kpya pya bhakti-lat-bja. He is within. He is called caitya-guru. If you are purified... Ka... Buddhi-yoga dadmi tam. He'll directly speak you. And so long you cannot, then He sends His representative, the spiritual master, the guru. You can ask through the spiritual master about Ka. Yasya prasdd bhagavat-prasda.
So in this way we have to be absorbed in the thought of Ka. We have to take shelter of Ka. Then... If you take shelter of Ka, this jna...
vsudeve bhagavati
bhakti-yoga prayojita
janayaty u vairgya
jna ca yad ahaitukam
The same thing. Ka will speak. Ka is within you. Simply you have to take shelter of Ka, always thinking of Ka, chant Hare Ka Hare Ka Ka Ka Hare Hare, Hare Rma Hare Rma...
Guests:
Hare Rma Rma Rma Hare Hare.
Prabhupda:
Thank you very much. That's all. (end)(A.C. Bhaktivedanta Swami Prabhupada. 23rd September 1974. BG 4:10. class. Srimati Radharani's Appearance day lecture excerpt. Calcutta.)
"Now today is our Rdhami ceremony. I must speak now something about Rdhr, and then I shall go up, reach my apartment at twelve. In the meantime, you can observe the ceremonies. So, so far Rdhr, Rdhr, today is the birthday of rmat Rdhr. Rdhr is the pleasure potency of Ka. Ka is the Supreme Brahman. Just try to understand. Ka is the Supreme Brahman. Para brahma para dhma pavitra parama bhavn. So when para brahma wants to enjoy... That enjoying spirit is there in the para brahma. Otherwise we cannot have this enjoying spirit. Because we are part and parcel, therefore we have got that enjoying spirit; but that is materially contaminated. But the fact is there, because Ka, He is enjoying, this enjoying spirit we have got also, but I do not know how to enjoy. We are trying to enjoy in the matter, in the dull matter. That is spiritual. So brahman, brahman sukhnubhty. People are trying to feel what is brahma-sukha, pleasure of brahmnubhva. That is not material pleasure. So many yogis, they have given up their family life, their kingdom, and meditating to achieve that Brahman pleasure. Actually, the idea is Brahman pleasure. So many brahmacrs, so many sannyss, they are trying to achieve that Brahman pleasure, and in order to achieve that Brahman pleasure they are neglecting, they are kicking off all this material pleasure. Do you think that Brahman pleasure is ordinary, this material pleasure? To achieve a portion of Brahman pleasure, if they are kicking off all this material pleasure... Don't talk of ourselves. We are ordinary men. In the history we have got instances, that of Bharata Mahrja. Bharata Mahrja, under whose name this planet is called Bhratavara. That Bharata Mahrja was the emperor of the whole world. And as emperor he had his beautiful wife, young children. But at the age of twenty-four years, just young man, he gave up everything. All right. This is very old story, of course, but you know Lord Buddha. He was also a prince. He was also prince, not ordinary man, and he was katriya, and he was always enjoying with beautiful women. That is the palace pleasure accustomed in every, in Oriental countries, that in the palace there are many beautiful girls, they're always dancing and giving pleasure to the kings and the prince. So Lord Buddha was also in such pleasure, but he gave up everything and began to meditate.
There are many hundreds of instances in Indian history that to realize the Brahman pleasure they gave up everything. They gave up everything. That is the way. Tapasya means voluntarily accepting something severe for realizing the supreme pleasure. That is called tapasya. So if, for tasting a little Brahman pleasure, all materialistic pleasures are to be given up, do you think that the Supreme Brahman, Lord Ka, is enjoying this material pleasure? Is it very reasonable? This Ka, He's enjoying lakm-sahasra-ata-sambhrama-sevyamnam. Hundreds and thousands of goddess of fortune are engaged in His service. Do you think these lakms are material women? How Ka can take pleasure in the material women? No. This is mistake. nanda-cinmaya-rasa-pratibhvitbhis tbhir ya eva nija-rpatay kalbhi. In the Brahma-sahit you'll find that He expands His nanda-cinmaya-rasa, the mellow of transcendental pleasure potency. And these gops are expansion of His pleasure potency. And Rdhr is the center. Rdhr is the center. So Rdhr is not... Don't take that Rdhr is an ordinary woman like we have our wife or sister or mother. No. She is the pleasure potency. And the birth of Rdhr was not from the womb of any human being. She was found by her father in the field. While father was plowing, he saw one little nice child is lying there, and he had no children, so he caught it and presented to the queen, "Oh, here we have got a very nice child." "How you got?" "Oh, in the field." Just see. Rdhr's janma is like that. So this janma is today and Rdh, this name is sometimes not found in Bhgavata. So the atheistic class of men protest this Rdhr's name is not in the rmad-Bhgavatam. How this name came, Rdhr? But they do not know how to see it. There is anayrdhyate. There are many gops, but there is mention that by this particular gop He is served more pleasingly. Ka accepts this gop's service more gladly. Anayrdhyate. rdhyate. This rdhate, this word, rdhyate means worshiping. From this word rdhyate, Rdh has come. But Rdh's name are there in other Puras. So this is the origin.
So Rdh, so Rdh and Ka. Ka is the enjoyer and He wants to enjoy. So He's the Supreme Brahman. He cannot enjoy anything, tmarma, He can enjoy it in Himself. Therefore Rdhr is the expansion of His pleasure potency. Ka hasn't got to seek external things for His pleasure. No. He is in Himself full, tmarma. So Rdhr is expansion of Ka. Ka is the energetic, and Rdhr is the energy. Just like energy and energetic, you cannot separate. Fire and the heat you cannot separate. Wherever there is fire there is heat, and wherever there is heat there is fire. Similarly, wherever there is Ka there is Rdh. And wherever there is Rdh there is Ka. They are inseparable. But He is enjoying. So Svarpa Dmodara Gosvm has described this intricate philosophy of Rdh and Ka in one verse, very nice verse. Rdh ka-praaya-viktir hldin-aktir asmd ektmnv api bhuvi pur deha-bheda gatau tau. So Rdh and Ka is the one Supreme, but in order to enjoy, They have divided into two. Again Lord Caitanya joined the two into one. Caitanykhya prakaam adhun. That one means Ka in the ecstasy of Rdh. Sometimes Ka is in ecstasy of Rdh. Sometimes Rdh is in ecstasy of Ka. This is going on. But the whole thing is Rdh and Ka means the one, the Supreme.
So Rdh-Ka philosophy is a very great philosophy. It is to be understood in the liberated stage. Rdh-Ka philosophy is not to be understood in the conditioned stage. But when we worship Rdh-Ka in our conditional stage, actually we worship Lakm-Nryaa. You have seen that picture, this viddhi-mrga and rga-mrga. Rdh-Ka worship is on the platform of pure love, and Lakm-Nryaa worship is on the regulative principles. So long we do not develop our pure love, we have to worship on the regulative principles. One has to become a brahmacr, one has to become a sannys, one has to perform the worship in this way, in the morning he has to rise, he has to offer. So many rules and regulations. There are at least sixty-four rules and regulations. So we shall introduce them gradually as you develop. So in the viddhi-mrga, when you have no love for God or Ka, we have to follow the regulative principles and automatically..., there is practice. When practicing. Just like you practice this mdaga playing. In the beginning it is not in order, but when you become well versed in the practice, the sound will come so nice. Similarly, when we are engaged by regulative principles in the worship of Rdh-Ka, that is called viddhi-mrga. And actually when you are on the love platform, then that is called rga-mrga. So without viddhi-mrga, if anyone wants to learn the rga-mrga immediately, that is foolishness. That is foolishness. Nobody can pass M.A. examination without going through the regulative principles of primary schools and colleges. So therefore I do not, I mean to say, indulge in the discussions of Rdh and Ka so easily. Rather go on with the regulative principle at the present moment. Gradually, as you become purified, as you become on the transcendental platform, you'll understand what is Rdh-Ka. Don't try to understand Rdh-Ka very quickly. It is a very big subject. If we want to understand Rdh-Ka very quickly, then there will be so many prkta-sahajiys. In India there are prkta-sahajiy. Just like Rdh-Ka dancing. Rdh-Ka has become a plaything. The painting Rdh-Ka, Ka is kissing Rdh, Rdh is kissing. These are all nonsense. Rdh-Ka philosophy has to be understood by the liberated person, not by the conditioned soul. So we shall await for the fortunate moment when we are liberated, then we shall understand rdh-ka-praaya-viktir. Because Ka and Rdh, They are not on the material field. Try to understand. This is Jva Gosvm's analysis, that Ka is the Supreme Brahman. The Supreme Brahman cannot accept anything material. So Rdh is not in the material field.
Now there is a very nice song. I shall sing if you can play on the harmonium. Yes. This is a Rpa Gosvm's song. (sings)
rdhe jaya jaya mdhava-dayite
gokula-taru-maala-mahite

dmodara-rati-vardhana-vee
hari-nikuta-vnd-vipinee

vabhnudadhi-nava-ai-lekhe
lalit-sakh gua-ramita-vikhe

karu kuru mayi karu-bharite
sanaka-santana-varita-carite
rdhe jaya jaya mdhava-dayite
This song was sung by Rpa Gosvm. He is the real person, actual person, to understand Rdh and Ka. So he says, "All glories to Rdhr." Rdhe jaya jaya mdhava-dayite. "She's so dear to Ka." Ka, everyone is trying to love Ka, but Ka is trying to love somebody. Now how great She is. Just try to understand. Everyone, the whole world, the whole universe, all living entities, they are trying to love Ka. Ka-prema. Lord Caitanya describes, prema-pumrtho mahn. And Rpa Gosvm described that "You are distributing ka-prema." So ka-prema is so valuable, but Ka is after Rdhr. Just see how Rdhr is great. Just try to understand the greatness of Rdhr. Therefore She is so great, and we have to offer our respect. Rdhe jaya jaya madhava-dayite. How She is? Gokula-taru-maala-mahite. Taru, taru means young girls. You'll see the pictures, they are all young girls. But of all the young girls, She is the most beautiful. She is enchanting to the young girls also. She is so beautiful. Gokula-taru-maala-mahite. Dmodara-rati-vardhana-vee. And She always dresses Her so nicely that Dmodara, Ka, becomes attracted by Her beauty. Hari-nikuta-vnd-vipinee. And She is the only lovable object of Ka, and She is the queen of Vndvana. This queen of Vndvana... You'll find in Vndvana, if you go to Vndvana, everyone is worshiping Rdhr. R means queen. They are always speaking, "Jaya Rdhe!" Rdhr. All the devotees in Vndvana, they are worshiper of Rdhr. Hari-nikuta-vnd-vipinee. Vabhnudadhi-nava-ai-lekhe. And She appeared as the daughter of King Vabhnu, and Her companion, Lalit-sakh and Vikha-sakh, and the devotees... So on behalf of the pure devotees of Ka, Rpa Gosvm is praying, karu kuru mayi karu-bharite. "Oh, my worshipable Rdhr, You are full of mercy. So I am begging of Your mercy because You are so merciful, very easily You offer, bestow Your mercy. So I am begging Your mercy." Karu kuru mayi karu-bharite, sanaka-santana-varita-carite. Now somebody may say, "Oh, you are so great, learned scholar, you are so great saintly person, and you are begging mercy from an ordinary girl? How is that?" Therefore Rpa Gosvm says, "Oh, this is not ordinary girl." Sanaka-santana-varita-carite. "This girl's description is possible to be made by great saintly persons like Sanaka-Santana. She is not ordinary."
So the lesson is that we should not treat Rdhr as ordinary girl, or Ka as ordinary man. They are the Supreme Absolute Truth. But in the Absolute Truth, there is the pleasure potency, and that is exhibited in the dealings of Rdh and Ka. And Rdh's expansion all the gops, and Ka is the Supreme Lord.
Thank you very much. Chant Hare Ka. You can chant? Can you chant? Janrdana? All right, you can chant. What is that? No, I have explained that one loka from this Rma-carita-manasa. Chant Hare Ka. (end) (A.C. Bhaktivedanta Swami Prabhupada. 30th August 1968. Srimati Radharani's Appearance Day. Montreal.)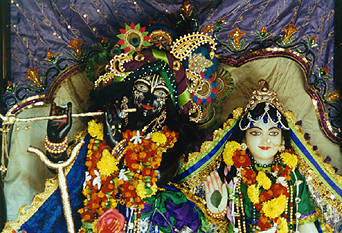 Sri Sri Radha Krishna

---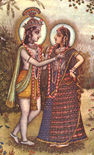 Radhastami Puja:

Go to this link for the rest of the story


http://www.salagram.net/calendar-radha8.htm