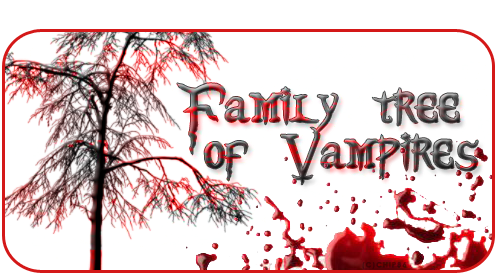 Heyya All Lol This Is The family Tree Of The CC
THE PHD VAMPIRES
Pari(..NiyaPari..)
Heyya All For All those who donno me am Pari..Am doin my 12th grade and am from Bangalore (India)..I stepped into this world on 6th Feb 1994..
I love doing Bak Bak..So some of my frndz call me Bak Bak Machine..Super Duper Paagal Which I AM
i agree that i am super duper paagal
And a crazy person too..Lol I love making sigs they are my fav Job wenever i am free..I used to Like DMG (season 1) and my fav couples are KaJen and ArjuHi and Manyy more but for now my most fav ones are KaJen ArjuHi and MaanEet....And I love bak baking bakwaas all the time..I start with some topic and i find myself getting totally out of the topic lol..! I told am a crazy person Lol..So I Am :P And i love to be crazy coz if m not crazy then m not me..And Some of u might already know That m the laziest person ever..No one can be as lazy me..Lol but i like to take that as an compliment though..! Lol Hmmm wat else..Keep coming here And Keep Chating and Then See you will know about me
Pari (pari_smile)
Hii...all those who donno me Hiii Am Pari. M Pari too and so there is gonna be lot of confusion..I knw coz we have alreay had many confusion problems..Ok i stepped into this world on 13th July 1994..
I am from Australia and i finished my 11th Grade :) Am Doin My 12th Grade and I love Damon and vampire Diaries..and RM frm DMG and Geet too..
..And I keep bak baking too..But not as much as other Pari and Radz
and i love rofling
so i always keep rofling and rofling
well i am inactive on IF for some days but will be back soon..Till Then keep bakbaking...
Radz(xxiheartmexx)
Heyya Pplz..I am Radhika..And Some call me a bak bak machine lol and some call me chatterbox..I Chat a lot..if i open my mouth i will nevr close it :P And M a Super Duper Paagal Too..Am From Kanpur and I stepped into this world on 1st december..
I love KaSh.SaJan and many more couples..So i am in my 10th Grade and i love bak baking too..As Am in my 10th Grade am inactive on IF will catch with u pplz after some months and i will start my chattar pattar very soon..!
Rinky(-Rinky-)
Hey guys :) I'm Rinky, you can call me anything like Rinkz/Pari/Rinku/Mimi. :) Believe me, I can talk nonsense or crap for hours and hours.
& its a talent okay.
I love making new friends and love talking chapad chapad.
I love writing and dancing (:
My favourite serials are/were DMG, MJHT, SGP, TL, JDJ & KMH. I love KaSh a lot, you know those hardcore fans.
I love drooling over my fav actors which for sure includes Karan Singh, Harshad Chopra, Robert Pattinson, Ian Somerhalder & MANY more. =)
I may be very sweet or innocent at starting but just after 2 days, BINGO..I'm a nautanki.
Oh come on, Nautanki's rock!
I love laughing since thats what I always make the others do.
& yeah, we should be friends so that you get to know me better :)
P:S
Kindergarden Vamps:
All of u while joining will enter as Kindergarden vamps..
Everyweek we will have Vampire of the week..
vampire of the week..To know more read the newsletter below!
--------------------------------------------------------------------------------------------------------------------------------------------------------------------------------
Credit For The Banner Goes To *Chipie* (Chip.)
Thnxx A Lot For This Banner
--------------------------------------------------------------------------------------------------------------------------------------------------------------------------------


Edited by ..NiyaPari.. - 22 January 2011 at 5:37am