Dear Friends this is my take to describe Ragini's confession of her love for Anmol.....
My take is from the time Anmol goes the room after the dance rehearsal and he sees Ragini still wearing her slippers.
Anmol was extremely happy and he wanted to finally share his thought of how beautifully Ragini dances and the way Malthi Bhabhi was teasing them. Indeed he was feeling her so close to him and the smile on his face said it all.
He walked down the corridor humming the tune from the dance rehearsal...
As he walked into the room he noticed Ragini standing and looking outside the window.
Hearing him walk in she turns around and Anmol notices.
"Ragini aap abhi tak apney chappal pehni hai ?" he asked looking at her feet.
"Who mai aap say kuch baat karna chahathi hoon, vada kijiye ki aap mujsay koi sawaal nahi poochangay" , she walks ahead of him and stands.
"Ha bolo Ragini mai bhi apsay kuch kehna chahatha hoon, lekin pheley aap boliye", He turns her around and looks into her eyes.
"Anmol aaj breakfast table pay mummyji jo bol rahi thi who ...",she turned her face away from him.
"Ragini who tho mujhey bhi sochney pay majboor kar diya, aur yeah bacchey bhi na...", and looked at her with hint of smile and a grin came instantly.
"Nahi Anmol, aapko pata hai hamara Rishtha , Hum dono ka Rishtha ek samjhotha hai "
Ragini tried to steel herself against his charms,moved away and started walking towards the study table, when he grabbed her wrist firmly....he moved forward holding her and didn't leave his intense gaze and came closer, his eyes moving on her face trying to read her expressions,he found mixed signals there....
Anmol was just clueless about why she is saying all this keep looking at her with anxiety.
His soft voice was melting her heart " Ruko Ragini !!Aap essa kyun keh Rahi hai, Humara Rishtha Samjhotha nahi hai Mia bahut khush hoon. I love my family, I am very happy."
He cups her face "Bolo Ragini aap ko kya shikayat hai ",and requested her to open up and tell whats the problem.
"Anmol hum sirf duniya kay liye pati patni hai, aap nay itney saal is parivaar kayliye diya hai, Tammy kay liye pitha baney hai, magar aab yeah samjhotha aur mai nahi ley sakthi. Nahi hota muhsay yeah natak" she tried build up her explanation.
"Natak, Ragini kya ho gaya hai aapko ", He turns a little annoyed and his jawline tightens and he runs his fingers through his hair.
Anmol couldn't believe his ears or eyes....he was getting dismissed from her life like this,as if he was no body and he or his feelings did not matter his eyes were threatening Ragini there was violence in his tone, but he stayed controlled and calm, turmoils of his inner mind were visible to Ragini...they were like small ripple effects on surface .
"Please Anmol I need to free myself from this relationship", she takes longs steps and walks up to the desk and picks up a file, and walks back to Anmol who has stood frozen,
"Anmol yeah divorce papers hai aap please ispay sign kar dijiye" and gives him a pen.
He saw a determined look on Ragini's face and something poke inside him,she is not even concerned about Tammy any more but then how could he be angry with her.
She was love of his life,he had come to her life as a savior and would leave also as savior..savior of her selfish ego, her belief to stick to past stubbornly, ignoring plight of the child but no he would still sign it......
"Ragini aap Tammy kay barey mai sochiye na ,agar who apney papa kay barey mai poochey gi, what will you tell her",
he requested again drawing her attention by grabbing her arm still holding the papers and pen.
"Mai Tammy ko samjha doongi, school say aney kay baad", she has her head turned away releasing herself as she couldn't look into his pain stricken eyes..
The devastated look on Anmol's face with his hands trembling to hold the pen.
His voice was choking but he still made an attempt to speak.
"Teek hai ragini yeah apka akhri faisala hai tho mai sign kar detha hoon." he signs with trembling hands,and his eyes were damp.
He gives the papers to Ragini who takes it avoiding his eyes and walks away facing the dresser.
The look of total disregard and lack of concern broke Anmol completely , composing himself walks to the closet takes his pushpull out from the top and opening the closet and pulls out his clothes and dumps them in the suitcase , zips it and starts moving towards the door
He looked at Ragini for last time through the mirror and saw a glimpse of her struggles ;he saluted her from far and smiled cynically and left the room.
The look broke her heart completely why did I do that why did I allow him to walk out like that, holding the file to her chest she sat on the dresser chair and wept heavily....She pulled out the drawer and slowly picked up the AR pendent and held it in her palm.
Her conscious spoke "Ragini kya hoaa kyun row Rahi ho...You wanted this right!!, You wanted him to be freed right Aab Rohey say kya fida.. who tumhara kabhi nahi tha.. Yeah 7 saal tho tumhaery liye samjhutha tha it was just a compromise for your daughter.. But you are still not concerned about ', Kya tum Anmol say pyaar naa.. tuharey seenay mai....."
She shut her ears and her eyes not wishing to hear anything, this dropped the file on the floor with papers scattered, but the chain was wound round her fingers nice and tight.
[meanwhile walking down the stair with his pushpull]
"Opps!!" Gunni banged into Anmol and dropped her books.
"Chachu aap kahi jaa rehey hai ?" looking at his baggage
Releasing the push-pull , he helped her with the books, "Gunni please take care of your chachi, aur apney story kay hero kay barey mai zaroor batana.."
He gave her a smile which was full of pain and sorrow and picked his push-pull ,"Magar chachu aap ..." , she tried to approach him , but he was interrupted by a call
"Ji mai office aa raha hoon aur who papers sign karney kay liye. I'll be there in 10 minutes", clearly his throat he looks around in the living room flashes of the times he played with Tammy, Khushi, the pictures he took with Ragini all were piling up as memories.
Without further delay he walked out and took out the car and drove off....
[In Ragini's room]
Trying to compose herself, she bend down to pickup the papers, she looked at the divorce papers and felt Anmol's signature and closed her eyes with a tear running down her cheeks.
"Chachi Chachu kaha jaa... Rahey hai, Abhi mujsay mikey gaye magar...", Gunni came rushing to spot Ragini picking up papers.
Quickly wiping her tears she looked at Gunni and told her that he had to leave for some work outstation.
Gunni sensed something wrong in Ragini's reaction and tone as if she was in tears not her usual self..
"Kya hoaa Chachi Kuch tho hoaa hai , Boliye na..." , she kept coaxing Ragini.
Gunni's mobile interrupts their conversation, and she ended up attending it, while Ragini didn't want to waste anytime and she leaves the room , followed by Gunni on the phone.
Ragini is walking down the corridor holding the papers still with tears rolling down her cheeks, flashes of Anmol asking her to think again keeps disturbing her thought. She approaches Shivani's room,
[Shivani's room]
"Tho kya bol rahey they tum Anmol, Ragini is your wife and I mean nothing to you, well sweetheart , you so called wife whom to have started falling in love or been in love for a while, knows that my feelings are stronger for you and she is ready to give you away to me forever ", holding a picture of Anmol and ragini she keeps tracing Anmol's face.
"Aab Ragini will be out of your life , divorce papers lekar atti hogi, and you will be a free man and all mine, mission accomplished", she has a wicked smile and starts laughing ,she is about to tear the picture when a strong grabs it from her.
Ragini walked in to overhear all the conversation and she confronts Shivani.
"Shivani mujhey aap say yeah umeed nahi thi.. ", Anmol key saat aap jhoota pyaar ka natak kar rahi thi, jaab aap janthey hai ki who aapsay abb pyaar nahi karthey, aur Shlok kay pyaar ka tamasha kar dala, Mianey saab sun liya , Issay pheley ki mai apko dhakey maar kay kilaoo, Please get out from here.
Aur apna saman lee jana never come infront of Anmol again..."
Ragini lashed out.."Aur yeah lo divorce papers", she rips them into pieces and throws them on Shivani's face.
Shivani without wasting a minute she pulled out her suitcase and dumped all her stuff and walked out followed by Ragini that she is escorted out far from her sight.
Standing against the door Ragini again started to wonder what can I do now, I have lost Anmol and now I am so lost...
"Chachi kya hoaa yeah saab kya ho raha tha , Shivani kaha gayee", Gunni rushing behind them saw Ragini standing and started weeping
"Gunni , Anmol chaley gaye, Hamesha hamesha key liye, Mainey unhey Kho diya Gunni , ",she starts shaking her and hugs her and weeps uncontrollably.
"Chachi Sambhaley apney app ko , yeah lijiye mera phone and try to contact Chachu",
Gunni handed over her phone and Ragini trembling hands started to dial his number.
"The number you have dialed is currently switched off, please try back later" came the voice on the phone.
"Gunni inka phone nahi lag raha switched off hai aab kya karengay , Kaha doondo Anmol ko , Meri galthi hai saab kyun apney aap say door kiya..."
She tries to take a deep breath trying to control her tears,...
"Chachi yaad ayya jab mai chachu say takrayee, he got a call from office and he was telling that he would be there in 10 minutes, ho saktha hai who office mai hi ho aur meeting ki wajah say phone switched off ho.."
"Thank You Gunni," A smile came back on Ragini's face and she kissed her forehead, and called out for a car and instructed the driver to rush to office.
[At office]
Ragini was frantic in her search for Anmol.
Rushing up the stairway she walked in and stopped at the reception.
"Rita Anmol meeting mai hai kya??" she asked with anxiety and excitement.
"Maam who tho kafi deer peheley katam karney chaley gaye" she answered.
"Chaley gaye matlab??" Ragini expression changed to concern again..
"Maam Anmol sir singed some papers and asked me to hand them over to Inder Sir and left the car keys here", she showed him the file and car keys.
Ragini eyes were getting damp but she controlled herself and continued " Kuch kaha Anmol nay ki kaha ja rahey hai ??, "
"Mam he asked me to book a train 1st class ticket to masoorie",
"Kya ... please Rita phone Anmol please ", she pulled the phone from her and started dialing Anmol's number.
"The number you have dialed is currently switched off, please try back later" came the voice on the phone.
Again she tried..
"The number you have dialed is currently switched off, please try back later" came the voice on the phone.
Taking a breath " Rita please try karthey Rehna ,agar phone miley ask him to stay there..please Rita"
"Sure Mama I will inform you soon....."
She kept requesting as she walked out and sat back in the car.
"Bhiyya Jaldi chaliye raliway station.", " ji ji "
As they rushed sweeping through the busy traffic they landed at the station.
She briskly got out and rushed up the flight of stairs and when she lands at the platform there is a siren and trains were leavings.
She rushes to the ticket counter
"Excuse Masoorie janey wali gadi kis platform pay hai " she bends to ask the ticket issuer.
"Madam who platform 3 say aab nikaal nay wali hai , apko kaha ..... ", he is about to ask her .
"Thanks ", and she sees No 3 written on the other side of the track which needs a bridge to be crossed.
Without wasting any time she takes the bridge pushing her way and while she is getting down the siren of the train steams up and high, railroad wayside signals turned green and the train slowly starts to descend from the platform. The personal on board waved the green flag signaling Ok to go...
Ragini seeing this plight her heart starts pacing faster and she rushing down the bridge waving out " RuKo,please Ruko train ko koi Roko",
Yelling out loud and waving her hand to stop the train she fails to stop it and the train again gives put loud sirens..
For Ragini as if time froze at that moment. people rushing she stood still like a staute , has she lost Anmol forver she thought, everything was flashing around her his laugh his face his voice everything and Tammy asking for her papa, what will she say , all this was buzzing in her ears.
She was suddenly pushed by a passenger and loosing her balance she fell and sat on a bench...
She was ashamed at what she made Anmol go through, The Siren of the train was still ringing in her ears.. She was angry at herself she couldn't hear this noise as somewhere in the mist of that she heard her name "Ragini , Ragini ", she could hear Anmol she thought , no its my illusion and she closed her ears and her eyes...
"Ragini Ragini " , again the same sound kept ringing in her ears, and suddenly a familiar touch on shoulder sent shivers done her spine and startled her.
she felt as if a cool breeze had come from somewhere and engulfed her,soothing her heart in process
Opening her eyes slowly a blur vision of a man in a long coat caught her sight.
Rubbing her eyes she looked up and her eyes saw the person she was looking for.
It was Anmol.
Without wasting a second she stood up , she looked into his eyes, yes Anmol was right in front of her and hugged him with such force which pushed him back and drop his baggage.
She hugs him tight and keeps rubbing her hand against his back feeling his coat to truly believe his presence
"I love you Anmol , I love you , Please forgive me... Mai aap say bahut pyaar karthi hoon ,Mujehy chod kay kaha jaa rehy they,Kaha chaley gaye they aap... "
Holding her into his embrace tightly, he softly whispered "I love you Ragini, I love you , " and a tear rolled down his eyes, the feel was real for him Ragini was confessing her feelings ..
Parting a little , still holding each other by their arms,and lifts her chin up and looks into her eyes with passion and content and tells her " I love you too Ragini " and kisses her forehead.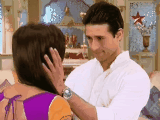 Anmol wipes off Ragini's tears and pushes her strand of hair falling on her face softly behind her ear and tells her " Ragini aaj aab manu meray intezaar ka..I just don't have words to express..."
The wait payed off, he finally was embracing his Ragini his love of his life.. And she finally admitted her feelings to him...Emotions were at their peak for both of them.. The waves of separation came to a still and the ocean of feelings had poured out in succession.
Ragini looks into Anmol's eyes , placing a hand on his cold cheeks and starts speaking, "Anmol, I wanted to pour out my feelings to you since a while , but then itna saab kuch.., Aur aapney bina poochey papers pay sign kar diya yeah bhi koi baat hoyee, apka haq hai poochna, mujsay galthi hoyee magar ,aap bhi chup they kyun Anmol boliey na....",
"Shhh !!", Anmol puts his finger on her lips,
" Ragini aap nay apney pyaar ka izhaar kiya mujhey aur kuch nahi sunna", he stops her.
Removing his hand from her lips,

"Nahi Anmol aage se app kabhi aise sochna bhi mat main kahoon to bhi nahi aap mere paas rahenege humesha..."
Suddenly she heard the siren again, realizing he was suppose to be off on the train to masoorie.
"Magar aap tho train ,...aur apka phone switched off kyun tha Anmol", she holds on to his color showing a little anger through her tone and straight into his eyes...
Anmol surprised by her anger and holding her hand, "Ragini actually mera phone pocket mai tha aur achanak got switched off and the somone wanted to call aur jab I removed my phone I saw it was off, and switch on karthey hi Gunni ka call ayya ki aap yaha station pay mujhey dhood Rahi hi, aur ... well I am here...in front of you,"
"Ji Chachi mianey finally chachu ko rok liya" came gunni from the back.
He gives his usual sorry, cum apology smile, to Ragini.

Ragini finally takes a deep breath giving those dotting wife look at him "aur yeah", she opens her palm and there it was the AR pendent.
He carefully entangles it from her fingers, without leaving his gaze on her beautiful face and opens the lobster hook and places it around Ragini's beautiful neck and again kisses her forehead, as she feels the kiss.
Gunni claps at this wonderful moment and Anmol and Ragini look at her and smile.
Ragini holds his hand and again proudly admits " I love you Anmol aur apka saat kabhi nahi chodungi "
Anmol covered her hand with his hand
"Ragini I love you too", and embraces her.
"Aab chaliye Chachu aap tho meray novel kay hero ki tarah hai , aur Chachi heroine..."
"Chalo Gunni ki bachhi " Anmol pats her on her head
And they head back home
[At home ]
Ragini thanks Gunni for all her help and she walks towards her room.
Walking Ragini's hand caresses Anmol's and he gently holds her hand as she lifts up her eyes to trace his face.
Romance is in the air for Ragini came the knock on her heart which slowly started pacing , but turns into pain " Ouch !!!"
"Ragini kya hoaa??", Anmol notices seeing her feet.
"Pata nahi Anmol who station pay na kuch lag gaya"
"Koi baat nahi ,"" Anmol kya kar rehey ho aap", He gently lifted her
and instinctively she grabbed his shirt then to secure herself locks her hand around his neck and he gazes into her eyes ,...."Kya kar rahe ho aap,
"Chalo in paron ko thoda araam dethey hai ", and takes her slowly up the flight of stairs and pushes open the door with his foot and walks in and slowly places Ragini on the bed without leaving her gaze...
The door behind them shut automatically to leave the newly found love birds to explore their inner feelings for each other....
I hope you liked it Please feel free to comment. I hope I could give some justice to Ragini's side of confession...


Edited by shanti05 - 24 January 2011 at 1:37pm