Posted:

20 January 2011 at 11:39pm

| IP Logged


Where with a little luck, some love, and whole lot of imagination, magic happens...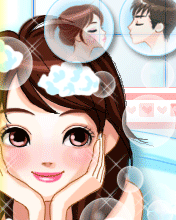 MEET THE CHARACTERS


Runjhun (Nivedita Tiwari)
Runjhun is a beautiful and simple girl who brings good fortune wherever she goes. Orphaned in childhood, she has been raised by her maternal grandmother. She stays with her three maternal uncles, their wives and children.
Runjhun is always cheerful and dutifully performs all tasks handed to her. Her status in the household is no better than that of a servant. However, Runjhun has no complaints.
Runjhun becomes the victim of the conniving ways of her aunts who marry her off to a local goon who agrees to live in their household.Guddu (Himmanshoo Malhotra)

A young man of 25-26 years, Guddu Shukla is the local goon who runs a carom club and CD library in the area.
Confident and temperamental, the real person behind the tough exterior that Guddu sports is not known to many. Guddu is witty and is always equipped with smart one-liners for all occasions. He is happy-go-lucky and lives for the day.
His marriage to Runjhun changes his complete outlook towards life and Guddu becomes a changed man.



Edited by Wafah - 22 July 2011 at 4:33pm