PART 8
As soon as she exited the Delhi airport terminal, she saw her parents waiting. Without losing time she rushed to hug them. Her mother opened her arms and engulfed Geet and started crying bitterly.
Geet: Mum, please don't cry. I am back now. Back to you.
Vicky: Let her cry beta. These are tears for the past two years that she has been retaining and is now letting them on seeing you.
Priya: I missed you. Please don't leave us again. We can't live without you. These past years have been pure torture for us.
Geet: I missed you people too.
Geet wiped the tears of her mother and realized what Maan meant when he said that she was selfish. Geet never thought that her parents will be hurt so much by her decision of going away to UK. She had been thinking only about herself and her pain but this time she will make sure that her parents goes with her when she will be going to New York. She can't let them pass through the pain of separation from her for a second time. Together with her parents, Kunal uncle, Maya aunty, Dadi and also Nupur had come. He gave a hug to Kunal, Maya and Dadi respectively.
Kunal: You did not inform us that you were coming today
Maan: Maan did not inform you.
Kunal: No, he only said to come to the airport as he has a surprise for all of us.
Vicky: Kunal, this is the surprise that he was talking of.
Nupur: But where is Maan?
In the excitement of seeing Geet everyone had forgotten about Maan. Geet turned behind to look if he could see Maan amidst those people who were present at the airport.
Geet: There he comes with the luggage.
Maan: Hey Geet I am not your porter to carry your luggage. Ok
Kunal: Hey don't bother her. She must be tired from such a long flight. Carry her luggage and put it in the car.
Nupur: How are you Maan?
Maan: I am fine, how are you?
Nupur: I am fine.
Maan: Come I'll introduce you to Geet.
Geet this is Nupur, and Nupur this is Geet
Geet: Hi
Nupur: Hi Geet. I am so pleased to meet you. You are more beautiful than what I have been told.
Geet: Thanks
Kunal: Let's go home now or we will be talking about everything here itself.
Kunal placed a fatherly hand on Geet's shoulder and drew her towards the parking lot talking about her journey and her life during the 2 years. Nupur noticed the pleasure that was evident on Kunal's face as soon as he saw Geet. She wondered if she will never share that kind of relationship with Kunal. She was in fact feeling jealous of Geet after seeing the tones of affection that was being showered on her. Everybody had forgotten about Maan, being the fact that he was the one whom they actually had come to pick. Actually Maan phoned before leaving London and told everyone to be present at the airport as he had a surprise for them all with him. But as soon as Geet exited the terminal, she heard the gasps, and saw the happy expression on their face. It was a big and pleasurable surprise for them all but she never expected them to forget Maan in their happiness, not even his parents ask for him once. No one even cared to ask Maan how he has been. But nevertheless she was here and she would take are of her Maan but I wonder if Maan is still upset with me for our last conversation. I need to talk to him about that.
As soon as Maan reached home, he went into his room to get fresh. He was going to enter the washroom when he saw Nupur at the door. He was in no mood to have another argument with Nupur and before she could say anything he started talking.
Maan: Please Nupur, not now. I'm very tired and I don't want to fight with you.
Nupur: I am sorry. I should not have fought with you that day. Please forgive me.
Maan: It's ok. Come here. Nupur went near Maan and he embraced her in his arms.
Nupur: I love you and I don't want to lose you. Nothing is more important to me than you. - She said sniffing in his chest.
Maan: Hush. I know. I am sorry too. I should not have lost my temper at you. Let's have a truce.
Nupur: Ok. Let's concentrate on our wedding preparations.
The preparations of the wedding were going in full swings. All the wedding tasks such as the caterers, managing the wedding planner etc were divided among the family members and all were doing their job with upmost sincerity. Shopping for clothes and jewelry were Geet domain. She was entrusted the task of selecting everyone's clothes including the bride and the groom. Only one week was left for the wedding and Geet decided and it was almost time to buy the clothes and jewelries now. She called Maan and asked him to bring Nupur at the mall. Geet was waiting for them in the car park when they arrived.
Geet: Hi guys
Maan & Nupur: Hi Geet
Geet: So Nupur do u have any idea of what kind of dress you want for the wedding? A saree or a lehenga?
Nupur: I think a lehenga will be better.
Geet: Any specific colour
Nupur: Red or dark red
Geet: And what about you Maan? What type and colour of sherwani do u want?
Maan: Anything that you like Geet. I have full confidence in your choice.
Geet: Ok let's go
They entered the mall and Geet directed them to the saree section first.
Geet: Let me buy sarees for mum, Dadi and Maya aunty first then we will go to the bride section.
Geet selected a pink saree for Priya, a green saree for Maya and a light color saree for Dadi.
Saree for Maya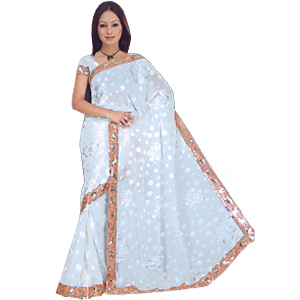 Saree for Dadi
Saree for Priya

Geet: Do you want to buy any saree Nupur?
Nupur: I think I need to buy some as I may need them after marriage.
Geet: Ok, select your sarees and give them to the salesperson, he will pack it for us. Meanwhile I choose a saree for my self.
Geet was looking through some sarees when one caught her attention. She really liked it and was handing it over the salesgirl to have it packed when Nupur and Maan joined her.
The Saree that Geet chose for herself

Nupur: Wow. This is so beautiful.
Geet: Ya, I am taking it.
Nupur: Do you have another piece just like this- she asked the sales person
Sales person: We are sorry mam; we only have one piece left.
Nupur: Oh……
Geet: Do you want it?
Nupur: Yes, I very much liked it.
Geet: Ok take it.
Maan: No Geet. I think this will look more beautiful on you than Nupur. I suggest you take it. Nupur have already selected some sarees for her. I don't think she will be able to wear of all them. It's just not her type of clothing.
The rest of the shopping went in silence. A red lehenga was bought for Nupur to be worn for the wedding. Nupur was really frustrated whenever Maan chose Geet selection over hers. The same happened at the jeweler shop when Maan showed Nupur a beautiful heart shape simple pendant which bowled over Nupur. Nupur was really happy as she thought that Maan had bought it for her but to her surprise it was to be a gift from Maan to Geet. He even preferred the black sherwani that Geet chose over the blue one that Nupur liked. Nupur was really annoyed and in a foul mood when she returned home from the shopping spree. She was really feeling insecured of Maan's and Geet's relationship as Maan was giving more importance to her than Nupur. She decided that she will not let Geet come between Maan and her. She will make sure that Geet breaks all her relationship with this house as soon as she marries into it.
Nupur's wedding lehenga

On the other hand Vicky and Priya were really tensed about Geet. Seeing her working hard to make everything perfect for Maan's wedding really disturbed them.
Vicky: I do simply not understand Geet's behavior nowadays. She is acting so strange. I mean how can she be so happy knowing that Maan is going to marry somebody else in a few days?
Priya: She is acting to be happy but she is hurting inside and does not want to show her pain to anyone. However, I am her mother. I have nurtured her for nine months in my womb. I can understand her pain even if she does not show it. She can lie to us but her eyes can't. Have you seen her eyes lately. She has the sahara in them. Sometimes I wonder how can she contain so much pain in her without breaking down. You know I was passing by her room last night when I heard her crying. I was so tempted to go and console her but stopped myself. I thought 2 years would be enough for her to get over Maan but I was wrong. Something can never be forgotten. I wonder when my princess will find her true happiness- she said crying.
Vicky: Don't cry Priya. We would not want Geet to find us like this. She will be heart broken. We have to be very strong at least for her. I just hope that my daughter finds that person who will be able to make her alive gain, who will fill her life with happiness and never let the shadow of sadness touch her.
Finally the wedding day was here. The Khurana mansion was decorated with lights from top to bottom. It was as if all the lights of the city were present in Khurana mansion that day. After all it was Maan Singh Khurana's wedding. Girls were crying buckets as today the most eligible bachelor of Delhi will be tying the knot. Maan was getting ready in his room. Wow. How he looked charming in his black sherwani whereas Nupur was in another room getting ready and Geet was helping her.
Geet: Nupur, I'll go and see if Maan is ready or not.
Nupur: Ok
Geet entered Maan's room who was buttoning up his sherwani.
Geet: Are you ready Maan?
Maan: Ya almost. Wow Geet, you are looking so beautiful. I told you this sari will look best on you.
Hein……….Geet……is Nupur ready?
Geet: Getting impatient mr bridegroom.
Ya. She is ready but you will get to see her only at the mandap. So better get going.
In the meanwhile Nupur received a phone call. After talking to the person on the other side, she was really restless and disturbed. Whereas Maan was waiting impatiently for his bride to come but his mother who had gone to fetch Nupur to the mandap came and took him to the study room where Geet, Vicky, Dadi, Priya, and even Nupur's father was present. They had a tensed expression on their face whereas Nupur's father had his head down as if he was ashamed of something.
Maan: Mum, why have you brought me here? The nuptial time will pass.
Maya: Maan, this is for you- she said extracting a letter.
Maan: What is it?
Maya: A letter for you from Nupur.
Maan: What childishness is this. Where is she?
Maya: Just read the letter, you will get all your answers.
Maan opened the letter and was shocked by its content.
Dear Maan,
I am really sorry. By the time you get this letter, I'll be already gone. I intended talking to you before leaving but then thought that you will not let me go. So I am leaving this letter you. I have been offered another modeling assignment. I tried to suppress my wishes but was unable to do so. I want to take up this assignment but I wont be able to do so if I'm married. It's a contract for 3 months only and I know that you love me very much and you will wait for me. We can get married any time but I won't be getting the chances of fulfilling my dream everyday. I love you Maan and I am ready to marry you but only after 3 months and these 3 months will fly very quickly and then your Nupur will be back to you. I am sorry if I have caused you and your family any inconvenience.
Wait for me. I'll be back and then we will get married
Love you always
Nupur
Maan: SHE CAN'T DO THIS!!!!!!!!!
WELL GUYS THAT THE LAST PART FOR TODAY. I AM REALLY TIRED OF TYPING NOW. HOPE YOU LIKE THIS UPDATE AND SPECIAL THANKS FOR ALL THOSE COMMENTS THAT YOU LEAVE AND ALSO FOR PRESSING THE LIKE BUTTON
ENJOY