Epilogue
Maan swung his car through the gates that led to Khurana mansion. The gates closed automatically behind him and he accelerated up the driveway. It was over a year since Geet had given birth to their daughter Anushka and just seven weeks since his son, Krish was born. He still felt a quickening of his pulse at the memory when Geet had told him that she was pregnant for a second time. He had been so afraid because she really had a tough time during Anushka's birth in the labor room. He could still remember her cries. However Krish did not pose any problem for his mother. He arrived with the minimum number of fuss.
As Anushka was growing, she was becoming a handful for everyone to control. She was her grandfather's princess who bears all her tantrums and play with her like a kid. They had also appointed a baby sitter just in case her services were needed, however such a moment has not yet arrived since the grand parents do not leave a single chance to spend their time with Anushka. Maan could already imagine how stubborn his daughter will grow to be since her every little wish is fulfilled just with a click of her fingers.
He entered the house and passed the hall which was quiet. Surprising! Because at this time of the day, Vicky and Kunal would be playing with Anushka like kids. He called the housekeeper and ask him about their whereabouts, who told Maan that they had taken Anushka out for a picnic with Dadi, Maya, and Priya whereas Geet was in her room with little Krish.
After the Nupur fiasco at Ranveer and Smriti house, Maan returned to his house with Geet where everyone welcomed her with open arms. Geet was very sorry for having blast them when she was upset but they assured her that they accepted everything because they knew Geet state of mind was stable at that time. He head for the curving staircase and taking the treads two at a time, reached his room. He opened the door to his room with some caution. If Geet was resting, then it would be better not to wake her up. But when he peeped into the bedroom, he saw Geet already awake, sitting in the armchair beside the bed, with Krish in her arms sucking on her breast hungrily.
Maan: Hey- he said softly, and she glanced across the room in surprise.
Geet: Hi- she answered in a low voice. What are you doing home early?
Maan: Perhaps I was hoping to do what Krish is already doing.
Treading lightly across the room, he bent to kiss Geet on the forehead.
Geet: He is almost finished- she said glancing at Krish. But he is a hungry little devil. This is his fourth feed for today.
Maan: I think I'll take a shower while you are finishing up here- he said tucking at his tie.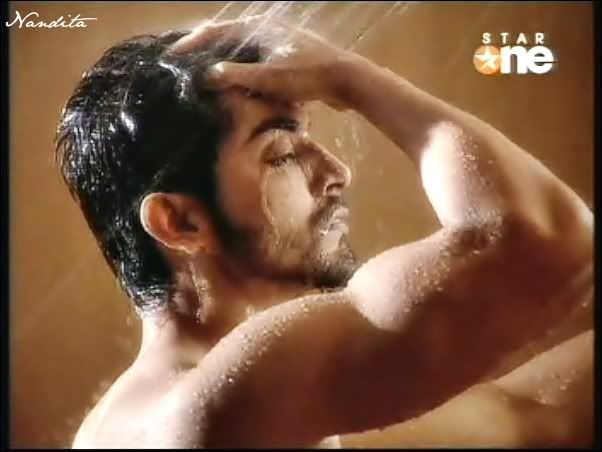 Maan headed for the bathroom, shedding his shoes and shirt on his way. He grinned at Geet before closing the door on her rueful expression. He was standing there, allowing the spray to pour down on him when the door of the cubicle opened and Geet slipped in with hi. "Let me,"- she said, reaching round him for the soap and he felt her soft breasts against his back. She began by lathering his waist and butt. He groaned when her hands slid round his waist and began to soap his stomach. His manhood, already aching with need, sprang instantly to attention at the brush of her hands. Twisting round, he took the soap and returned the favor, soaping the arms and shoulders. Then he bent and took one milk-scented nipple in his mouth. Her moan of pleasure was almost too much for him, but when she turned to leave the shower, he pulled her back and she slammed in his chest.
Maan: What's wrong in here?
Geet: I better want you on the bed where I can devour you with better ease.
An hour later they were recovering in the cool luxury of their four-poster bed. "Sleepy", Maan asked tucking a damp strand of her hair behind her ear and Geet stretched voluptuously.
Geet: "Contented", she corrected smiling. You should come home this early often. It has been fun.
Maan: Really, do you want a repeat performance.
Geet: You are so insatiable- she said blushing.
Maan: But you like it, don't you? By the way have you heard from Ranveer and Smriti, when are they returning?
Geet: They are on their honeymoon Maan, let them enjoy themselves. They will return when they are ready to do so and not before.
Ranveer and Smriti shocked everyone with the news of their marriage shortly after Krish's birth. Geet could not believe that they were getting married. Actually it was Ranveer who always hold a torch for Smriti but he could never tell her about his feelings fearing that she will shun him. Finally, not able to bear the suspense, he proposed to Smriti irrespective of her answer but he was shocked when Smriti accepted. Smriti always considered Ranveer as a good friend but she did not want to take any chances in case her Mr. Perfect never came. But she was sure that Ranveer will always keep her happy and that what finally happened. They got married in the most lavish way with all the relatives and friends around to congratulate them and now they were on their honeymoon for the past 1 month. Smriti was living in fact her own fairy tale
As for Maan and Geet, they lived happily ever after with their kids. They never heard of Nupur after she went to jail. No one knows where she is but it's better as long as she does not return to Maan's and Geet's life.
The end
Hi guys, this is the epilogue part of this FF. I really want to thanks all those people who have taken time to read it , posts their comments and press the like button. I am really grateful to them for their encouragement which has led me to write and complete it.

A BIG THANKS TO ALL MY LOVELY READERS. WITH YOUR ENCOURAGEMENT I MIGHT START ANOTHER FF SOON, MAYBE......................

Hope you like the above part and i will eagerly await your comments for this part and the story as a whole............



Edited by manisha03 - 13 March 2011 at 1:24am