Originally posted by -ToriVDongWook-
beautiful yr
love it nyc gr8 fab and sweet
keep it up jaani
and i hope my req is still pending
thanks
Thanks Maham!
And I totally hate myself for saying this but could you please post your request again...
I don't even remember I had pending requests.
Originally posted by chhilt

Wow, stunning work, Chip! The Spencer and Emily ones are probably the best as well as the animated PLL one and the last Vampire Diaries sig :)

Glad you like so many of them. :) I love the Emily one and the TVD ones most.
Originally posted by JanakiRaghunathWow, awesome update, Chip! I really like this sig the best, it's so floral and beautiful.
Your colorization is just fab!
Glad you like the coloring on this one... I had a difficult time managing the skin tone and the overall color palette.
So, it's a relief to know things fell into their correct places.
Originally posted by -RamSitaKiDasi-wow awesome update diii, all the cgs are really cool !
ur textures are really different dii, they make the pictures in the cg glow!
what software do u use to make cgs dii?
this one is my favorite !!
Thanks Mina!
I use PhotoShop CS4. I make the textures myself... usually by using the 'Gaussian blur' feature and then setting the layer on either 'lighten' or 'screen'. I guess that's what makes it 'glow'. :)




Originally posted by aishi.muffin
I LOVE this one chipsters <3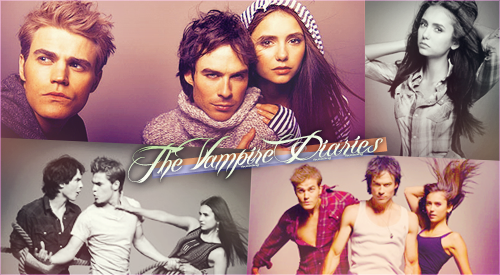 Ahh, too good! The style is lovely and the colors of all four boxes go so well together. And just love the font style!

The PLL animation one is too pretty :) Gorgeous, always love your animation sigs!
My second favorite is the Spencer one. So pretty, it's like floral. I love sigs like that.
Keep up the stunning work!
I tried something really different this time with the TVD sig and I too like the outcome. :) The coloring of the pictures are contrasting but at the same time complimenting each other. I think that's what catches attention.
Oh, and the font is Billy Argel Font. :)



Originally posted by -.Aisha.-
woooww beautiful update

senorita

Thanks Aisha!