~| | Unlocking the Past | |~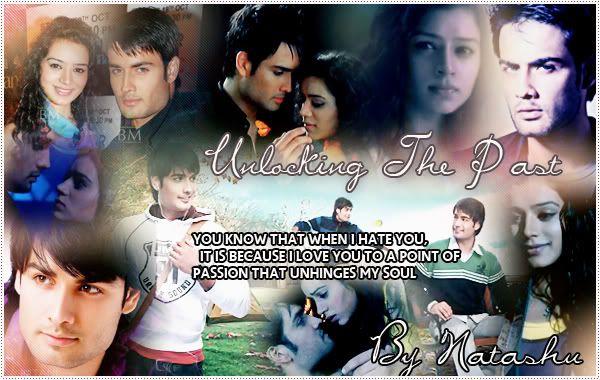 Chapter 8:
She was looking at him in an odd way. Too odd for his taste.
Not liking the way his gut twisted as he watched her scramble for support, Abhay hurried to Piya's side. "Are you okay?"
At last she turned. Her face was close to his, her eyes studying his mouth as if analyzing the words that just came out. "It's n-nothing. I'm okay."
Wrapping one arm around her waist, Abhay led her to a nearby water fountain. He had half expected for her to swat away his arm. To his surprise, Piya hadn't resisted. But her slim body had managed to elicit a reaction far from expected. That which involved robbing him of thought for one long, pulsing moment.
As he helped her shift weight to her own feet, Abhay's mind was already busy combing through all that had occurred thus far. He had zero clues about her powers. And a big zilch on her background. Essentially, a lot of work cut out for himself. But he had to do what the Elders had assigned him to do. He couldn't afford any distractions. And he had a hint that Piya would top that list much sooner than required for his taste. There was just too much on the line. The Elders had warned him of the dangers that would come to the fore following her 21st birthday. And he couldn't afford to mess up this time. Not again.
"Thanks. But I can take it from here."
Her voice breaking into his thoughts, Abhay directed his attention back to the situation at hand. She was trying to wrestle her way through his strong hands. Saving her the chance of a bruise, he let go of her waist, walking past her to allow her more physical space. He didn't want her getting hurt. She looked every bit the fragile glass at the moment. Ready to break at a moment's notice.
Giving her a quick onceover, he noticed that she was unhurt. But he couldn't deny the look of disbelief and shock in her eyes. And there was also something else in those murky depths of chocolate brown. With a start, he realized that she had questions of her own. Something had obviously happened. Something related to her powers. Because nothing else could better explain the odd look she had given him earlier. And as her whitelighter, he would be required to step in for explanations soon. But experience had taught Abhay that the initial phase required the utmost care. The transition not being an easy one. Especially in the case of Piya Jaiswal. She had no idea about the destiny that awaited her.
Turning back to his locker, he retrieved his bag from where it lay inside, stashed with newly purchased books and other paraphernalia. An awkward silence had settled between them, and he had no plans of breaking it. First and foremost, he needed to get out of here. Excusing himself, he made his way out of the locker area to a clearing off to the side. He needed some alone time. A chance to clear his own head. And acquiring answers to all these unending questions would also be a good idea, he thought with a dry laugh.
Flipping open his phone, he dialled Siddhran. It had been a while since he had seen him. May be he was busy with his own charges. He probably was busy with his charges. Sighing, Abhay rubbed the unshaven skin on his jaw, waiting for his friend to answer his call. He needed somebody as his soundboard. And Siddhran was always the top choice, ever ready to help. It was odd though, using cellphones. All he really needed to do was focus and locate his friend. But he wanted to give himself enough time to get into the typical college student's role, which required going easy on his various powers and abilities.
"Looking for me?"
He knew the owner of the voice even before turning, resisting the urge to cringe. Cutting off his call midway, he finally managed to turn around.
"You?"
"Yeah, me! Remember, T.! We just met a couple minutes ago."
A meeting that would top his list of regrets for a long time to come.
"Uh huh. What do you want?" he asked her gruffly. He was in no mood to talk with her. Making it clear with his tone of choice.
"Well, you're new. So, I thought I would you know, show you around."
Apparently, any hint whatsoever wasn't making it through her thick-headed skull.
"No. I already gave myself a tour. Now, if you'll excuse me."
Before she could get another word in, he took off. Whew.
In his haste, he bumped into somebody crouched low on the ground, busy searching for something in their bag. Any plans of mouthing a quick sorry went down the drain when the person in question caught hold of his hand. Feminine but strong.
And he thought that the day couldn't have gotten any worse.
--
There you guys go! I know it has been forever since my last update, but I couldn't help it. I had been really busy this smstr with my exams and assignments.
But thanks so much for your support! <3
Oh, and on Pg. 26 you'll find this thing that I wrote for Tell-A-Story contest. It's not much but just something for a quick read (:
--
Below is a VM I made on Piya. A little apology gift =P
If you like this, then do subscribe to me on YT!


Edited by natashu - 08 May 2011 at 9:15pm