~| | Unlocking the Past | |~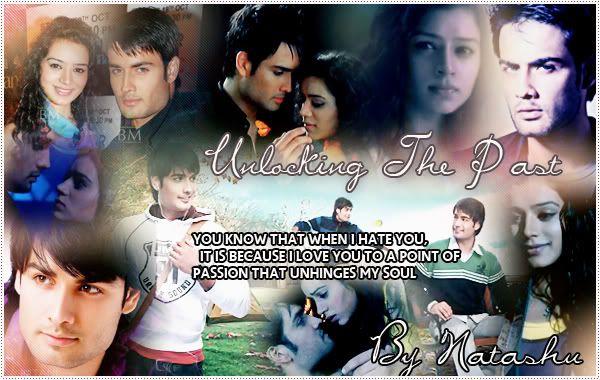 Chapter 6:
Part 1
Misha had thrust whatever she'd managed to extract from her locker straight into Piya's hands, oblivious to the heap she was creating. Her attention caught with something at the very bottom, she missed Piya's flailing hands, trying to catch at nothing but air to balance herself. In a useless effort, Piya turned around, only to bump into someone a locker away. A gasp escaped her lips, as she tripped on something lying on the floor. She barely got a look at his hard-chiseled features softened slightly by surprise, before they both fell to the floor.
The whole thing had been so sudden, that she'd been thrown not only off ground but off guard. Landing on his chest, she buried her face into the sturdy column of his neck, instinctively searching for a warm refuge from her fears.
Snap out of it. You're acting all jumpy again.
But, it wasn't something that she could control. Her emotional turmoil, or whatever it was had become worse the past few months. Directing her thoughts to the situation at hand, she tried to move off of whoever it was that she'd managed to land on. After a couple of useless tries, Piya gave up. Her hand was stuck behind his back.
"Slow down before you hurt yourself."
Looking up, she finally met his gaze. Piercing blue eyes seemed to bore into her. Piya suddenly felt really uncomfortable. Not with his x-raying gaze, but rather with their position. Much more intimate than she'd have liked.
"My hand -"
His reply was quick, cutting her off. "I know. Just stop fidgeting."
Piya hadn't even realized. She was trembling all over.
She tried taking in mouthfuls of air, an effort that seemed to work. Evidently, he was way ahead of her, caressing her back. The strokes felt tender and soothing while he continued to whisper something into her ear.
He...whoever he was.
Gradually she drifted back to reality drawn by his voice, its husky timbre vibrating against her face. He then helped her up, every move gentle. "You should be a little more careful."
Was that sarcasm in his voice?
Annoyed, Piya tried to give him her best glare. "Well, I'm sorry! I just lost balance."
"Stating the obvious. Are all you girls like T.?"
"Comparisons in first meeting. Judgemental much?"
Huffing in anger, she walked away. She had no idea who T. was, since Panchi had denied any further information. But, Piya didn't care. Anything even vaguely bordering on a thanks had died in her throat.
Part 2:
Taking a step back, Abhay took a steadying breath. That T. had definitely done it for him. It wasn't like him to take out his irritation. He couldn't be blamed entirely. The girl was a nightmare. Turning over to his locker, he deposited an assortment of things from his bag. His mind still on locating his new charge.
Piya Jaiswal.
It didn't take long for him to conclude that she was nearby. Oh, she was here alright. Sensing her was easy because she was channelling a range of overwhelming emotions. Anxiety. Anger even. His search led him to a girl standing off to the side. From his view, all he could gather was blanket of dark, curly hair cascading in waves down her back. And she wasn't alone. She was deep in conversation with another girl. The other one much taller in height, who now was sporting a huge smirk.
His plan was simple. To keep watch from distance and learn as much as possible. Besides, he wasn't here to make friends. He was doing just that when somebody bumped into him from behind. "Dude, what in the world are you standing statue for?"
You don't want to know.
But Abhay couldn't voice his thoughts, much less glare. Acting the unobtrusive part was going to be a bit harder than he had originally thought. Muttering a quick apology, he returned to keep watch. Anger. It was written all over her poise. He didn't need his sensing abilities for that. If only she would turn around so that he could get a look. She did turn around, much to his horror. The locker girl. Abhay didn't know how to react. Their first meeting done and over with and he hadn't even realized.
Great start, buddy.
Even though it wasn't the most ideal way of meeting your new charge, Abhay couldn't do much about it now. If it was any consolation, at least he knew where all the anger was coming from. Suddenly, a maddening urge to laugh robbed him of any other thought. He had barely started his new assignment and everything was beginning to go wrong already. Taking a sharp breath, he refocused. Damage control. Major damage control was needed. He had overreacted and shouldn't have spoken the way he had. Apologizing wasn't exactly his area of expertise, but Abhay would do it. Because this time he was in the wrong. She must have undergone a lot of emotional stress these past few months, what with her powers activated and all. And that's where he came in. He was the whitelighter and old at this game. She the new witch, who could use all help possible.
--
I know its been like forever since the last update! Forgive me? Yes? Yes! You guys are much too nice!
I reposted Ch. 6 part 1. The new stuff is part 2. Hopefully, you'll like it!
And, there is also a treat. I recently got into VM-making. I did make one on AbhIya. Here goes:


Edited by natashu - 12 March 2011 at 8:06pm