~| | Unlocking the Past | |~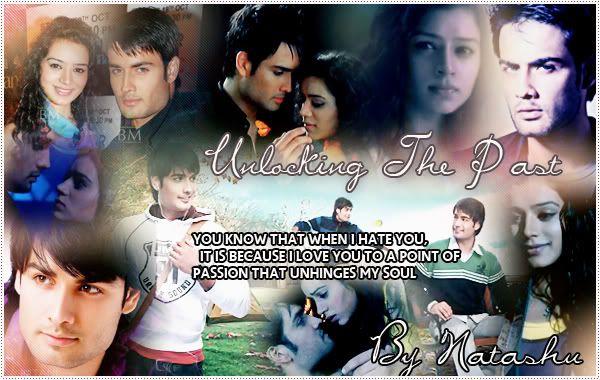 Before you read, you've to check out the link posted below. So what is it? Well, its a title track to this FF. After much hardwork, and conversations late into the night, this is the result. A special shoutout to NomaluvsKSG aka Nomi for helping me. It wouldn't have been possible without you! <3
Hopefully, you'll like what you see!
..
Now, you can read!
Chapter 5:
At the Airport
"Oh my god! You haven't changed one bit!" Misha exclaimed gathering Piya in the most unlike-Misha hug. At this sight, Panchi's mouth made an O before she snapped it shut.
"So, I really wasn't driving her crazy. She actually missed you Piya," said Panchi, smiling at her sister's unusual behaviour. Misha wasn't the touchy, feely types. So any kind of display of physical affection from her was always a surprise.
Piya couldn't help but smile.
Finally.
Yes, it was truly homecoming. She was back now. And, the effects were taking over already. The feelings of unease that had been there yesterday were now replaced by a sense of calm. Something which she'd been longing for a while. The past few months had been a little wacky on the emotional front. She was a whole lot jumpy and sensitive these days. Snapping out of her thoughts, Piya pulled in Panchi for an affectionate hug. If there was anyone else in the world that she could talk to, it was definitely Panchi. They'd hit it from the start. Panchi, always level-headed, was one with an honest opinion. The kind of person one would share their problems with, hesitance-free. And, Piya was mighty glad.
Pulling her luggage up to the car, Piya helped both sisters create enough space in the back to fit everything. "You know, it really hit me today. I've missed you both so much. But, school did keep me busy."
"Aw, we missed you too! All the while hoping that we would see you soon. Goes to show, wishful thinking works," Panchi replied, her tone laced with nothing but sisterly love.
Rolling her eyes, Misha pushed both the girls into the car. "Do all the sisterly stuff later. We do have college today. Or did you miraculously forget, Birdie?"
"Honey, I'm not the forgetful one. You almost forgot that we'd to go pick Piya today." Looking over at Piya, Panchi added, "She did really. I also got yelled at, for waking her early. But then again, that's normal. For her, anyway."
Rest of the trip zoomed by in Misha-Panchi arguments. Surprisingly, Piya wasn't annoyed. Rather, her happiness knew no bounds. She'd missed this. Her friends. Their arguments. The place. It's feel. So when the Dobriyal house came into view, Piya was out of the car in a flash, climbing up the steps with the urgency of a child. There she almost collided with the mother of her two very close friends. Madhu Dobriyal, her nature the mirror-image of her mother's. "Aunty, how have you been?!"
"Oh beta! You're here finally! But, I'm angry no less. It took you three years to come visit your family again?!"
Giving her a tight bear hug, Piya apologized profusely, rambling on about the business of everyday life and school. It took a whole lot of shushing and feeding to close her mouth. But, Piya couldn't help it. The bubbling happiness was just spilling out and over.
"Dude, we have to get going. College's in an hour. You should catch up some rest," said Misha, pushing a couple of textbooks into her strap-on bag.
"No! I can't stay here all alone. Besides, I'm not that tired. You could help me register today so I can easily start classes on Monday." Both sisters tried to protest, but Piya stood her ground. "Guys, I really want to go today. This way I get to see the campus before all the academics begin." Quickly rushing inside to get her bag, she retuned but not before making a trip to the washroom to ensure herself of looking decent. In a hurry, she'd closed her long, curly hair with a small clip.
"Don't go all T. over me now, Piya!" Misha yelled from outside.
"Who's that?" asked Piya, walking along-side Panchi. Misha had rushed ahead to warm the car.
"Trust me, you don't want to know."
Mount College
Although it had taken a lot, he'd finally gotten himself registered in 4th year. Going over to his assigned locker, Abhay placed a newly-purchased lock on it. It wasn't needed, really. Since, there was nothing inside. But, he'd used the excuse to get away from T., the most annoying girl on the planet. Thinking over it now, he wondered if he had been too harsh to threaten Siddhran with a frustrating-being like her.
No. He left me there with her.
Siddhran had tactfully, gotten away. But, that hadn't been his source of frustration. At least not fully. What had infuriated him was her dull intelligence.
Stupid girl. To think that there is nothing worse in the world than a fashion disaster.
But, things much worse were a part of his job. The fight between good and evil. Taking place every day. Just not in the plain view of a mortal. In an effort to soothe himself, he directed his focus towards his charges. To one in particular. Abhay wanted to know if Piya had already arrived. He'd barely closed his eyes when somebody bumped into him, causing him to lose his balance. As it turned out, he caught whoever it was by the arm. He would have orbed in other circumstances. But, with people about, that wasn't an option; compromising his identity. So, Abhay let it go. For the inevitable to happen, as he along with whoever he had managed to catch hold of, fell to the floor.
--
Next update wuld be up after 2 weeks! (:
Once again, don't forget to comment & hit the 'like' tab!


Edited by natashu - 01 February 2011 at 11:04am