'My husband got me interested in cooking'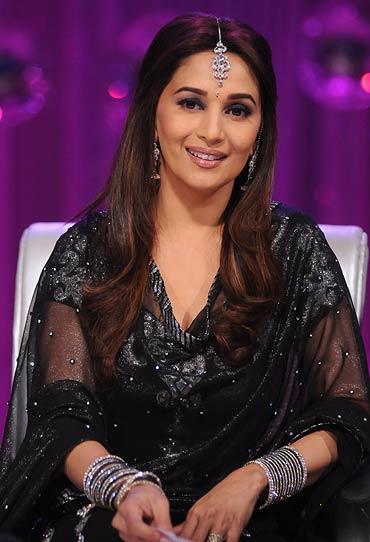 Madhuri Dixit rarely has a bad day on the dance reality show Jhalak Dhhikla Jaa. The stunning actress and her gorgeous saris have enhanced the show, and made it one of the more popular shows on TV.
And Mads knows we can't get enough of her, so she has teamed up with chef Sanjeev Kapoor in his new channel Sanjeev Kapoor Food Channel.
The actress talks to Rajul Hegde about her successful television innings, her family back home, and much more.
There are reports that you have already been signed for the next season of Jhalak.
Talks are on for the next season. I will let you know once I decide to do it.
'We expect the unexpected'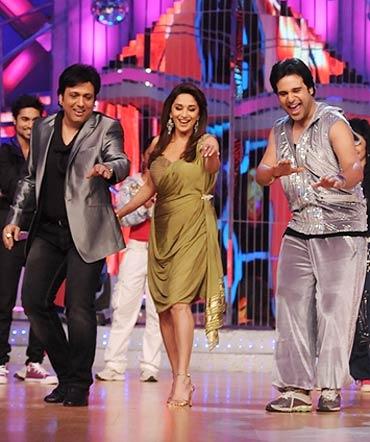 How has been your Jhalak experience so far?
Well, it's been a wonderful journey. Now I know the contestants' strengths and weaknesses, so am able to guide them accordingly. We really feel bad when contestants get evicted but we can't do much about it because that is the show's format. But all of us have thoroughly enjoyed being on the show.
Which contestant has surprised you the most?
Mahi Vij and Meiyan Chang. They have grown tremendously from being non-dancers to dancers. It's wonderful to see them progress.
Which has been your favourite performance on the show so far?
There are many of them. But the one I really liked was the lavani by Krushna Abhishek. It's very difficult for a man to dance in a woman's costume but he danced with so much sincerity. He didn't copy a woman, but danced like one.
Sometimes good dancers get evicted due to public voting. What's your take on that?
People have their own opinions and favourites because of the celebrity's popularity. The show's format is such that the results are unpredictable. We expect the unexpected, so we are prepared for it.

Image: Govinda, Madhuri and Krushna Abhishek
'Hrithik dances like poetry'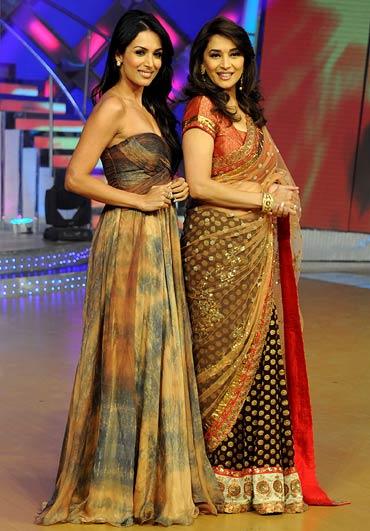 How does it feel when people idolise you?
It feels really nice that people appreciate your work. But there is a huge responsibility when you are considered as an icon because you have to act responsibly.
Most of the young actresses are in awe of you. So who is Madhuri in awe of?
(Laughs) I am in awe of (dance maestro) Briju Maharaj. There are many good Kathak dancers but since I know him and his work, I feel he is the ultimate.
In the film industry, I am in awe of Vyjayanthimalaji, Waheeda Rehmanji and Helenji for their styles of dancing.
What about male actors?
Earlier, men had more style than dancing (skills). I like Shammi Kapoor's style. Rishi Kapoor is one dancer, who would not miss even a single beat in qawwali. His qawwalis were very good.
In the current lot, it has to be Hritik Roshan. He dances beautifully -- like poetry.

Image: Malaika Arora Khan and Madhuri Dixit


'My kids have kind of realised that I am a known person in India'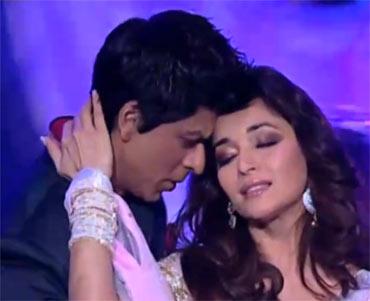 How was it to give a stage performance with Shah Rukh Khan at the Filmfare awards after a gap of so many years?
I really enjoyed working with him after so long. This was my first ever stage performance with Shah Rukh.
How did you children react after watching you on television?
They were like, 'Oh mama you are on TV'. They had fun on the sets and have kind of realised that I am a known person in India. They do watch Hindi films and have liked my films too. My children like music and dance but there's no special inclination to either. These things get easily noticed among girls because they dance in front of the mirror. But it's difficult with boys.

Image: Shah Rukh Khan and Madhuri Dixit performing at the Filmfare awards


'My husband and I love to eat different types of cuisines'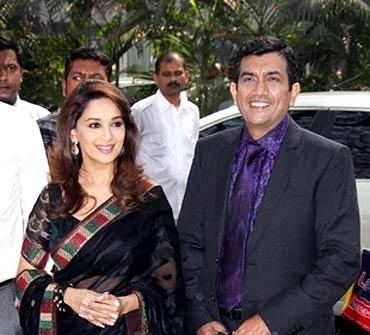 You are the brand ambassador for the Sanjeev Kapoor Food Channel.
Yes. I was thrilled because my husband and I love to eat different types of cuisines. My husband is a good cook and he got me interested in cooking. We make our favourite recepies and invite friends.
We watch food channels sometimes and my kids love them. Sometimes they give me ideas what to add and what not.
Name one dish that you can cook really well.
Chicken Tikka Masala.

Image: Madhuri Dixit and Sanjeev Kapoor
'I want to do a complete entertainer'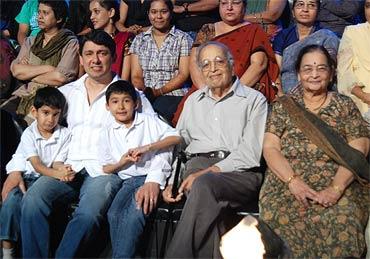 Are you doing any films?
I want to do a complete entertainer or a film that sends out a strong message. I have been going through a lot of scripts, but nothing has been finalised yet.
The World Cup is around the corner. Which cricketer are you rooting for?
My favourite used to be Sunil Gavaskar. Now, it is Sachin Tendulkar.
Image:
Madhuri's family: Husband Sriram Nene with sons Arin and Ryan, and her parents


Edited by nima9 - 16 February 2011 at 12:04pm