Made these AVIs from SBS Rehearsals of Harshiti !!!
OMG !!! Their Hug and lifts
!!!
These two are making me crazy !!!
waiting for their performance...
Dedicated this to all my friends... and specially to Shareen, Happy Birthday Dear !!!
AVIs




Stacked AVIs
Vertical


Horizontal

Animated Siggy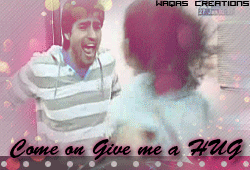 -Feel Free to use
Refresh Page 2-3 times, as page is heavy...
Hope you all like it...
Waqas...
Shop Link: http://www.india-forums.com/forum_posts.asp?TID=1428416&TPN=104
Do Comment in SHop !!!


Edited by Waqas... - 27 January 2011 at 11:46am