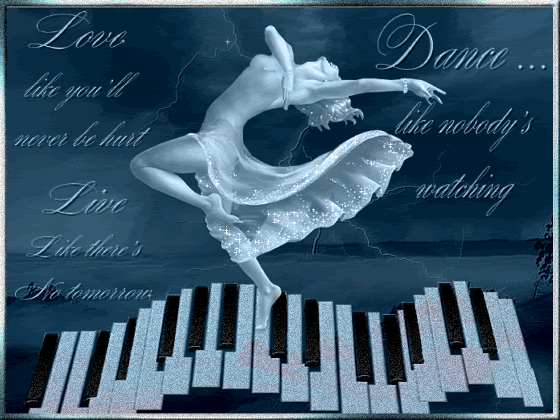 You came together and began the Rk...manji...of two hearts,
just as if you had danced before,
perhaps in a dream you both shared before you met.
But you always knew her, and she you.
You stepped toward each other,
guided as much by the lights in each others' face
as the friends who brought you into each others' world.
At that first casual touch,
a hidden lovely melody heard only by the two of you
began to play.
You heard the round beautiful harmonious
sound of her laughter,
and wanted to capture it for yourself always.
She heard the shyness inside your cheerfulness,
the quiet symphony within the rousing chorus,
and thought both equally beautiful.
The fire of her soul warmed you like her touch.
The sun inside his heart shone on you like his smile.
You may not have danced then,
rajeev across a hardwood floor,
or swaying together in a crowded couple-filled room,
but in that moment of meeting,
you began your dance in your minds,
your hearts, daring the steps,
and you continued your performance for two,
leisurely promenades of getting acquainted,
frantic little sambas and Charlestons of yearning,

the slow gentle dance of realization,
the tango of new, passionate love,
the tapdance of melding yourselves, your lives,
and through it all,
you remembered that first dance that carried you here,
to the wedding
by which everyone shall know that you are one.
He accepts your hand, and you take his
as you have so often while awake
and in long-ago dreams, and you move forward,
emerald-gold splendor and dark warmth,
he of the earth and yet like no one upon it,
she of many worlds who makes a universe of love,
and you begin the cosmic heavenly dance of marriage.
Let the celebration begin,
L'Chaim, Let your love take you, still dancing,
through the life you create in your steps,
may the enchantment of your hearts' music
lift your feet over whatever barriers may arise,
may you lead each other through future dances
where the movements remain a mystery,
and may you eternally know, again and again,
the beauty of the Rajeev manjiri together,
the rajeev manjiri of love.
Let the dance of love begin without end.
just my imagine.........his wedding dancing ..