Recap:
Geet: Okay I will come'(She couldn't refuse'I mean it was because of her she got a job'but she started to regret it the second she agrees).
Daadi: that's is great I will be waiting for you.
Geet: this is just awesome'what am I even supposed to wear?
That is when geet remembers the white sari she had bought yesterday.
"I guess I will wear that white sari"'I hope I don't bump into maan or I won't hear the end of it'
Part:12
"Was it really because of the dare?"
Maan was getting ready'.He came out of the shower and was wondering what to wear and that was when his eye catches the black blazer that Geet had brought yesterday.
"That blazer really looks good on you. And since I am a girl you should take a girl's opinion" echoed in maan's head'.
I don't even like girls so why did I listen when she told me to buy it'..no I didn't buy it because of her'I obviously liked it and wanted to buy it before she told me to buy it. I am going to wear this because I think it looks good not because Geet thinks it looks good.
Vicky comes in to check on his brother'The party has already started and maan hadn't come down yet.
Vicky: Bro..why are you so late?
Maan: I had to drop somebody off?
Vicky: you mean you had to drop a girl off possibly named Geet?
Maan was shocked'
Maan: Haa'nooo wait why would a drop off a girl?
Vicky: Bro u know u are talking to me "Vicky"..right? when it comes to girls I know everything'and ur my brother so do not try to lie to me?
She is changing you'for the first time I saw you smile yesterday and I know it is because of Geet so don't make any excuses.
Maan loses his temper once vicky says that.
Vicky!!! Shut up'.I hate girls! And no girl will ever be able to change Maan Singh Khurana'NO one'especially Geet.
Vicky: okay chill bro..watever you say'
Vicky than notices a necklace'.
Vicky: hey bro you really look nice today'and you know what would make you even more handsome is this'
Vicky grabs the necklace and attempts to put it around Maan'
Maan thinks to himself: Oh so that is where I put the necklace
Maan: Vicky stop this is '
Vicky: Bro I don't want to hear it'.
He opens up a few buttons of his blazer and puts the necklace on.
See tonight girls will be all over us Khurana brothers'
Maan: Vicky listen I can't wear this'this is'
Vicky does not allow Maan to finish his sentence.
Vicky: it is my birthday'so for at least my birthday and for our new bond that we have please listen to me and wear this necklace'I don't know why but I feel it will act like some kind of good luck charm for u..
Maan was speechless'.how was he going to tell that it was the necklace that he wanted to give him'but he was speechless especially over the fact that Vicky thought it was some lucky charm for him...
Vicky: bro are u coming'
Maan felt a little disoriented and lost in his thoughts'
Vicky bro???
Maan: huh'Vicky yea let's go'
Maan couldn't connect what was going on and happening to him.
Everybody was enjoying, drinking, and dancing'
Everybody except for maan'the only party's he would go to were business parties..but he had to come to vicky's party for their new shared bond.
Vicky with two girls under his arms comes over to Maan.
Vicky: Bro'look how I am enjoying myself'(smiles at the two girls)'.
Maan: Vicky that is you not me'you know I don't like to waste my time with girls'
Vicky: oh come on bro'we are guys for god sakes'and look at that sexy girl over there'.she has been checking you out since you walked in to this party'
Maan: shut up Vicky'
Vicky: fine than if you don't want to waste your precious time with a girl than lets play truth or dare.
Maan:Vicky I am not a little kid to be playing such a stupid game.
Vicky: Daargai'
"Maan singh khurana is scared?", Vicky says a little dramatically.(Vicky knew his brother so well'he knew that there would be no way that he would back down'especially if he called him scared'an evil smile crept on his face).
Maan couldn't believe it'.it was like Vicky was attacking his ego.
Maan: Shut up and lets get this over with' Maan Singh Khurana is not scared of anything.
Vicky spins the bottle and it lands on maan.
Vicky: Great'.so Maan bhai truth or dare'???
Maan thought that if he said truth than he would surely ask him questions about geet..so he thought that the best way to avoid such a subject was to go with a dare.
Maan: dare!
Vicky: Okay than I dare you to kiss and dance with the next person who walks through the door.
Maan: what your insane!!! What if it's a guy'
Vicky: I thought you were up for the challenge and is not scared of anything'The Maan Singh Khurana I used to know would never back down from a challenge.
Maan: I will show you Vicky'.I am still that Maan Singh Khurana'I have never changed and I don't plan on ever changing!(Maan praying that it is not a guy!)
Vicky to himself: Bro'.you are changing'and it is all because of Geet'you just do not want to accept it'but you will. Maan bhai you fell for my trap'you will have fun tonight. I am praying that the next person who walks in is a girl'you need to loosen up and let yourself enjoy life again.
Vicky: bro I will be right back'
Vicky quickly talks to the person in charge of lights and says that to put the spot light on maan if a girl walks in through the doors'and then he goes to the dj and tells him to put a good song once maan and a girl walks into the dance floor.
Vicky comes back to maan who looks really nervous.
Vicky: bhai are you nervous???
Maan: Vicky I will get you for this'.pray that it is not a guy or I will make your life hell.
Vicky: whatever bro'this will be so much fun.
look bro'here comes your moment of truth'
Maan holds his breath'.
**************
Every person and thing seemed to have become quiet.
And that is when she walks in'.Geet in the white sari that maan had chosen 'her hair pulled onto one side'and her figure sexy as ever.
Maan didn't think he was on earth anymore. He had lost himself to her the instant she walked in'for a second he couldn't even believe it was geet'
Vicky thinks to himself: Oh 'my' God!!(he paused between each word)....thank you god'you even made my plan 100 times better (he said enthusiastically).
Now maan will have to dance and kiss geet.
Vicky: Bro what are you waiting for'remember the dare?(naughty smile on his face)
Maan without even thinking approaches toward geet. He does not think he has ever seen a more beautiful woman in his life.
Geet sees maan approaching her'she also can't believe how hot and tempting maan was looking. Her eyes widened as she saw maan wearing the black blazer she had told him to buy and not to mention he was wearing her dead brother's necklace.
Suddenly, Maan grabs geet and takes her toward a corner.
Maan: Geet, what are you doing here?
Geet: Don't worry if I didn't have to be here I wouldn't of come. Because of Daadi and Vicky I am here.
Which reminds me I thought I said you should keep the blazer and not the necklace (she says with a grin and attempts to walk away).
Maan: You want the necklace so bad here take it! Please I don't want to feel indebted to any one, especially when you keep reminding me.
"reminding you?"(Geet whisper. Pain clearly visible in her voice).
This is exactly why I never wanted to come here. But because of my respect for Daadi I came here. I knew encountering you would just give me pain. It makes me wonder why you even saved me that night if you can't even stand the sight of me? One second your nice and you help me and the next second you remember something and then you are the complete opposite. I gave you this necklace to help you. Just like you helped me. I don't have an answer for why I gave you this necklace, but it is not like you have an answer for saving my life either? Geet says with tears in her eyes as she turns to get away from him.
But instead maan grabs her hand and she twirls back into his arms. That is when the spot light comes on and the kurbaan hua song starts.
As maan closes in on Geet and touches her bare stomach, geet looses herself with his touch and piercing eyes and just gives in.
They danced and moved like they were one mind one soul'
***********
Everybody was in awe'
Daadi was peeping through the corner and was smiling'
Vicky notices daadi and comes towards her.
Vicky: Daadi what are you doing here?
"I don't look that old. I could blend in this party and no one would notice a thing" Daadi says teasingly.
Vicky: Daadi please!
Daadi: Don't worry I didn't come here to crash your party. I just came here to see how my plan is working with Maan and Geet. And look I didn't even have to do anything and they are dancing themselves.(she says with pride).
Vicky: I believe that part was my plan. Thank you very much.
Daadi: Beta'you did all this?
Vicky: Yup'it feels good.
Daadi: wah'beta'you are even a step ahead of me.
Vicky to himself: you have not seen anything yet. Maan bhai still has to kiss geet.
Ohhhh which reminds me Daadi can't be here to see that.
Vicky: Okay daadi you can go now. Maan and geet are together.
Daadi walks away with a smile on her face. She couldn't believe it. Soon Maan will be coming to her asking for her permission to marry Geet she thought.
************
Maan and geet were still dancing. Not one of them wanted to stop'
Maan finally lifts geet into the air and spins her around.
And when Maan places geet on to the ground'Geet is the first to realize she is dancing with none other than maan sir'
She attempts to leave but maan grabs her wrist and she slams back into his arms
To everyone else it was like they were still dancing'but not to maan and geet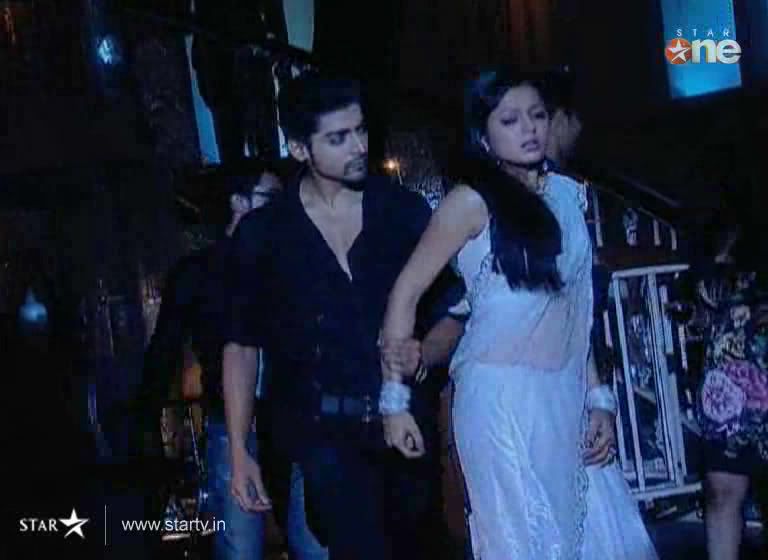 .
Maan: Why do you always try to run away from me?
Geet: stop it maan everybody is looking'
Maan: so what I don't care what people think'.
Maan than entwines his hands with geet's hands. Geet is starting to breath faster with every inch that maan takes towards her. Soon geet could even feel his breath on her shoulders and that is when maan whispers in her ears' " Do you really want to run away from me" which just sends shudders down geet's spine.
"Maan let go of me'please" Geet whispers.
Maan: It is your fault you look completely stunning in this white sari that I chose for you!
And that is when he makes his move and kisses geet right at the second that the song finsihes. Geet was so overwhelmed with her emotions at that moment that she didn't even protest and allowed maan to invade her mouth.
Everybody claps and Vicky was on cloud nine. His brother was actually kissing Geet.
Maan than realizes was he was doing and breaks away from Geet.
Tears started to well up in geet's eyes and before she could allow them to be seen by anybody she runs away'away from maan and the dance floor.
Vicky thinks to himself: Well that didn't go as expected. Crap Geet is upset'. Maan bhai please go after her'
"Why the hell is he just standing there...?"..come on bro move'your girl is leaving'
Pre-cap:
Maan:NOOOOOOOOOOOOOOOOOOOOOOOOOOOOOOOOOOOOOO!!!!!!! He screamed as the veins in his forehead pulsated, his heart ached, and muscles screamed.
Maan gets the whine glass and throws it at the mirror!
I don't know if i met the standard of you guy's expectation, but i hope i did. Pre cap is kind of scary, but you will have to wait and find out! i won't be able to update the next part until like friday or the weekend. I will try my best to do it earlier than that but i doubt it. I am sorry i am just getting to busy with school work. I know i am leaving you guys with a cliff hanger, but hopefully it will be worth the wait.
HIt the like button if you liked the update! And Leave long comments


Edited by zeynab111 - 04 February 2011 at 4:17pm