Summer Memories Last Forever
Part 6


"What do you want?" she inhaled unsteadily.
His eyes left no doubt of the answer to her question that it's time to pay back of what shock she had given him on the court. She scared of his presence on this very moment,blabbered hurriedly while stepping back "please leave otherwise'" hit by the table on which telephone kept and picked receiver"I called security guard".But before she dialled he stormed suddenly and violently to snatch the phone down from her and twirl her around by his other armwhich make her hair open from towelling cloth. He grab her wrist behind her back and pull her extremely close to his body that there's no space left between them and his face an inch far from her when he fanned "you didn't lose a minute, did you?", causing her shrink from him defensively.Uncomprehending she sent him the dazed glance, he need no more invitation than that to rage on, "No wonder you ran out of here so fast. No wonder you never bothered to read my mails! What a blundering fool I was!" he seethed, self-disgust now mixed with rest as he shook his head in utter disbelief. Instinctively Nikita sensed where he was headed, and her insides churned in horror.
"What did you do, spend all of your free time on your back after I took care of dirty work? How many men were there, Nikita? Or was it just one waiting in the side-lines all along?"She struggled in his hostility to defend her against of his accusation and fight for her dignity. His bellowing shook her to the core, his accusation make her push him away with other arm but he grab her other hand as well behind her in more captivation and press his body against her to make her unmovable. He continued "You little'I should have known. You were much too passionate, much too skillful to have been anything but a technical virgin. And to think that I have felt guilty for so long'". There was sinister edge to his laugh,which was harsh, throaty and ended as quickly as it had begun. Nikki hit him hard with her knee which made him loose her from his captivation and pushed him away from her with tears in her eyes and fired in anger "Don't you dare to touch me".
His eyes flashed in anger now and took one step forward. "Don't come any closer!" she screamed in warning, but he took another step, then another, until she was backed against the wall and he stood but an arm's length from her. "Stay away from me!" she whispered frantically, realizing even then that he had already cornered her. His eyes settled on her lips, pink and moist and trembling, and she steeled herself for the onslaught of his, but it didn't come.
"What's the matter, Nikita?" he taunted. "You are not afraid, are you? After all, you've been through this before." Slowly and deliberately, he put both hands against wall on either side of her, imprisoning her as he brought his imposing form that much closer. Nikita could only stare ahead at the strong brown column of his neck and the ever-steady pulse of jugular. To further the torment, he lowered his head, bringing his cheek but an inch from hers, as he jeered softly in her ear, "what about your husband, Nikita? Is there one? Was there one? Where is he now, Alya's father?"
Nikita was astonished that she could feel any relief through maelstrom of emotion and venomous words which had assailed, yet she did. Atleast he had assumed that he was not Alya's father-that was critical! "What's wrong? No answers for me?" his breadth was warm against her cheek despite the ice of his tone. Facing the inevitable, she finally spoke.
"I don't feel need to answer any of your question. In anywayit's none of your business," she announced quietly, through refusing to make further excuses for herself or her life-style. "And you're no one whom should I have to answer" Nikki said determinedly. Drawing his lips back tightly, he spoke through clenched teeth. "you wouldn't answer any of my question because you didn't have any excused. You are brazen liar, Nikita! Its all very clear now. I don't want to hear any more." Nikita stiffened in panic. His anger had passed the point of reason, his loathing for her likewise. She pressed back against the wall, which had already began to grate against her.
"Leave me alone, please, leave me alone," she begged, her jade-spoked eyes wide in fear. "No way Nikki," he growled. "Damn it, I'm going to help myself to what you so freely hand out." The sound his word curt short as angrily he put a hand to her hair, long strong fingers intertwining then pulling cruelly to tilt her head back. His mouth lowered to possess hers, only to be smothered further by the lips which reclaimed hers, the tongue which launched a viscious invasion of her mouth's recesses.
Frantically she fought him, pushing against his chest and kicking at his legs, only to find that in one crude movement he had thrust solid thigh between her own, pinning her helplessly against the wall as the weight of his length overpowered her. With meagre strength she writhed against him, futilely trying to throw him off balance and make her escape. But his body was an immovable warden, guarding its prisoner with a minimum of effort. In evidence of her helplessness he took her thin wrist in each of his hands and pinned them, also, against the wall at shoulder height. Only then did she cease her resistance, unable to move, breathless and exhausted from her struggles, actuley aware of imminent defeat.
He held her thus while his lips continued their plunder, his kiss degrading her even as he stood, suspended limply before him. Nikita was paralyzed in horror as she felt his hands release her wrist to slip down and touch her shoulders, then trace the lapel of her robe, even so slowly and torturously, from neck to waist. Unknowingly Nikita moaned aloud, than far-off whispering of her own final, desperate plea "No'..no'..Abhi,no." For, compounding her nightmare in that last movement, as his hand had moved over her, she knew an even greater fear than that which he posed, this one working upward and from deep within the arousal of stirrings which only he had ever awakened in her. If Abhimanyu aware of these internal happenings, it didn't alter his intention.
His fingers trailed off as his deftly untied the belt that held her privacy intact but left with last knot tied loosely. At another time perhaps she could have fought it, this sparking flame; now weakened as she was by Abhi's onslaught of hate and hurt and humiliating accusation, she had no chance at all. She had been battered emotionally before the battle, this different and most private on, had even begun.
As she watched his face with growing alarm, his gleenting steel eyes left hers to trace a path down her cheek, her neck and across her throat to the point on her chest where the robe parted. He sensuously put hand on either side of robe, pushing the protective cloth back off her shoulders, letting his fingers curl electrically around her collarbone as his eyes plunder the wealth of femininity which had been thus served up to him.
Humiliated beyond belief by his demeaning examination, Nikita's senses came alive, warring among themselves in a skirmish of embarrassment, indignation, and raw desire. Just as she ached to cover her bare shoulders, she craved the touch of those fingers, firm and fiery, upon her. If she had hoped that he would gruff and hurtful now, thereby cubbing her own unwanted arousal, she was shockingly disappointed.For , as suddenly as he had cast eyes on her, his touch had changed, softening in the instant and becoming gentle in a way transported her back , over eight years' time, to a summer night.
Slowly his mouth made their way from earlobe to neck, collarbone and lower to more intimate exploration. Nikita turned her head to the side, her cheek against the wall, closing her eyes in an attempt to erase from her consciousness what was happening. The flame had burst into searing fire within her, desire which she had buried so long now threatening to engulf her. A shudder shook her at the instant of visual contact when she saw the ghost of that long ago night in those eyes, that expression. What cruel tricks the mind could play; she was rue this later! For now, however, rational thought eluded her. As she gazed into that once beloved and loving face, it lowered, and his lips tasted her once more, now warmly, sweetly, full of the tenderness and desire which welled within her own.
Mindlessly her body responded, his lips parting to respond his, arms winding upward about his sturdy shoulders, revelling in the strength of his neck, the vitality of the thick hair at its nape. Hisown arms encircled her, crushing her body to his with a delightful harshness that could only heighten her excitement. It was a kiss of passion, of long pent-up desire newly released. It was open and giving, wild and heady. His hand caressed her in encouragement as she arched her body toward his and she knew then that his ardour matched hers. When finally, breathless and trembling, her lips fell away from his, he clasped her to him in a fierce gesture of possession. He heard her groan then suddenly, he tensed.
Abruptly he released her and turned away, his dark head lowering, a tanned hand reaching in exasperation to rub the muscles at the back of his neck. An echo of his former anger, sounding briefly and faintly as a reminder to them both, he suddenly turned and came violently toward her to lace out his anger. Nikita closed her eyes and turned her face immediately but his palm broke the mirror beside her. The sound of broken mirror made her eyes opened which saw boozing blood on hand drawing back to his owner. Then he walked to the door and left, without a word or a glance back to where she stood in stunned silence, the bang of the screen door against the its frame the final jarring note of the episode.
It could have been a gunshot, the slam of that door, for the traumatic effect it had on Nikita, illusion exploding before her wide eyes into a myriad fragmentary thrust of reality, one more excruciating than the next. As the more peripheral fell to the wayside, one by one, two remained to continue the torture- the shock of separation from the warming flame of Abhi's sensuous embrace, and the horror that this separation had indeed been a shock.
Senses reeling about her, she staggered forward, clutching her robe convulsively about her, groping for the support of the sink as, slowly, her breathing steadied and her legs become functional. Only then did she hear her own voice, aggrieved and horror stuck "My God, what have I done!" What she had done was to respond, yield, and even invite the advances of this man whom she had vowed to shun. Worse, and to her growing shame, she had revelled in his caress, indeed had craved more. And most condemning of all, she had let him know that he still had the power to render mindless before him. It was an awesome power, if he chose to use it.
She sat there for hours to analyses what had transpired between them in that time, the feeling of hate and desire, anger and attraction fighting on its own mutually.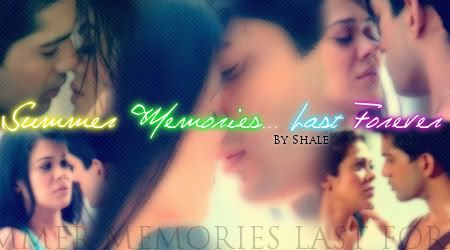 Edited by wow123 - 02 August 2011 at 4:45am