Summer Memories Last Forever
Part 1
The cars ascend roads of the mountain where one side is hard rocks as shield like reality and other showing the dangerous trench with beauty like deep down emotions. The cold breeze touching the soft skin and sweet fragrance of weather filled her nose again with last long memories. Once again it all comes back to her which she left long time back where she was first time feel the passion and intimacy. The darkness, the small campfire, the soft bed of leaves and gentleness of his hand on her skin which exploring her body as no other man had ever done. The strength of his manhood as coupled with an exquisite tenderness, smothering her cry with a soul-fusing kiss. He carried her to the height of desire, the crest of passion and zenith of pleasure.
Yes, it all came back again which she feared it would, transcending the hurt, pain, even the beauty of past five years, to relive that one night of mindless happiness which has so totally changed the course of her life.
"Mommy'" the sweet, innocent voice impending complaint, brought her abruptly back to the present and overall clad child sitting beside her in the car. "Do I have to go? It's not too late to turn back. Please mommy?" As her daughter's round grey eyes bore into her with merciless pleading, Nikita Malhotra smiles "Sweetheart!" she began to rolling down the window down farther to lead the heady Maine breeze sooth her warring senses "we've been over this before. You know we are not turning back; we left our home in Pune, Mrs Sonia expecting us- counting on me and looking forward to meet you. We are both going to have great summer vacation".
She doesn't know where she found the tone of conviction when she had repeated the same words to herself dozens of times over last few weeks even then had failed to ease her own qualms. "But Mommy" Alya continued, with innocent puppy face looking toward her mom with expectation "I don't want to go". "You'll love it dear" her mother coaxed gently, playing out the dialogue now by heart. "But I don't know anybody" the child persisted. "You will very soon" Nikita insisted firmly. "But I don't want to live whole bunch of new kids'." But interrupted by her mother "How can you against of something which you never tried before?" Nikita trying her best to make her daughter understand the situation "It'll be such fun for you, Alaya. You'll meet whole new group of friends, do all sort of different things, and you know I'll be never that far away. You have best of both worlds".
She admitted silently, knowing that she would never have courage to send her daughter substantial distance for summer vacation. Alya repeated "But I don't want'." Nikita seriously now made her understand "We can't always have what we want, Alya". Nikita broke in, her patience finally beginning to give up under her own seesawing emotions. Unconsciously, she raised her hand to rub the taut muscles of her neck, inflamed both by long drive and by the tension flared within her at each repetition of this discussion. "There are times when you have to trust me to make the right decision, even if you don't agree with it at first" Nikita replied like final warning.
The little girl crossed her thin arms across her chest as she scowled "I'm not going to like it'.ever" she vowed stubbornly. "We'll see'." Nikita's word trailed off as she contemplated them. Had she made the right decision? Would this summer good for them ' for both of them? The truth is that she felt confident that Alya would do just fine but can't say the same for herself. Alya is very outgoing child who make friend very easily and not even bother if have less. She is very promising child at this tender age in participating in other curriculum activities and give her best shot with full enthusiasm. It was Nikita who erected the protective wall around herself and her daughter during those lonely days of pregnancy, bolstering it through the bittersweet birth of child then cementing it in their mutual sustaining existence. They made their way alone particular after death of Nikita's parent within a year of having each other; they relied on no one but each other. Oh, there were good friends and acquaintance but Nikita always kept that certain distance, that emotional attachment independent which would preclude a repeat of the heartrending anguish that she had once suffered.
Now, for the first time in her life, Alya Malhotra would be separated from her mother, that thought quaked Nikita but she knows it's important for her daughter development. To make her confident and counterbalance any failings she may have had as a mother, Nikita is realist. She had to admit that she is overprotective for Alya, her only child, smothering her with boundless love but it's time to give her space to explore world on her own. It was inevitable; Nikita had only to look into her daughter's face to see that man whom she had adored, who had possessed her totally, body and soul so long ago.
Nikita cast a sideway glance at her daughter Alya. Yes it was all there ' thick brown hair, so different from her own straight black, the intense gray eyes alternately veiled the open and even a far cry from her own jade-spoke, long limbs which even at her five years promised a height in excess of her mother's five foot. Sensing her mother's gaze on her, Alya launched the final plea for mercy "Please, Mommy, if I have to go, why can't I stay with you? I won't be pest". Nikita smiled at her daughter proposal, atleast she accepted the fact that they're going and assured her "You never a pest, sweetie. But there is bunk waiting for you with other seven girls who are just your age. You know that I'll be nearby but you are a big girl now. You really don't need me with you all the time. After all '" she glances sideways as she adding kidding notes into the conversation "who wants to have her mother around when she's getting into Lord knows what kind of mischief?" Reaching over, she tickles her daughter in just place she knew to guarantee a laugh; she wasn't disappointed.
"Aw, Mom!" Alya exclaimed between giggles. Nikita continued on serious note of the child's momentary humour "I won't be much fun. I'll be working most of the time. Mrs Sonia has high expectations, you know". Alya gave her knowing grin "Yeah I know. My Mother, the photographer" she snorted playfully then turned her nose to the far window and lent her attention outside. Nikita smiled at her daughter's word My Mother, the photographer. It had been long way, she finally did feel justified in calling herself a photographer. She had begun slowly during Alya's preschool years, sticking to free-lancing, planning her schedule around the child's, doing most of her dark room work in the converted kitchen pantry while Alya was sleeping. It was only when Alya entered the school that Nikita had allowed herself to accept more work, though she still insisted on being home after school and during vacation.
As luck would have demand, she offered particular talent at a time when it came into demand. She working as freelancer for past two years so that she can give her maximum time to Alya but now she is growing up and Nikita will have to work more to secure her daughter future. Two months earlier, she had received a surprised phone call from Sonia Bajaj, the owner and director of the girl's camp in Manali to which Nikita herself had gone as a youngster that worked as a junior counsellor, and finally as a full counsellor that last, fateful summer.
"You have been very busy I see" Sonia, gently authoritative in her normal unique tone voice and had proceeded quickly to matter of business after initial enthusiastic pleasantries' had been exchanged. "I received the brochure you did for Don Bosco School for gifted children. It was superb Nikita! And I 've seen your curriculum guide'very impressive, albeit to my own untrained eye" she had complemented. "It seems you have taken them by storm" Nikita had blushed, her inner modesty force her to reply "You are too generous, Sonia. Actually I was in the right place at the right time as they say. There was a need and I'll able to fill it". "No no, my dear" the older lady protested "you deserve every bit of credit for what you've done. And now I have a further proposal for you. As you well know at Sunshine we pride ourselves on keeping our activity, so to speak, stimulate our campers a new each year". Sonia explained her "for several years now Tarun and I have toyed with the idea of offering photography as a regular activity. This summer we would like to act on that idea".
Nikita had listened carefully intently, subconsciously aware of the dull ache sparked into life at the mention and memory of Sunshine, not the least of which was suspicion on what Mrs. Bajaj was leading to. "Since you left, Nikita, the size of camp has remained very much the same. We have one hundred and fifty girls ranging in age from seven to sixteen. I want someone who can teach photography at each appropriate level in addition to serving the camp photographer, taking formal picture that we can use in our brochure to promote the Sunshine". She had paused to catch her breathe or more likely to give her listener to catch her. "Would you be interested my dear?" her voice warm and sincerer with offering which Nikita instantly knew that she would have great difficulty to refusing , if only from the professional standpoint.
"Oh Sonia, it sound exciting!" and it certainly did far more exciting any of the other prospects which she'd had for summer. "But-"she hesitated briefly, doodling absently on a blank piece of paper as she sought to organize her thoughts ' "are you sure that I'll fit the bill? I never applied my curriculum to the camp setting before." Nikita smiled in hindsight as she recalled Sonia's response, picturing the dismissing wave of hand she must have made at her end of the line. "Not to worry, my dear. Between what I've read of your program and what I have seen you ' you were with thus before. I think you can handle it. But perhaps you have some question you'd like to ask me" she had suggested.
Dutifully, Nikita inquired about facilities and equipment, knowing how efficiently Sonia Bajaj ran her camp, sparing no expense to maximize the experience for campers and counsellor alike. Yet Nikita was unsure of how to bring two issues that troubled her. Eventually, she chose to be straightforward regarding the first two. "Sonia, I have a child, a daughter" she can't think of leaving Alya behind but Sonia interrupt "Wow marvellous! How old is your daughter?" Again warmth was genuine and Nikita couldn't help but respond "Alya is five. We're very a close. I don't think I can afford her tuition to Sunshine and I couldn't possibly leave her home." Mrs Bajaj snapped back "Leave her? Nonsense! You'll bring her!" Then she hesitated but proceed "what about child's father?" she spoke tentatively well aware of the generation gap regarding that particular issue. "I have no ties other than Alya" she replied immediately and confidently.
"Then it's settled! Her tuition will be included with you own room and board, all of which plus a salary. In fact Alya will fit in perfectly with the youngest group." The sheer simplicity of it all, so unusual in her own life's experience, gave Nikita courage to face the one remaining barrier. As whatever it sound like but there was possibility that he still worked there- and that was one thing which mature and self-possessed Nikita doubted she could handle. This time she chose be to be more conscious of gaining the information she wanted. "Your offer is almost irresistible, Sonia. Tell me; are any of the same people around? Neha ' is she still on the waterfront?"
"Yes, Neha never changes. She is mischievous as ever but good, very good!" Sonia giggled. "How about Sanya ' is she at the Arts centre? Is Lara still at the dance instructor?" Sonia laughed aloud "yes to the first and no to the second. Who else do you remember?" Quickly Nikita had gone on "That tall, dark one and silent Abhimanyu Modi- is he still tennis instructor?" Sonia replied "No-" but quickly interrupted by Nikita's next question, rushed out in hopes of erasing the previous one from Sonia mind. Nikita now had the information she wanted. "Some have moved up, some over some out. But we still have superb staff" Nikita wouldn't have imagined otherwise. "Will you join us Nikita?" the older woman take the lead.
For the first time in five years, Nikita responded with force of pure instinct, leaving all reasoning for later "I love to, Sonia!" she had accepted excitedly, lost for the moment in all the best memories, the fun she'd had at Sunshine, the skill she learned there and all the friends she made. It all seemed ideal, so much better than city heat and she sure that she and Alya will have most beautiful summer this year. She spent all the two months in settlings things for her and Alya to go to Manali for summer vacation in Sunshine camp. It was only last few weeks at home approached that Nikita began to have second thought. All the necessary arrangements had been made respectively but Nikita's mind turned with increasing frequency to thoughts of Sunshine, past and present. The present she could cope with but it was past that worried her.
Even in Pune, with only her daughter's gray eyes and her face texture to remind of him, his memory was never far from her. She couldn't begin to count the many times she laid in bed, big enough for two and imagined him beside her. Abandoning the reality, his firm, toned body intertwined with her own giving pleasure and taking it to the delights of passion, sharing with each other once again that very special something that had existed so briefly in what had seemed to be another world. Now she doubted her own decision that it was wise idea to come here once again where memories haunted her relentlessly forever.
"Mommy, we have reached" Alya's squeal in delight recalled her mother quickly from her wanderings. Nikita step out from car with her daughter and roam her eyes around whole camp and remembering all the past memories which she had spent here. Some memories she never want to live again but this place bring her more close to those memories which she accepted or not but cherish her whole life. Nikita closed her eyes to erase those memories from her mind but his face appeared to her with those same passionate eyes looking at her.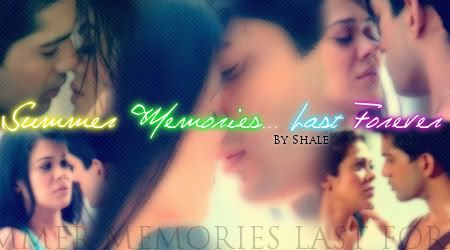 Edited by wow123 - 02 June 2012 at 12:40pm